Wowie, wow, wow. I've been here a whole week. How did that happen?
Sixteen observations about residency:
1. I like conversations that begin "where are you from?" or "what's your main genre?"
2. I do not like conversations that begin "what are you writing right now?" or "where have you been published?"
3. A lot of the poets bite their nails.
4. Nose piercings, tattoos and thick plastic eyeglass frames seem to be the
costume de rigeur
for writers.
5. It makes me squidgy when people talk about their writing and they use the term "my craft."
6. The desert begins to look pretty under the right conditions. By "conditions" I mean "when it is 65+ degrees and I can stop shivering long enough to look around."
7.
James Brown
is by far the most ripped writer who has spoken here. Unrelated: I would like to read his book because he seems like a cool guy.
8. When people have jobs where there is absolutely no danger of children overhearing anything, they use the word
fuck
a lot more than I was originally aware of.
9. I miss my DVR and I miss my memory foam mattress topper. Of these facts, I am unashamed.
10. Not having to make my own bed or hang up my own towels is kind of boss. I want a cleaning fairy for my house, too. Living in a hotel is like having a reset button.
11. I am going to get home and all of the sudden it is going to be Christmas. This is both wonderful and horrifying. I have not bought a single present.
12. I love sleep. An informal poll of my peers tells me that I seem to require more than most adults.
13. I miss Starbucks lattes. Of this fact I am definitely ashamed.
14. Finding someone to eat breakfast/lunch/dinner with is just as awkward as it was in junior high.
15. There are some really good people here.
16. I drank all the tiny cokes already and I don't think I have enough time left here to warrant purchase of another 8-pack.
Today I attended three lectures: one on writing critical papers, one on the death of genres in film (specifically, the western) and one lecture by James Brown, author of the memoir
The Los Angeles Diaries.
Tonight I am going out to dinner with my fiction prof and class. After dinner (if I can stay awake) I might go to a fireside reading and/or some short plays by the playwrights.
At lunch I sunned myself again and I took this series of iPhone photos I'm calling
How Not To Take a Good Picture
: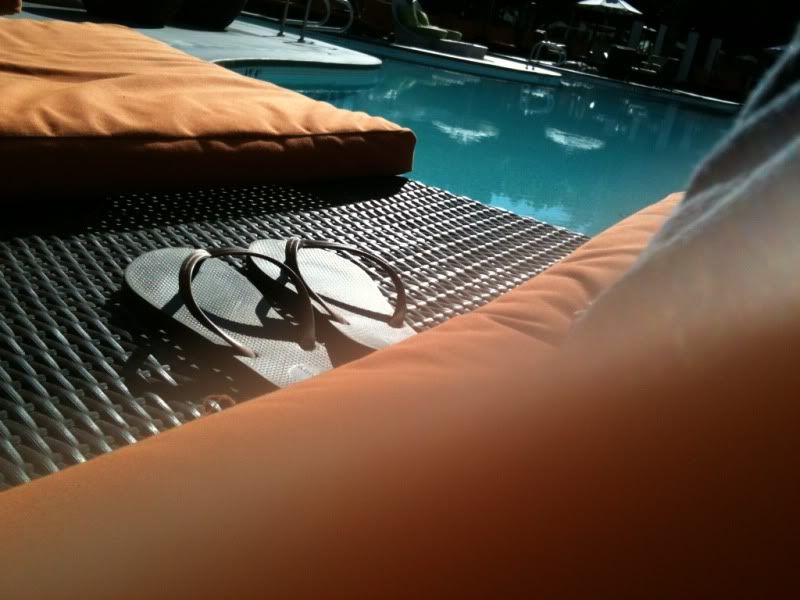 The thumb on the lens in the bottom one is a nice touch, don't you think?
Tomorrow I'd really like to go see (at least part of) Joshua Tree. My plan is to get up early and head out and see how far I can get. I have to be back for workshop at 1:00, so that might not be too far, but it will give me a chance to explore a bit.
Last night I fell asleep between about 8:15 and 8:30. Pitiful! I'm hoping I can make it to a normal adult bedtime tonight. We shall see...