Tonight after stuffing myself with half a jerk chicken bar pizza and a few handfuls of salty nachos, I headed back to my room for a quick moment of rest. I gave myself a little pep talk to stay awake for two more hours.
Dean Baquet, managing editor of the New York Times
was being interviewed and I didn't want to be rude and yawn my way through it from the audience. I've really been looking forward to hearing him speak.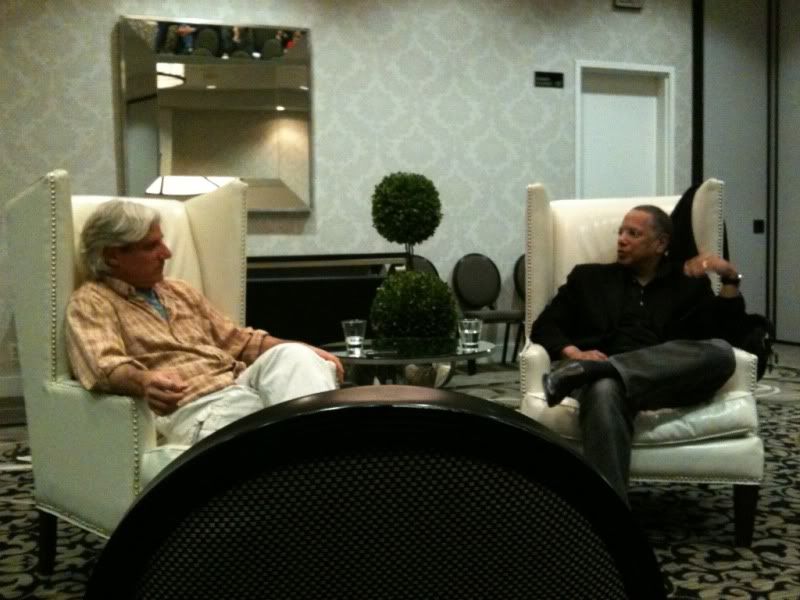 David Ulin interviews Dean Baquet (right)
I was more than excited to be in Mr. Baquet's presence and just to listen to him talk, but I'll admit I was surprised by what he had to say--in a good way. He has such an optimistic view of the current news climate and of how technology shapes both access to information and the way we can interact with it. I was in awe of how he discussed the ways in which the web forces the print news to be
better
and how different today's readers are because of the ability to follow a story around the clock. He went over his daily routine and discussed the viability of print media; I was encouraged to hear him talk about why we need papers and how they are still learning how to integrate emerging technology. Fascinating.
I was completely inspired. Mr. Baquet talked of a paper's responsibilities to a community, and ultimately to its wide readership. I don't think I really thought of news organizations as having the kind of standards he discussed anymore. I'm glad my preconceptions were wrong. So much of what we think of as news is television--and he talked about the differences in standards between the two mediums and what it means to produce something with as wide an influence as the New York Times. His talk was completely inspiring.
Before the evening program I grabbed a bite in the hotel restaurant with a fellow Sacramentan, hence the aforementioned salty nachos. We unknowingly stumbled in on Happy Hour, so we had a nice dinner for about ten bucks each. Score. It's nice for me to sit and chat with other writers who are completely new to the publishing business. The two of us talked over our insecurities and our goals for the conference. She's a classmate of mine in my fiction class; she gave me the story of how she's started looking into publishing. It was nice to have someone to talk to about being new. I took the pictures below as I waited for her in the lobby.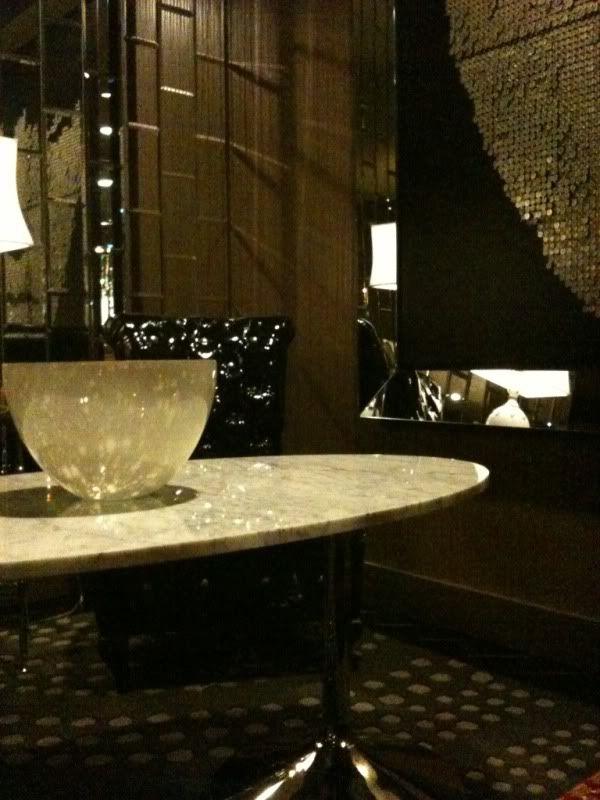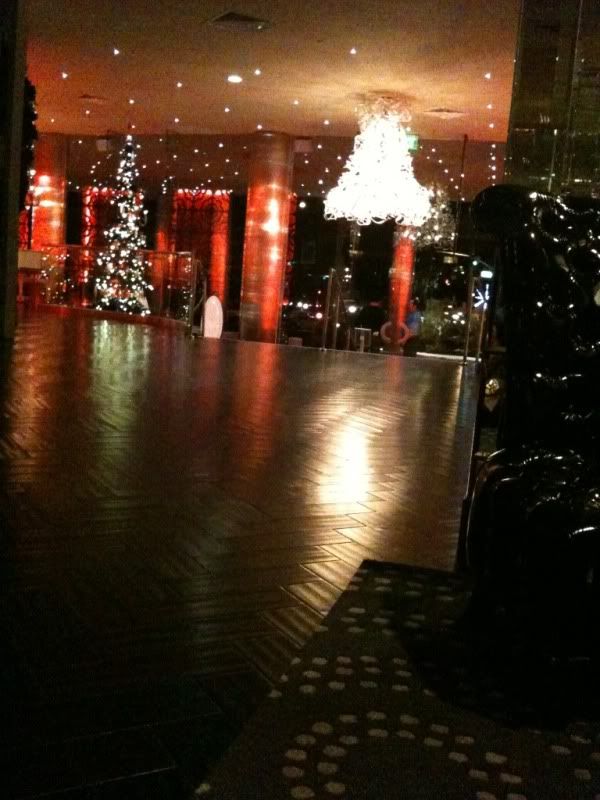 And really, it's not only this evening that's been so great today. I decided (since I knew I'd want to stay up to see Dean Baquet's interview) that I'd take it easy this morning and sleep in a little. Since I didn't have a class until 10:30 I hung out in my room in my jammies and watched CBS Sunday Morning like the 80 year old I am on the inside. Yes, that means I didn't make it to one of my prepaid breakfasts. I figured the trade-off was that I didn't have to get dressed until 9:30 or so. Taking it slow this morning gave me time to rest and decompress a little bit, call my parents and K, and straighten my hair. All good. All helpful in enabling me to remain conscious and put-together until almost 10:00 PM.
Yes I wore my glasses. No, people did not recognize me. Now it's a game. Three days in a row of introducing myself all over again. I'm freaking Clark Kent.
I had a little bit of time to kill before class so I took a little walk around the hotel grounds and sat in a lounge chair to soak up some sun. Good Lord, sun is amazing. No wind today.
Lecture this morning was also really thought-provoking. (I know I sound like Little Suzy Sunshine, but everything today was so thought-worthy...) Two editors of an indie press talked about their anthology of woman writers writing in male voices, discussing how to write from the perspective of "the other"--meaning writing outside one's gender or culture or socioeconomic experience... basically how to write outside your own voice. This was really important for me to hear, as one of my big fears thus far has been doing that in a way that's somehow
wrong
. They had a lot of good things to say about writing as a way to explore another person's experience, and that even in the current culture of pressure to write only to one's personal experience (in light of concerns about being PC, or whatever) that it's a necessary and important literary tradition to imagine something beyond one's own self. Yeah. That was a good talk.
Workshop for my nonfiction class wasn't so much workshop as it was just a chat with the prof about good writing. It was casual and instructive and completely relaxed. I have a good idea of how workshop will go once we start to pick apart our pieces, and I am less worried about what I'm going to hear because I am completely invested in the experience as a learning tool.
After workshop I attended an interview of two editors of literary journals: one collegiate journal and one indie journal that started out online. Completely interesting. Completely new to me. I feel like I have at least a nebulous idea about the literary marketplace now. I feel like I have a starting point, and tomorrow I have a sit down with one of these editors, so I will be sure to query him about as many things as I can think of when it comes to getting started.
That's about it. I left out the part where I came down the stairs to walk to tonight's interview and Dean Baquet held the door of my building open for me. I didn't know at the time that it was the managing editor of the New York Times and his author wife who were staying in my building; I just thought it was a cute couple from out of town. I didn't realize until he sat at the front of the room. I wish I knew--I would have accosted him and asked him some dumb questions in the breezeway. His wife is my other sit-down chat tomorrow, and I am looking forward to her close-reading workshop on Tuesday.
I continue to feel really lucky to be here. Today my brain got a good endurance workout. Off to bed; much more learning tomorrow.