Or, so much
for which to be
thankful. I hate prepositions. It doesn't really sound right either way.
I'm sad that my week of unpaid time off and vacation flew by so fast, but Thanksgiving was just perfect this year.
I'm blessed to have so much family so close to me and blessed that I get to spend so much time with my two awesome kiddos and one awesome husband
. Even Hurley is being kind of a good dog right now--I don't want to jinx it by putting it on the internet--I guess everyone's in a holiday mood.
I started Thanksgiving with a great run with my friend
Kel
. Since I had two packets due for UCR in ten days, I haven't run for about a week and a half. I've missed running with my friends lately, so it was just fun to catch up. We had more than enough chat to fill up five miles. We did about a four mile run, stopped for coffee and then walked the mile back to my house. It was misty and a little cool when we started but it ended up being great running weather. Unfortunately it started to pour by the time we walked home, but we didn't care too much. Exercising with friends is fun because it doesn't feel like work. I'm thankful for the safety and security of the gym at 4:45 in the morning, but I sure need to get back outside and socialize with buddies again.
That run pushed me over 600 miles for the year. SIX HUNDRED MILES, Y'ALL. That's like me running from Sacramento to Disneyland and back.
Next year I want to do a thousand.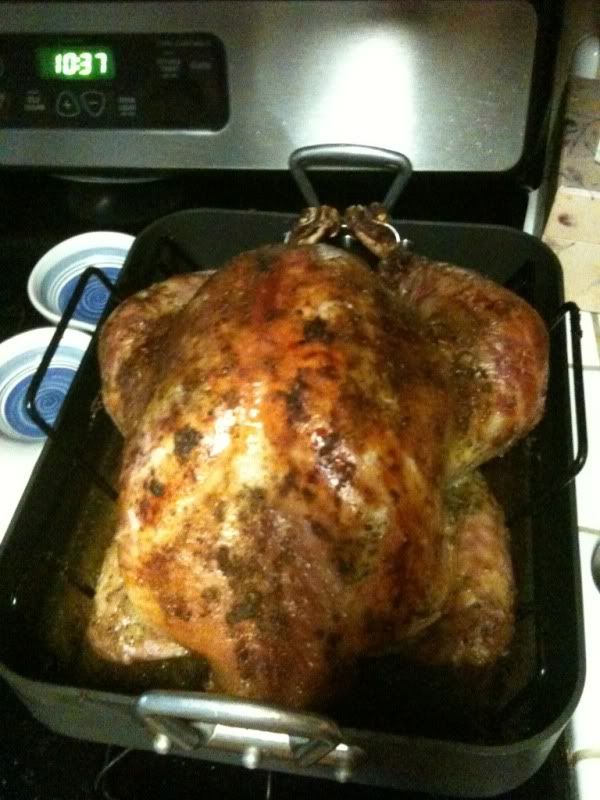 This Thanksgiving I also earned another Mom Achievement:
Roast a Thanksgiving turkey.
Done! And I didn't kill anyone or turn that bird into a miserable dry wreck. I think that our last few years of smoker/BBQ research and experiments have given me more skill in the meat-cooking area. Honestly I wouldn't have ever tackled it except my mom asked me to do the second bird. I'm so glad she asked me. Add this to the list of things that make me feel like a real mom: birthing two kids, swaddling babies, the stop-it-right-now-or-I'll-end-you look, cutting up a whole (raw) chicken, and roasting a whole turkey. BLAMMO.
I brined it the night before using the same general ratios I use when we smoke a whole chicken (per gallon of water: one cup salt and 1/2 cup sugar). I used a mix of white and brown sugar. I didn't really season the bird in the brine but I made a wet rub of butter and spices which I put under the skin of the breast and all over the rest of the bird. I roasted it with water in the bottom of the pan and an onion and three clementine Cuties (we didn't have lemons) inside the cavity. It was delicious. It cooked faster than I thought it would, so I let it rest breast side-down wrapped in foil and a big towel for about an hour and a half until we carved it.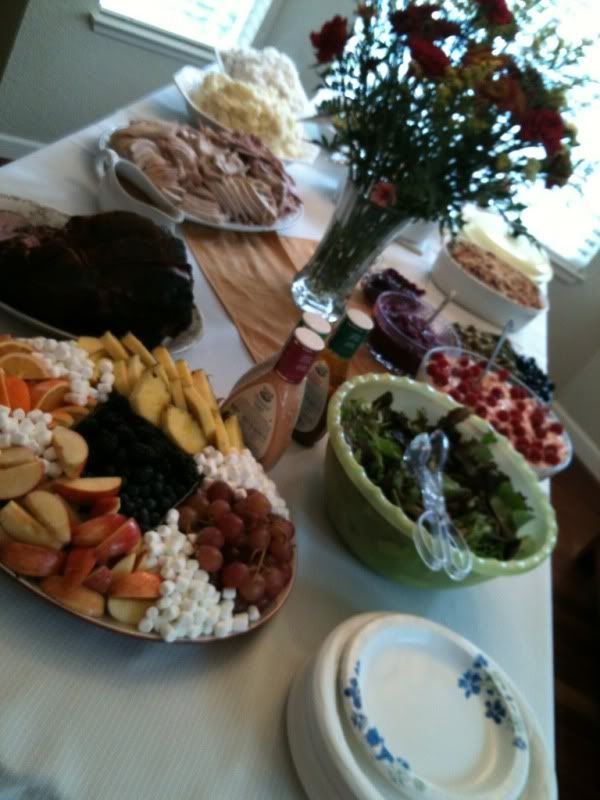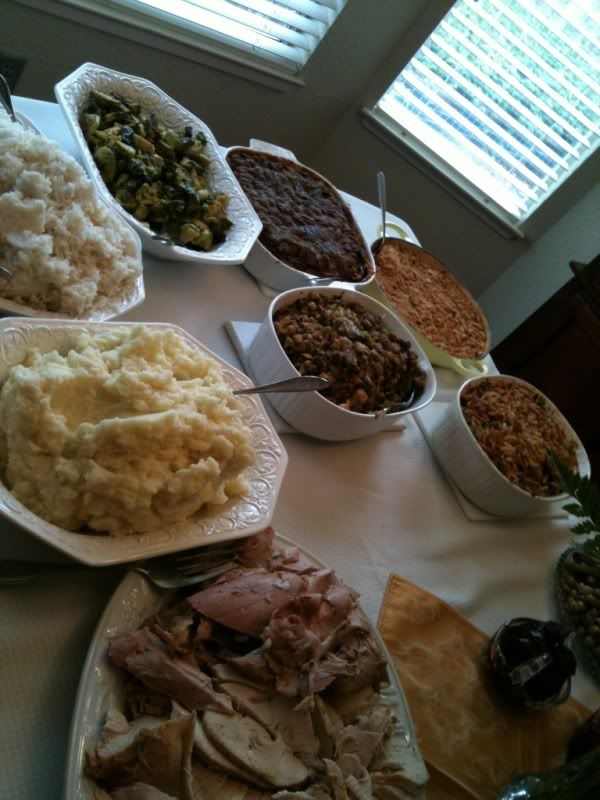 My mom and dad hosted Thanksgiving for our family this year and we had both sides there plus my sister's in-laws. I think we were about 35 strong, and we all managed to eat in the same room at one giant table. There was quite a spread of food, too. In addition to the second bird, I brought roasted Brussels sprouts, rice (no matter how hard I try to like them, I really hate mashed potatoes), and stuffing. I ate until I could not force in anymore food, even though I wanted to. After a little bit of sitting around to catch up, we headed up to my in-laws' house for round 2.
E's family does an every-other-year rotation where one year Christmas is all-family and the next year Thanksgiving is. This year is a big Christmas, so it was a small Thanksgiving. Even in a "small" year I believe there were about 15 of us there. (That means we saw close to 50 relatives in just one day and we still didn't see them all!) We made it to their house in time for another round of pie and just as they were starting The Grinch and the circulation of all the Black Friday ads. E and I always look but we never buy because we're always out of money by the end of the month. Still fun to look, though. (Also, I wish I got a good picture of them, but E's mom made the kids Grinch quilts--Henry's is in the bottom of the pic below--to decorate their rooms. I am in awe of the work she does, and completely happy someone with such a
warm
hobby loves us.)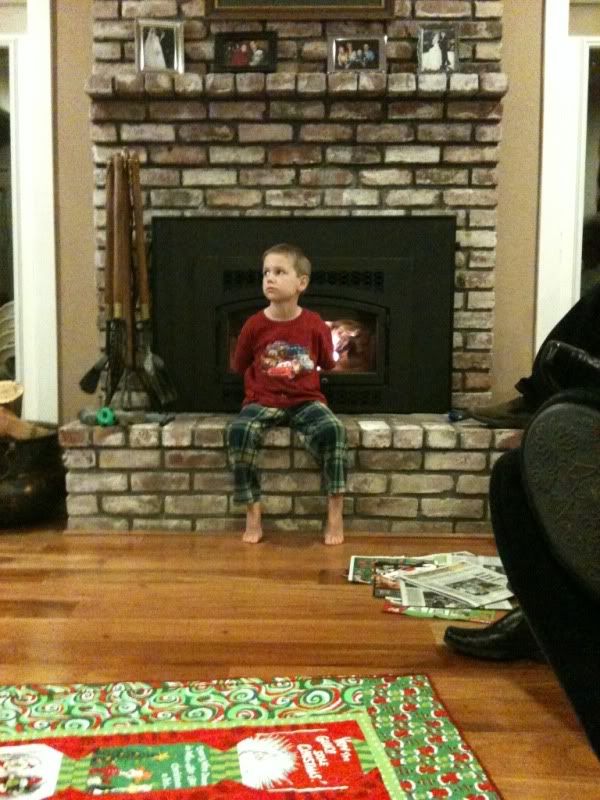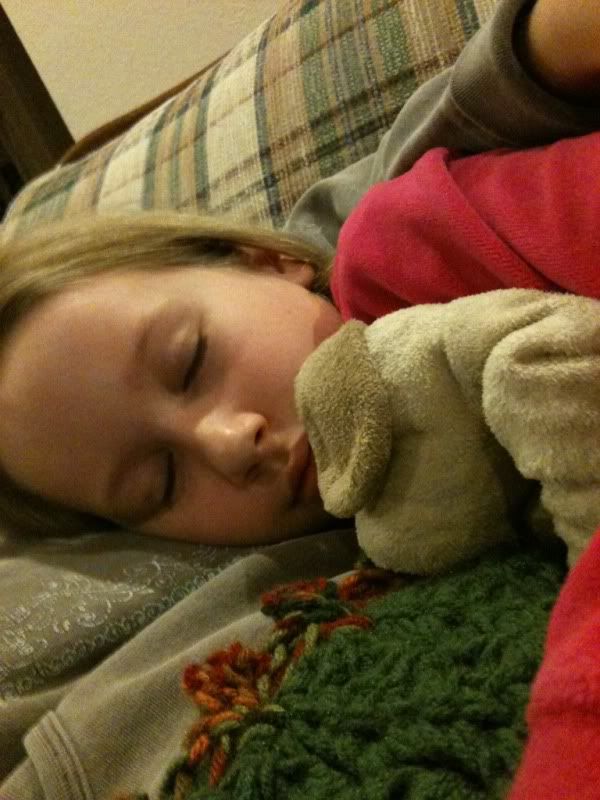 The best thing about this part of Thanksgiving is always getting cozy and finally settling down for the day. Henry wanted to soak by the fire and Roo wanted to snuggle in and get warm with me. After The Grinch we watched Elf (yes, again) and then Henry did that over-tired thing where you get a little crazy. Par for the course.
Instead of shopping on Black Friday we slept in and then played Monopoly. I'm amazed that Henry can do the math so quickly in his head already. He's such a math kid. He played with me for a long time until he got bored, and then E took over. For the first time I remember in a long time, I WON.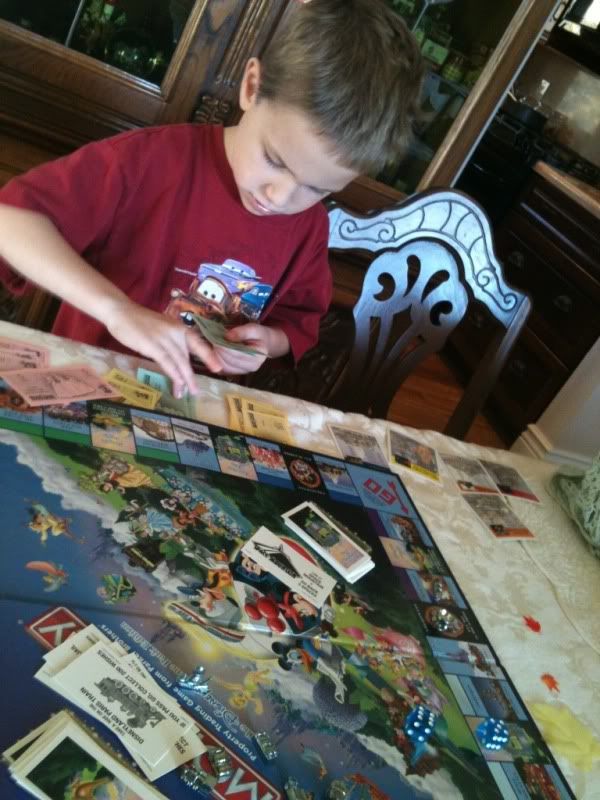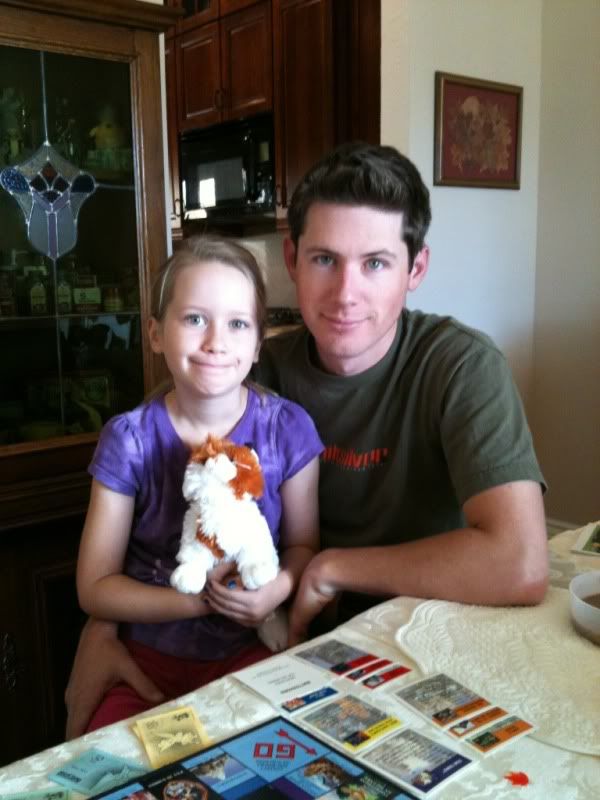 And just because I haven't done enough crazy work in the last two weeks, I had to spend yesterday afternoon finishing up a book, writing my two book critiques for this packet, and uploading the creative material I want everyone to read for workshop when I go to residency in a week. I was stressed about getting it done in time, so I ended up sitting at my "office" (AKA Starbucks) for about three hours and pounding it out. I always feel good when I upload a packet and get it off my plate. Now I'm going to spend the next week writing lesson plans for my sub, making sure all of my copies are made, and reading everyone else's short stories and vignettes so I'm ready to discuss. I am so excited and nervous. I'm sure you'll be hearing a lot about it in the next seven days.
After I got back from working we all snuggled into bed. The kids watched SpongeBob while I started a
new book
--for FUN. TV-watching soon devolved into a wrestling match. Best kind of night, ever.
Once we get going today I have five class sets of essays to grade and then I need to get started on our Christmas decorations. Since I'm going to be gone for two weekends in December, I think I need to do all that this weekend. Think productive thoughts, Internet!