Or is it no.5? I can't remember when we started counting. I guess it's more than two because we were furloughed for our pre-service work days, too, but this is #2 this week. Anyway. I'm home but I ain't bein' paid.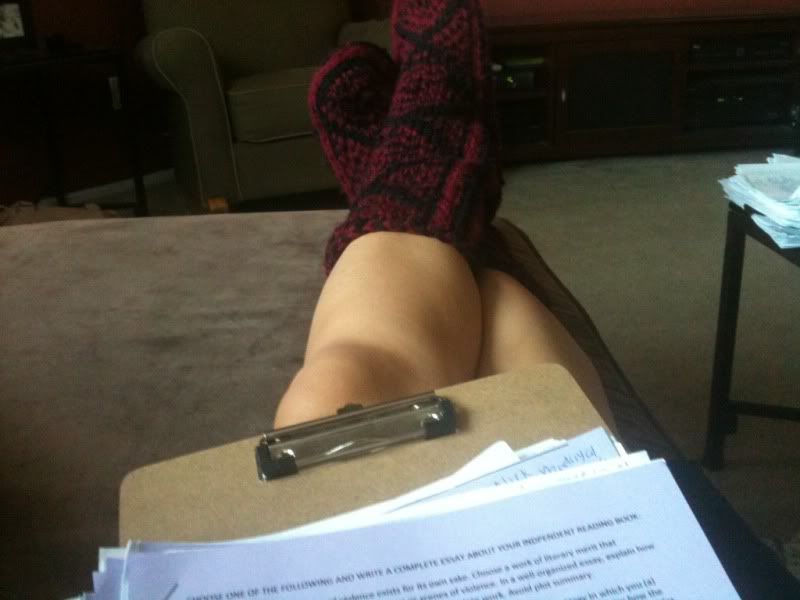 1. Phone calls to insurance companies.
2. More dental appointments. Let's not talk about it.
3. Picking up tests from school to grade.
4. Back into the sweatpants.
5. Eating homemade
cinnamon rolls
. FOR LUNCH.
6. Grading. Lots and lots of grading. I even made the monkeys enter tests into the grade book.
I'm trying to get ahead on my grading because about one week from Thanksgiving I'll be heading down to residency for the first time and I'll have to miss about a week and a half of school. Pretty much right after I get back it will be time for finals, so I timed things juuuuuuuust right in my lesson plans so I'd have this week to grade some essays.
Magical.
My main goal for the day was not to think about teeth and I think I was at least partially successful. I wanted to let the kids have a real full day here to play and lounge around in their jammies and just be kids on vacation.
There's not much to talk about that's out of the ordinary, except that just being home and not doing much is so unusual it felt like a complete luxury. I actually got all the dirty dishes in the dishwasher in one load--a sign of free time if ever I've seen one. I've got steaks marinating and
hot salad
ready to go in the oven and a big fat potato baking. I'm not much for Fall except for these few days when looking outside is a kaleidoscope of reds and yellows and oranges. I dig that and the promise of it being
almost
Christmas for a few weeks. Pretty soon all the leaves will turn and drop, though, and I'll be cranky until May.
Thank God for school in Palm Springs in T-10 days. I can't wait.