You guys.
I forgot to write about this thing I got in Yosemite. I was eyein' 'em on the counter at the Camp Curry store. I didn't buy one though, just thought about it. Hoped it would glance my way. Mentioned it in conversation 800 times. Daydreamed about our future together. And then
like magic
E's Aunt picked one up for me. Yay!
We didn't know its name in Yosemite. Ad called it the
spnife
or something. I'm disappointed to learn that
it's just called "spork
" by the company that makes it. Boo. Doesn't
spork
conjure images of the cafeteria lines in elementary school? It needs a cool name like
Scepter of Nutritional Preparation and Delivery
. Spork? That's all about little cellophane packages with a too-short straw, a wisp of a napkin and a useless utensil. This is better.
But anyway, the real name of this thing is the
Spork by Light My Fire
.
Spoon on one end. Fork on another. Serrated edge on a tine of the fork for slicin'.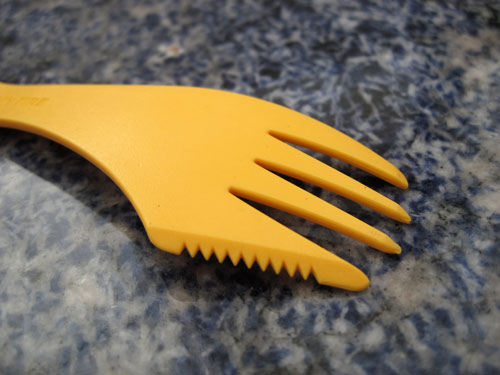 Close up on the awesome that is the serrated edge.
But PDawg
, you say.
Surely only a simpleton would be this excited over one lowly utensil
.
You may be correct, Dear Reader. But I have an affinity for lunch
accoutrements
that is second only to my obsession with office supplies: Tupperware. Insulated mugs. Reusable water bottles.
Insulated carriers with retro patterns
. Notes on napkins. Cookies. Ice packs. Weird utensils? GIMME.
Plastic utensils never seem to be around when you need 'em. I try to keep them in my desk but I'm often caught eating yogurt with a fork or meatloaf with a spoon. I'm hoping this year I can tuck this little number into my lunch bag and all my eating dreams will come true.