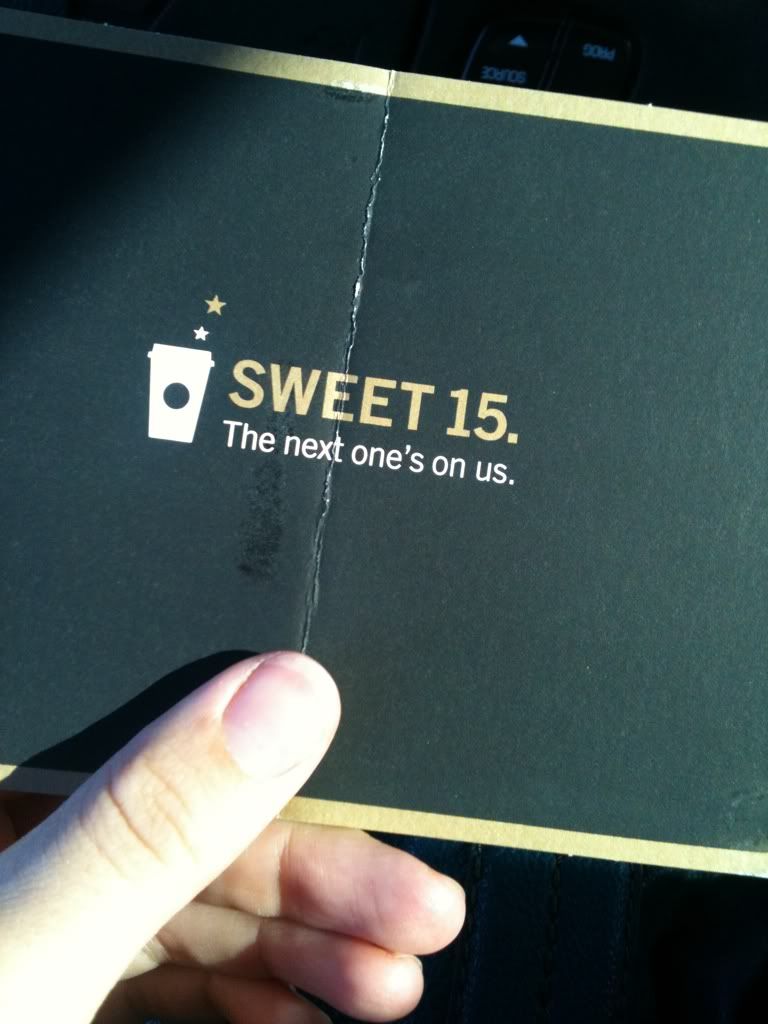 What is it about having a free thing that makes me go a little nuts? Starbucks managed to bring out my inner glutton today. I've been suckered (not really) into registering my gift cards so I rack up points. Do you know about this? If you earn enough points you get a *ahem* gold card? And then if you keep using the gold card you get a free drink every 15 drinks? Plus things like soy, flavored syrup, etc, for free anytime you use the card? I know, I know. But I figure:
1) Let's be honest. I'm already giving my money to Starbucks.
2) Why NOT get free soy milk, you know?
3) Everybody loves a free drink.
I also totally like that there's an
iPhone app
so I can see how much is on my card before I go in to the store. I can see how many drinks I've earned toward my 15. No more guessing. It has helped me avoid the thing where I have twelve cards in my wallet and they all have 16 cents on them. Now when I get a card I just enter it and toss it. I only keep the one card. And actually, I just learned this week that I can pay with the app. I don't even need the card. Damn you, Starbucks. You won.
So today I took my lil' free coupon in--and it's good for a free drink of any size. Of course this means I order a
vat of diabetes
venti mocha frappuccino. Don't worry, I'm not drinking those regularly when it's on my dime. Normally it's iced coffee or a soy latte but something about just
knowing
I'm not going to pay for it makes me want to go buck wild and max out on calories and sheer volume.
I am both amused and sickened by my own behavior. But the fact that I essentially drank a milkshake at 8:00 AM? WINNING.