or,
I Put The Lame in Lamenting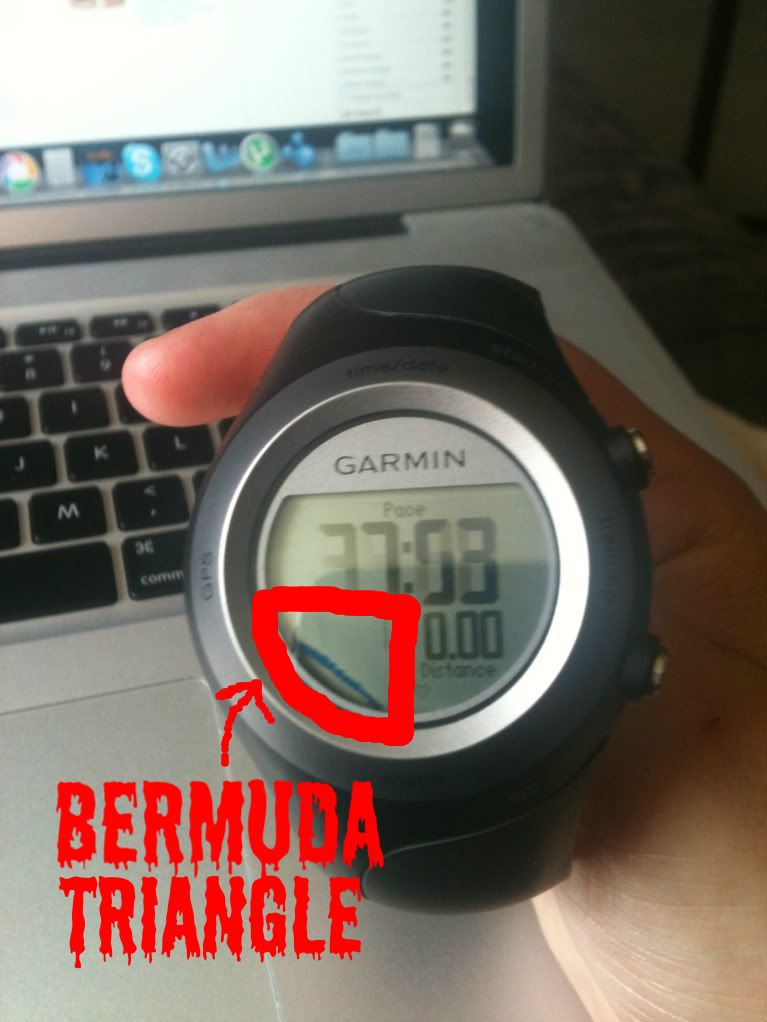 Just icing my booty and lamenting the
brokenness that is my Garmin friend
. Even though I adjusted the settings so there isn't anything in the Bermuda Triangle (pictured above) that I actually,
you know
, need to see, the edges of the unreadable zone are starting to creep up into the field at the top. Boo.
I'm trying to figure out if it's going to be more prudent to pay the fee to have it fixed, or to look for a deal on a refurb. Boo. I'm worried about going Garmin-less, even for a few weeks. I'm so dependent on a piece of technology!
This morning's long run was a step back to only 6 and I was happy for the break... or so I thought. Honestly I would have rather gone out with friends and had a good long run; it would have probably been more interesting. My goal today was not a pace but instead to really run some long slow miles. I didn't watch my pace at all and instead I tried to keep my heart rate at or around 80% of my max. I forgot to update my iPhone so I didn't have a book for listening... I ended up playing iPod Roulette which was good for about half the run and then I was bored out of my gourd. Oh well. Win some, lose some. I didn't really have a route planned, either, which meant I ran all over my town like I was in my own personal Benny Hill chase scene. Again, pretty lame.
Whatevs
. My attention turns now to ribs. Tomorrow is the annual family rib cookoff and I need to get to work on all things rib for Team P. I stretched, I ran, I stretched, I foam rolled, I iced and now I need to shower before I get any more complaints from the fam about my current state of funk.