Win some, lose some
. Win one, lose one (so far).
I applied to five schools
. I've heard from two so far. As you might remember,
I was accepted to Chatham University in Pittsburgh
. Today I heard from Vermont College of Fine Arts.
sigh.
I heard a big
no
. And it had to come with a letter that said my writing was "not at the level" they were looking for.
Zing.
It's okay. It was a long shot school. It's the top-ranked school of its kind.
I just wish (a little) that the letter didn't come today. Today was not an easy day at work, nor was it a comfortable day. It was ten shades of awkward with a giant side of pit-sweats.
Why today? I'm trying not to read deeply into it.
Excuse me while I go drown my sorrows in a beef roast.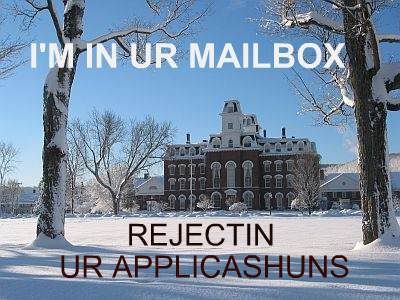 LOL-Catted.