This recipe is from my MIL. It's one of my favorite things to make. So easy and so tasty. I never made lasagna the old-fashioned way (cooking the noodles first). Seemed like too much effort. This is a way around that and IT'S DELICIOUS!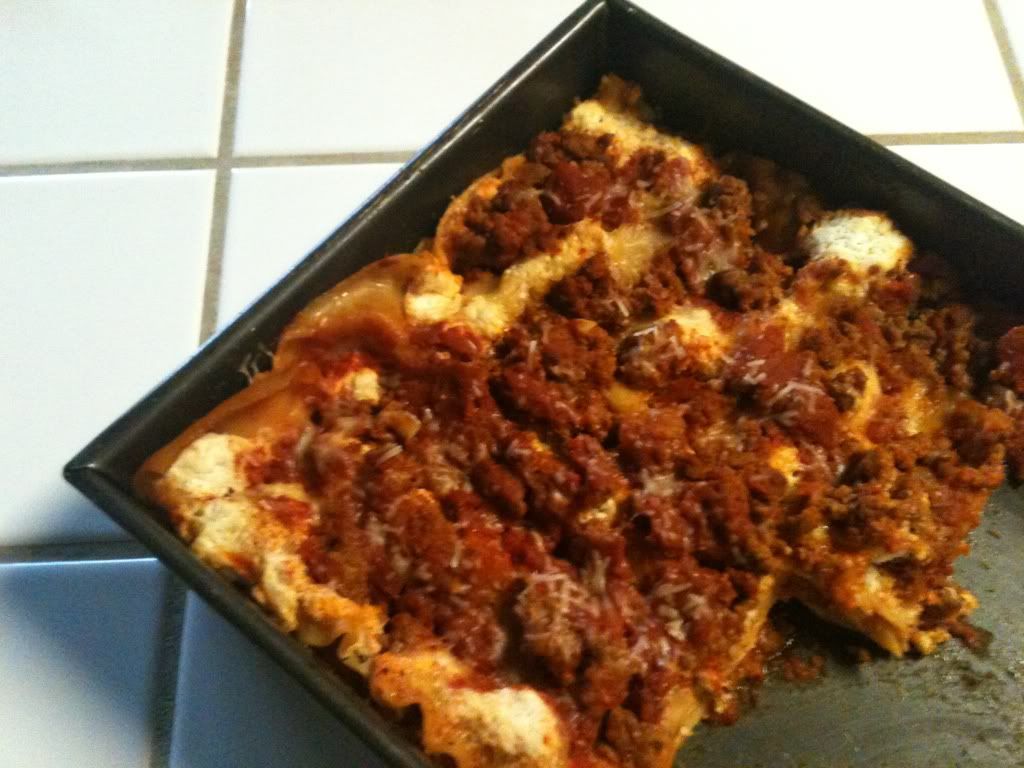 Easy Lasagna
ingredients:
1 lb ground beef
1/2 onion, chopped
3 cloves garlic, minced
One 28-32 oz jar spaghetti sauce
1 sm can (8 oz) tomato sauce
One 8 oz pkg wide lasagna noodles (uncooked)
2 cups (1 lb) ricotta cheese
1 tablespoon chopped parsley
3 cups shredded mozarella
1/2 cup grated parmesan (reserve a bit for sprinkling at end)
instructions:
1. Heat oven to 375 degrees.
2. In 10 inch skillet, brown ground beef, onion and garlic. Drain. Stir in spaghetti sauce.
3. In a small bowl, combine ricotta, parsley, and parmesan cheese. Set aside.
4. In 13 x 9 inch baking dish, layer 1/3 sauce mixture, half of uncooked lasagna noodles, half of ricotta mixture, half of mozarella.
5. Repeat layers, ending with sauce mixture.
6. Pour tomato sauce over top.
7. Fill tomato sauce can with water. Pour along edges of lasagna. Cover tightly with foil.
8. Bake 1 hour.
9. Uncover and sprinkle with remaining parmesan cheese.
10. Let stand 10 minutes before serving.