1. I'm spending way too much time watching the Countess and Ramona and Tamra and Gretchen and Andy. If you know who I mean or what RHO
anything
stands for, you have a problem too.
2. Easter was today and it passed with very little fanfare. It was nice to see my dad's family but it also made me wish I saw them
more often.
Note to self: take care of that.
3. I've been home by myself for a few hours, avoiding productivity.
4. I ended up with a migraine last night (a bad one) so all day today I have the WORST migraine hangover. I think it's called postdrome, but it's a real thing. And it can suck my left toe.
5. This school thing is really cool, but I find it hard to work into conversation. Like yesterday, I wanted to tell E's family about it but I couldn't think of a way to do so without being all "hey, I got into a few graduate schools and I'm gonna go to one." Well, eventually I just basically said that, but it was ten shades of awkward. Note to self: maybe tone down the shameless self-promotion, or figure it out better.
6. I have a bit of nervousness about going back to school tomorrow. I always get like that after any time off.
7. I only have four more weeks.
8. I am going to try so so so so so hard not to poop out at 3.5 weeks. But I'm tired. And when I say tired, I mean of EVERYONE and EVERYTHING. Mostly of this poor economy and all the infighting it's encouraging in education. Boo.
9. Spring break was not as productive as I would have liked, but I enjoyed it.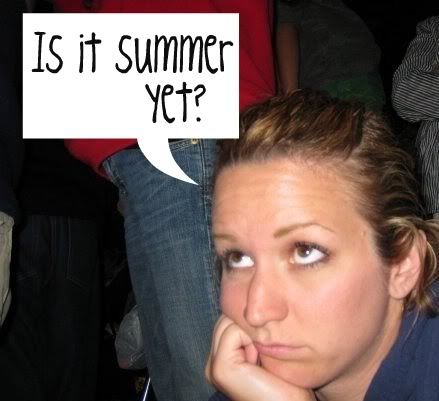 10. Oh yeah, I should do a little update on
me runnin' goals.
Here ya go.
Fitness goals for the week of 4/18-4/24
stuff I actually did in red
Physical Therapy:
Resistance exercises (2 days)
2 days
Stretching (4-5 days)
4 days
CHECK!
Running:
Short runs, 3-4 miles (3 days)
2 days (but 4.5 each day!)
Long run, 8-10 miles (1 day)
1 day (9 miles)
Still counting as a success... CHECK!
Walking:
Easy relaxing walk (1 day)
1 day (1.5 miles)
Walked the kids and dog to the park... CHECK!
Eating:
Eat breakfast every day
think so?
Lots of produce
still room for improvement
Cook dinner
did it
CLOSE ENOUGH!
Mental health:
Plant my vegetable garden :)
:(
NOT EVEN CLOSE.
I'm off school this week, so my number one goal is to PRETEND IT IS SUMMER AND I AM A REAL PERSON.
Definitely
.
WINNING!
and now for next week...

Fitness goals for the week of 4/25-5/1
Physical Therapy:
same as last week
Resistance exercises (2 days)
Stretching (4-5 days)
Running:
Monday-Thursday: 2 short runs (3 miles each), 1 medium run (5 miles)
Saturday or Sunday: 1 long run (10 miles)
Other:
Easy relaxing walk or yoga video (1 day)
Peace out, nerds.