aka,
Love in a Pot
aka, "
I dare you not to gnaw your arm off while it's cooking" Brisket
aka,
Why I Can Never Be a Vegetarian
At K's encouragement, a few weeks ago I started to give a serious look to Dutch ovens. I've been coveting
PW's
for a couple of years, but I knew that anything starting with "Le" and ending with "Creuset" was out of my price range. (I've already cracked a small stoneware crock and a handle of a Calphalon pan making
my fancy bread
, so it was time to for me graduate to the big leagues.)
Anyhoo, K discovered last weekend that Macy's had
Martha Stewart's cast iron enameled pots
marked down about 50%, and on Saturday she texted me a picture of a bright red one she was buying. I was happy that she also did some research and found out that ol' Martha's pot scored pretty decent marks in the affordable-but-well-made category. I promptly made her take me back to Macy's the next day so I could buy one (a
butter-yellow beauty
) of my own. It has been sitting on my stovetop since Super Bowl Sunday.
I knew I needed the inaugural meal to be something special. Beef? A must. A good sauce? Fer sure.
I consulted
The Bible
America's Test Kitchen
(Do you have one yet? Do you like food? GET IT.) and decided on either Braised Brisket or Braised Beef Short Ribs, depending upon what the market had for sale. Enter one piece beautiful grass-fed beef brisket into my life. It was decided.
Listen, I'm a fan of the crock pot. I'm not switching teams. I just wanted to be able to brown and sear and cook in the same pot. I wanted a few more options beyond
crock pottedness
. I'm not throwing my crock pot in the garbage anytime soon, but I have to admit that there was a depth of flavor to this meal that was above and beyond anything I've made in my crock pot thus far. I'm a fan.
I also didn't get any pictures of the end result because by the time we all sat around smelling the brisket cooking for three hours, we had turned into a bunch of ravenous, hunch-backed animals. I practically licked the bowl and I almost stole Henry's portion when he was eating too slow. No time for pictures.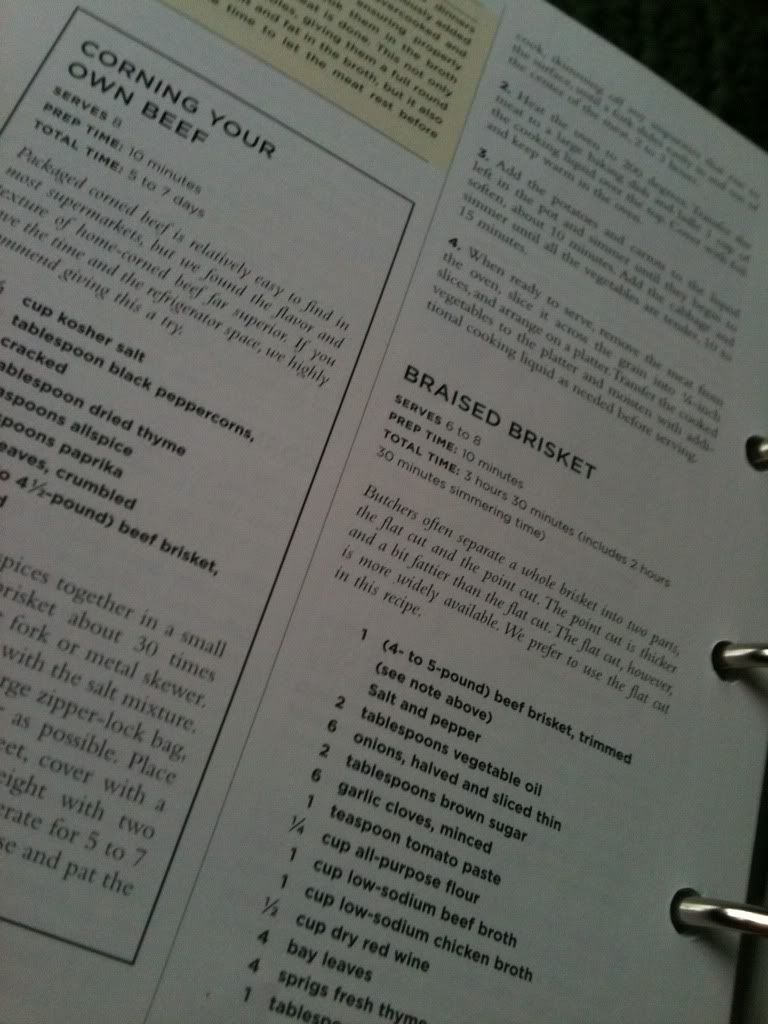 Braised Brisket
Adapted from
America's Test Kitchen Family Cookbook
1 (4-5 lb) beef brisket
salt and pepper*
2 tbsp olive oil
2-3 onions, halved and sliced**
2 tbsp brown sugar
6 garlic cloves, minced
1 tsp tomato paste
1/4 cup flour
2 cups beef broth
1/2 cup red wine
4 bay leaves
1/2 tsp dried thyme
1 tbsp cider vinegar
*I used Montreal Steak Seasoning because I'm obsessed
**you could use more onions--the recipe calls for 6, I only had 2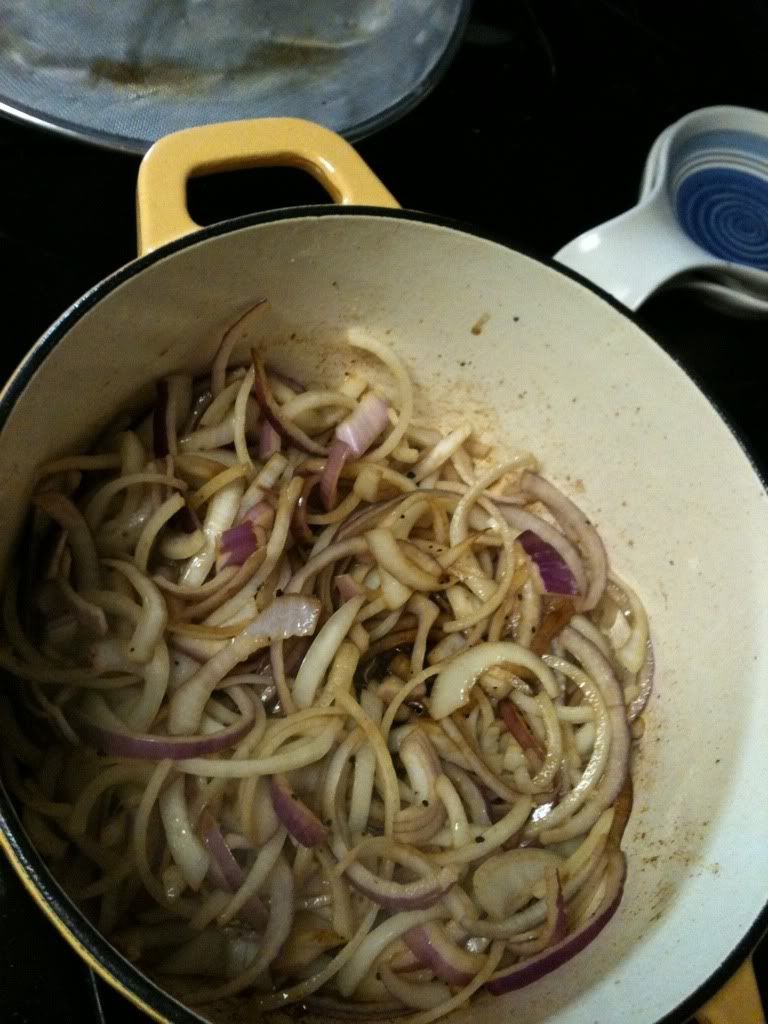 1. Adjust the oven rack to the lower-middle position, and preheat oven to 300 degrees. Dry the brisket with paper towels, then season with salt and pepper. Heat the oil in a large Dutch oven over medium high heat until simmering. Brown the beef on both sides, about 10 minutes, then transfer to a plate.
(Really brown it so it gets kind of brown and crusty. All those brown flecks in the bottom of the pan = flavor.)
2. Add the onions, brown sugar, and 1/4 tsp salt to the fat in the pot. Return to medium heat. Cook until the onions are well browned, about 10 minutes.
3. Stir in the garlic and tomato paste. Cook about 30 seconds. Stir in the flour, cook for 1 minute. Stir in the broth, wine, thyme, and bay leaves, scraping the browned bits from the bottom of the pan. Add the brisket. Bring to a simmer, cover, and cook in the oven for 2 1/2 - 3 hours, or until a fork slides easily in and out of the center of the brisket.
(I dare you to resist the smell of this thing cooking. It was torture. So good it's going to physically hurt you to smell it and
not
eat it yet.)
4. Transfer the brisket to a plate, tent with foil and let it rest for 15 minutes. Let the liquid in the pot settle for 5 minutes, then skim fat from the surface. Discard the bay leaves, stir in the vinegar, and season with salt and pepper to taste.
5. Slice the brisket thin across the grain, top with sauce. Serve over rice, if desired.
Notes: If you wanted to adapt this for a crock pot, you could follow steps 1-3 in a large pot and then transfer the entire thing to a crock pot to cook. I'm sure it would still taste great. I also think this would be great with mashed potatoes, sweet potatoes, broccoli, mushrooms, or brussels sprouts. But I am not lying when I tell you that the sheer power of the cooking brisket rendered me helpless to cook anything else but rice. It was good with just rice and I won't tell anyone we skipped the side veggies if you don't. Onions are a veggie, right?
I am feeling very brave and adventuresome, now. I would still like to try those braised short ribs, plus I've got
Coq au Vin
,
Boef Bourguignon
and
braised chicken thighs
on my
to-make
list.
Bon Appetit!