Monday, Monday
...
Today was over faster than Hanson's musical career. (Mmm-bop!) Amazing how being busy helps the time to zoom. If last week was about finding routine, today was about autopilot. Autopilot, I missed you.
Things I've enjoyed on this fine little Monday:
Some time grading papers before school (okay, enjoyed is a strong word, but it wasn't torture)
The space heater behind my desk--holler.
Alone time with Pandora to keep grading before school started
A brisk--I SAY BRISK--walk to the closest teacher restroom, which is approximately 2.5 minutes from my classroom, only to find that the only toilet was clogged, which meant about another minute walk to another faculty restroom. The passing period is five minutes long. FAIL. Now that I give it some thought, that was less than enjoyable. I know you're glad I shared that with you. If you have a job where you can pee whenever you want, you should hug a teacher. We can't.
A little lunch-time meeting, a little website design.
Finishing school and still seeing sunshine! I missed you, Sun.
Coffee at home, ALL THE TIME. All the time today, all the time, in general. Why the heck was I spending so much money on Starbucks? Makin' a pot is oh-so-nice. And CHEAP. Black coffee in Henry's Christmas bear mug is--as Miley Cyrus would say, "prettycool."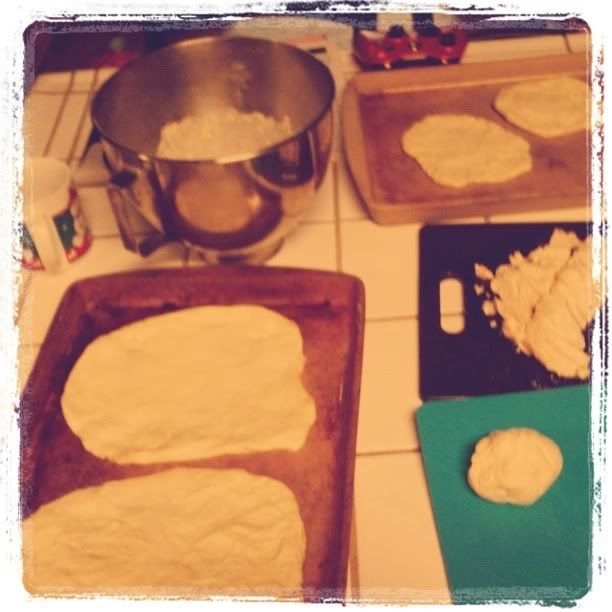 The fruit of my labors, as I made both pizza dough and bread dough yesterday. We're about to chow on some chicken red potato pesto pizza, and I can't wait. Been craving it for a few weeks. So I guess that's an "about to enjoy," not an "already enjoyed."
I'm feeling good, this Monday. Feeling like this week isn't going to be so much of a massive fail in the "exercise other than physical therapy" department. While I'm proud of myself for keeping up the PT (I have to go see the therapist this week, so fear has been a great motivator), I didn't make it out of the house once to swim last week. This week I've set my goals low, hopefully making them attainable. I'm gonna start by doing a walk on my treadmill tonight and then I'll swim at least Tuesday/Thursday.
If I have one complaint about today, it is that my house has been nonstop NOISE since I got home, and I can barely compose a thought. Santa and I didn't really conference before Christmas about how much Weird Al was going to be blasting playing chez nous 24/7 once the H-man got his iPod.
Addie looked at me the other day and said
Mom, I swear if I hear The White Stuff ONE. MORE. TIME...