Being a blogger is kind of weird, honestly. I don't mean that it's weird to write about my life--I've been doing that since long before I had a blog. I don't think it's weird that people read it, either. There's nothing here that I wouldn't tell you if we were talking and you really wanted to know. But there's a whole lot of my routine that's unique to blogging. People read things that I write, but there are not a whole lot of people in my life who
go through
the same tasks every day as a part of blogging.
Tonight was a nice evening of kindred spirits, a peek into what I am sure all those ginormous blogger conferences are like. But this was my kind of "conference"--five ladies sitting around, drinking wine (okay, that was just me n' Hutch) and carb-loading like tomorrow was a marathon... Lots of laughing, lots of getting to know each other and everything linked by a common thread of understanding what the process is like.
Left to right: April, Tracy, Me, Katie, Hutch
Tonight was our first gathering of Elk Grove Bloggers and I have to say that even though I thought I'd like it, I liked it
way
more than I anticipated. Little ol' introvert me doesn't normally meet people who she doesn't know in real life. True, my SIL April was there too. But I hadn't ever met any of the other EGBs in person. I've been stalking their blogs for some time and we comment,
facebook
, and
tweet
each other. But it was cool to meet face to face.
And not in a scary "internet people are bad pimply basement-dwellers" kind of way.
The thing about small towns is that people know you before they really know you, anyway. We all graduated from the same high school (I was the old lady of the group--they graduated two years after me) and the web of connections was a little astounding once we started to figure all that out.
It's an interesting thing to forge a friendship without seeing or hearing someone. It was really easy to talk to everybody because I felt like I was up on exactly what they'd been doing. In some ways, blog friends who really take the time to read what you write are more "in the know" than people you see, casually, every day. It was weird, but cool.
I really liked everyone. I hope we get together and do this again.
I thought I'd tell you a little about each of them and link to their blogs. I respect these ladies. They're so different, but they each have something really cool to offer. So here ya go (yes, friends, I totally
ganked
your profile pics for my own use):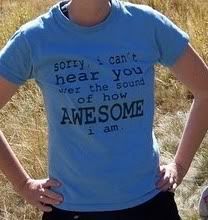 Hutch writes at
Be Awesome Instead
, a blog that consistently makes me snort coffee on my computer keyboard. She's ten shades of hilarious, but I love her for her
Hamburger Alerts
and her consistent
use of jazz hands
the most.
I enjoyed getting to talk to her since I've been twitter stalking her for some time. In real life Hutch is sincere, equally funny as she is on her blog, intelligent, and... yes. Awesome. True story. I was totally
jazzed
to meet her. Get it?
Katie's blog,
Suicide Blonde
, takes its name from an INXS song. This surprises me not, since Katie is, like, the personal embodiment of all things music. She's been to like a
billion and a half concerts
and she does all kinds of
Top 5 posts
. I tried to have a consistent theme once and I failed after like three weeks. Katie manages to keep it going and keep it interesting.
Katie's a fashion merchandiser, which I don't pretend to understand, but it means that she is able to make things look good so schmucks like the rest of us will spend all our moolah on it. Or something. She is down-to-earth in person. Funny. Out there, but in the best way. I like that she seems bold. Oh, and she is not blonde anymore, so way to go on the blog title, Katie. Obsolete, much? Time to go blonde again?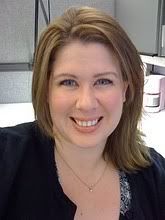 April is my SIL. So I know her already. But she has a blog,
See April Work
. She's been on maternity leave, so if you click over to it, be patient. She's in the middle of a remodel and probably not expecting houseguests just yet. April's blog is a little bit of everything: an ode to
Starbucks
, office supplies and crafts. Well, crafts, but she also does stuff like
make her own laundry soap
. Yeah. Amazing. Apparently the whole
rant
thing must run in our family, too. She's pretty good at it. :)
April wasn't new to me tonight, but let me tell you why I love her, Internet. She's smart as hell, assertive, BEAUTIFUL, and a good sister-in-law. She is a wonderful new mama to the best niece and auntie could have. She's just rad.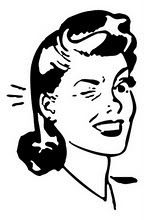 Last but not least is Tracy, of
Tracy on the Cheap
. Tracy's blog has a simple premise:
one outfit a day
, FOR CHEAP! She's been on a little blog vacay for a while too (taking care of real life) but her archives are still amazing. When she was posting regularly I always had to check out her stuff in my reader first. She is able to put together chic outfits for next-to-nothing, and she takes requests. I consistently get inspiration from her, and whenever I am out and I find a bargain, I think of her.
In real life, Tracy was sweet, so friendly, so genuinely interested in everyone and so funny. I really enjoyed meeting her and I had the sense that she was an amazing person. She is the kind of person you talk to and it feels like you already knew them.
I had a great night tonight, and it felt so good to do something different. It was fun to meet (and re-meet) them and figure out how our lives have been overlapping for years. I definitely see EGB happenings in our future.