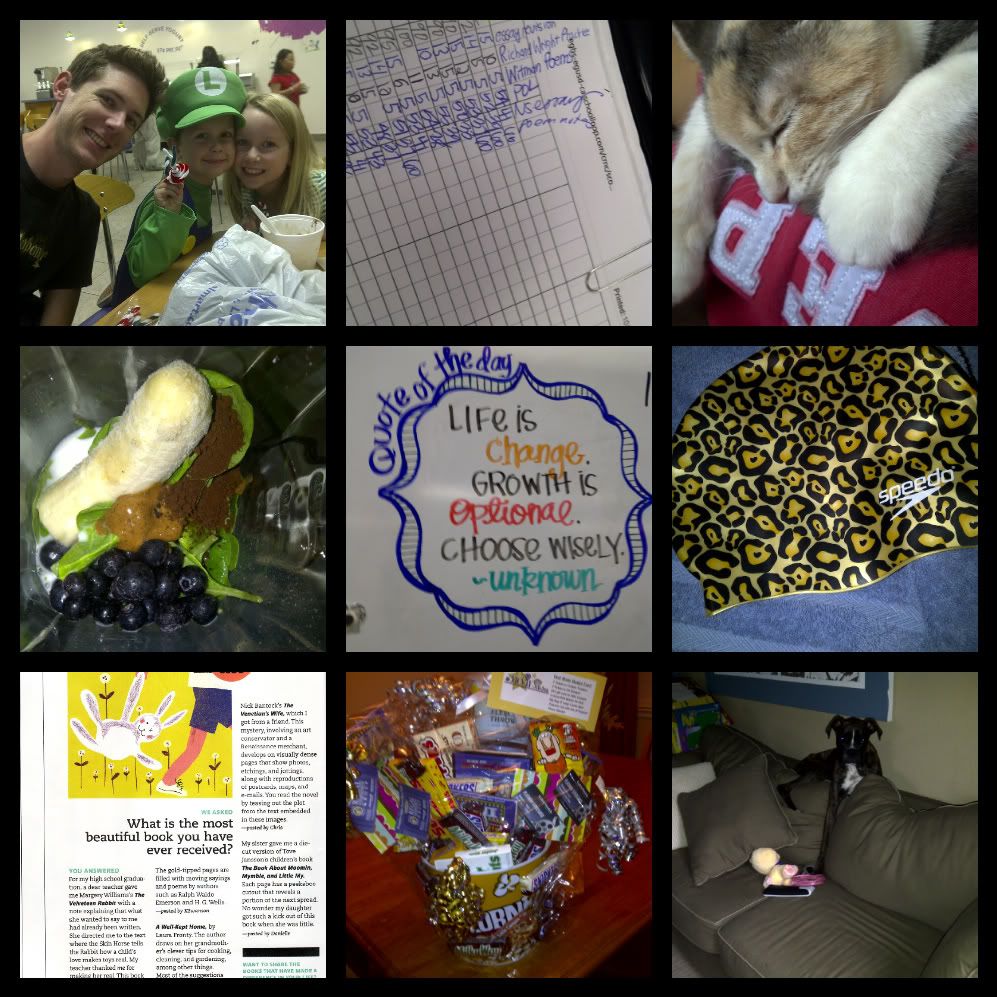 Top left:
E
avec
monkeys, post-Elementary school Halloween carnival. It was rained out the week before, but having it in November turned out to be a fun way to keep the holiday going. We had ourselves a little after party at the froyo shop in town.
Top center:
Finishing up my grades last night. I was determined to make today a "real life" day instead of a work day. I took this pic just before I input all of 5th period's grades into my 3rd period class grade book on the computer. FAIL! Good thing I caught the mistake before I uploaded. I am happy to report that grades are DONE! (Yes, I'm ignoring the stack of papers the kids just turned in this week--that's another story!)
Top right:
Twinkle helping me read last weekend. I'm finally getting into
Cutting for Stone
and I love it. It's incredibly dense and it's about things I have no idea about (see: the World)--well, basically it takes place in India and Ethiopia so it's a stretch for me--but it's a really compelling story. I was happy my little Twink' decided to keep my legs warm.
2nd row left:
My favorite breakfast, the
Green Monster
. I don't usually make them on days off, but I was feeling like a healthy breakfast might do me good today. Ingredients: almond milk, 1/2 frozen banana, palmful of frozen blueberries, tablespoon almond butter, 3 ice cubes, 1 cup of spinach, 1 tsp of instant coffee. Mmmm! Vegan! Healthy!
Delicioso
!
2nd row center:
The quote frame on my white board. This was Wednesday's quote and I liked it a lot. I've added a few twitter accounts to my quote list this week:
Women of History
and
Philosophers' Quotes
. I love to pick out the quotes for the week. I have so many right now I'm about two weeks ahead of the board. :)
2nd row right:
My brand spankin' new swim cap. For swimming. Awesome, right? I figured I felt dumb already about wearing a swim cap, so it might as well be one I thought was funny. And you know what? Swimming was awesome. Didn't hurt my hip one bit and I really enjoyed the exercise. There's something calming about a pool. Well, calming and simultaneously fatiguing, but once I remembered how to breathe like a normal human I was fine.
Bottom left:
This week's
brush with magazine publishing
. Small, but mighty.
Bottom center:
The awesome gift basket we won in the raffle at the monkeys' school on Friday. Awesome! It was not just full of candy, popcorn and DVDs, but it had gift cards for pizza and four movie passes. Yeah, I've already used one of the movie passes. Felt good to hand it over when the guy said "that will be $10.50, ma'am." HERE YOU GO, NERD.
Bottom right:
Hurley. Mountain goat, or small cat? Neither. He's a boxer with an identity crisis. He also discovered how to rip apart stuffed animals this week. Every five minutes it looks like it snowed over here.