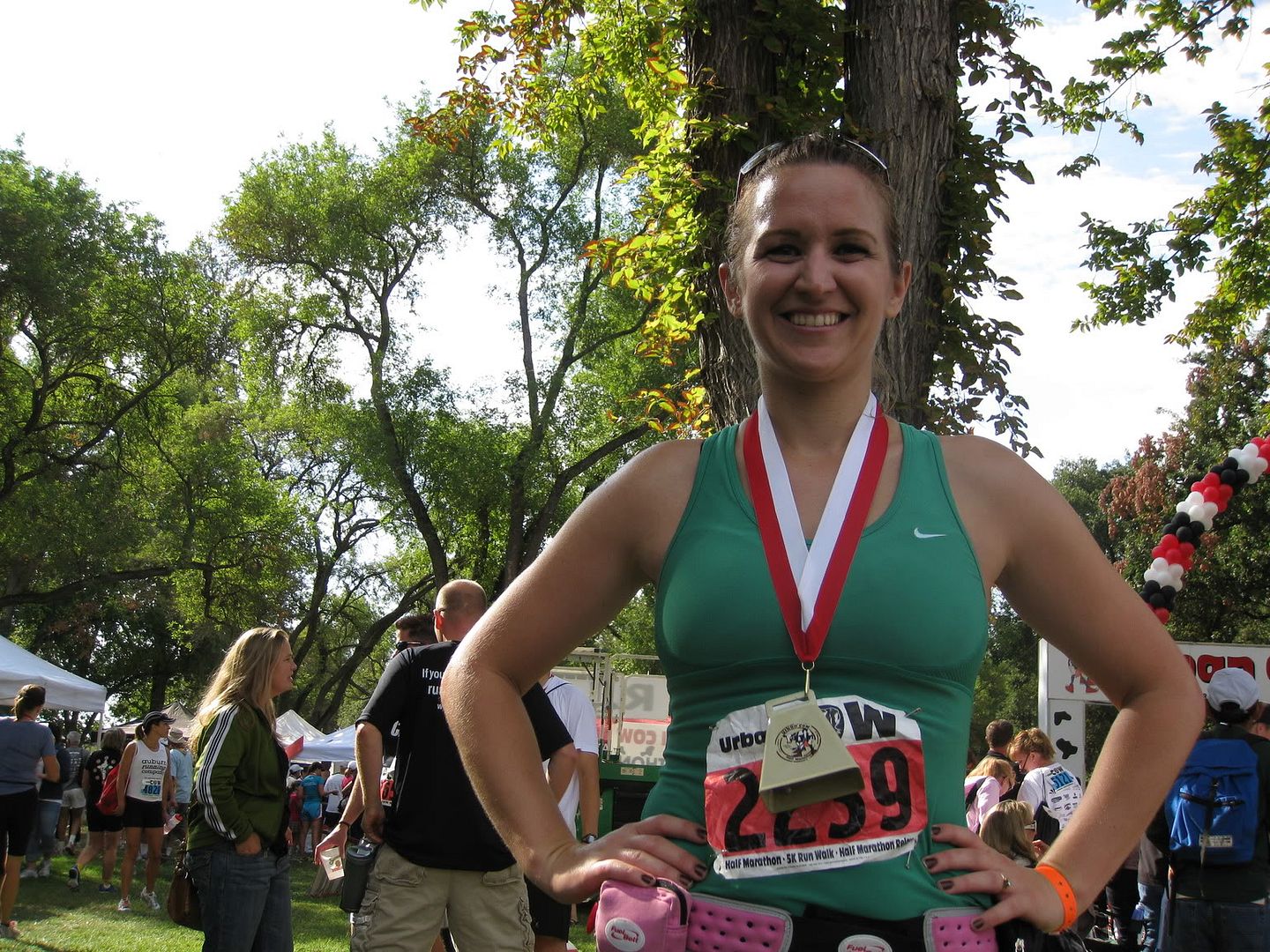 Race night, and here I sit with two Ziploc baggies full of ice balanced upon my sore little hip flexors. Ah, hip flexors. So hard to find as a ballet student, so hard to teach students how to use them as a ballet teacher, and now so hard to move them as a tired second time half-marathoner. So yeah.
Ze ice diaper
. She lives.
What a day! My second effort at racing proved just as much of an adventure
as the first
; the year that lapsed between races had more to do with our financial situation when E was out of a job post-law school (
and then basically working for minimum wage so we could eat
) than anything else, but I'm proud to say that since I kept up the running (with some degree of consistency) I was able to improve my time. Last year I ran 13.1 miles in 2:36:47. This year I ran the same distance in 2:30:29.
I'll admit I gave much less though to this year's goal, but I did utter (udder, yes--haha--obligatory pun) the phrases "just as long as I do better than last year" and "around 2:30" to E last night. Well I hit 2:30 on the nose, and I certainly beat last year. It is hard not to feel like an 11:30 average is terribly slow, but I have to continuously remind myself that this is a new venture and I am not a lifelong runner. Nothing about it comes easy to me. In April of 2009 I couldn't run 1/4 of a mile. Now I ran my second half marathon, and faster than the first one at that. *golf clap*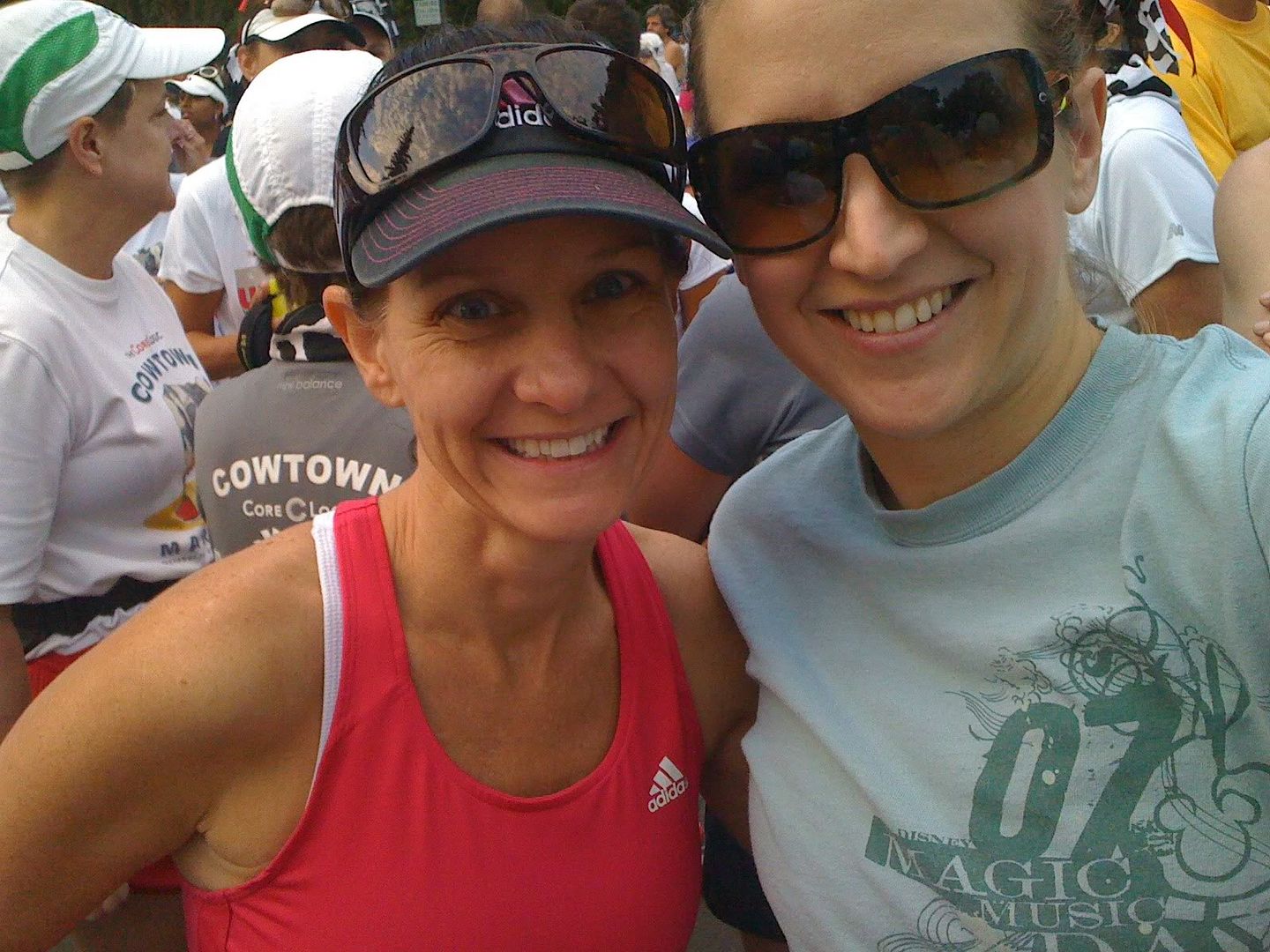 But there is more to celebrate than just the increase in speed, though that would be plenty. In the past few months I've overcome my nervousness/awkwardness/trepidation about running with other people and I've run with
Kel
and her wonderfully welcoming running buddies. I ran 13.1 today with no iPod--that's something just because my ballerina buns have been chained to the steady rhythm of
something
for basically the last 18 years. Getting my body to move--finding an internal metronome and (with the help of Kel and her Garmin) pacing myself so I can manage a finish... that's something too.
It was a good race day--last week's unseasonably hot weather in Northern California faded into filtered autumn sunshine today. It was warm but not hot, humid, but not blistering. The start was comfortable and the temp stayed mild throughout. I made the mistake of letting too much time pass between using the bathroom and starting the race; consequently I had to lose some time in a porta potty. Major fail. I felt bad about it, too, since Kelly was running with me. Okay, I still feel bad about it. But once I realized I needed to go, that became my whole world and there was no way I was going to make it. Man, that makes me mad at myself. Whatevs.
Kel was my Garmin, basically. She kept me from running too fast, and she was able to pace us and let me know how we were doing. This race is just one more reminder of how much I
really, really, really
feel like I'm to the point that I could use the instantaneous feedback on my run. I've been Amazon stalking Garmins all the time and thinking about how I might save my pennies. The ol' iPhone in the pocket ain't cutting it anymore. Today it was invaluable to see how we were doing.
I walked. I know some of you will see that as an admission of failure. Those are the same people that ask me this all the time:
Them: So you're running a marathon this weekend?
Me: A
half.
A half marathon.
Them (disappointed): Oh.
I wish those same people would try to run 13.1 miles. But I don't really need to impress them anyway. So yeah, I walked today. I managed to run for 8 miles until I had to start doing walking intervals. That's the farthest I've ever made it running straight through. On
our 12 miler
I had to walk after 6; last year at this same race I walked after 4.5 or 5. Something else to be happy about. When I started running, I felt maxed out at a quarter mile. Now I can go about an hour and a half until I hit the wall. I really hope that if I keep at this that time will get longer and longer.
Me, in green. Kelly in pink.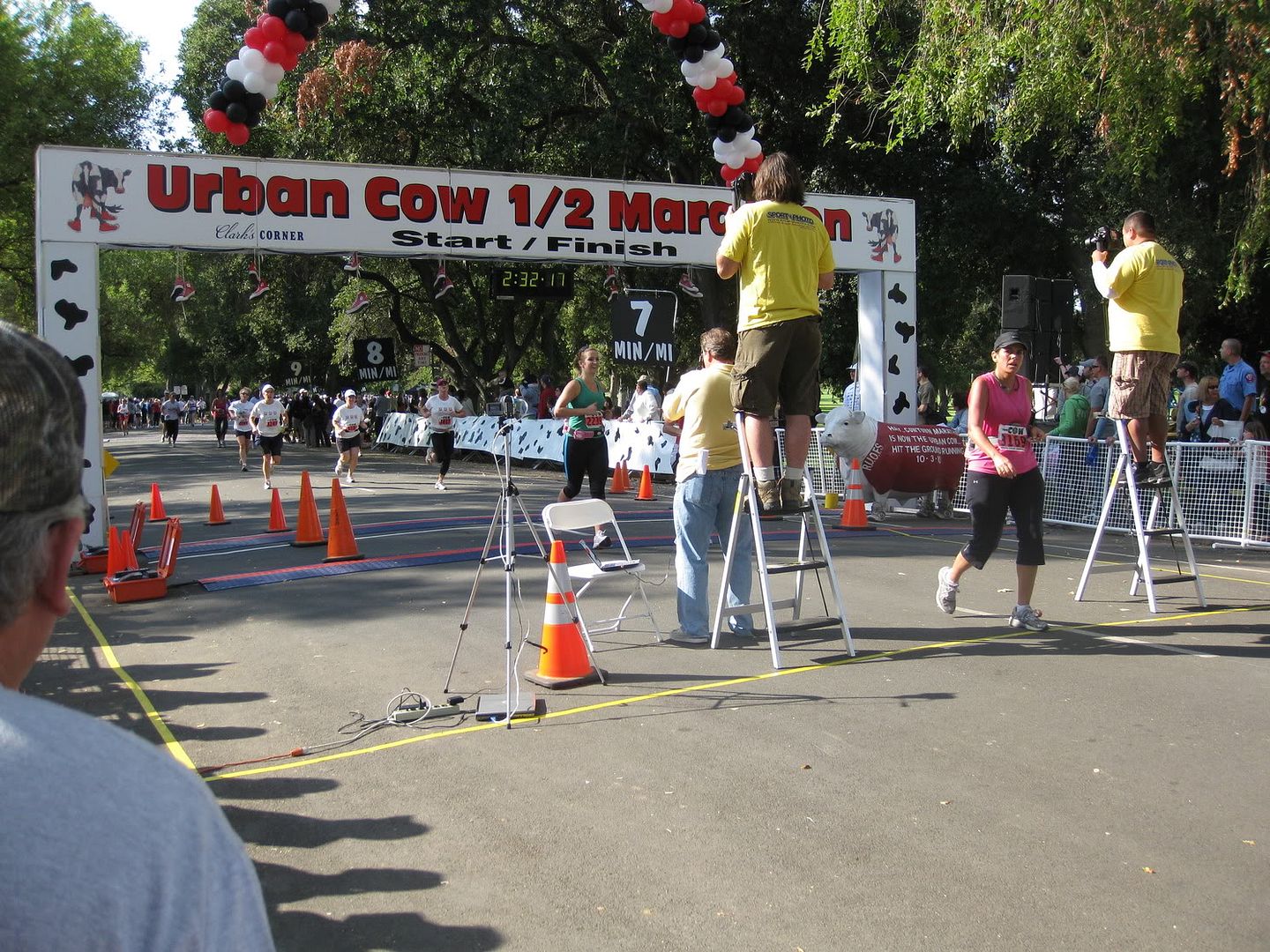 Just after the finish. Saying to myself: don't fall down.
My family timed their arrival so that everybody saw/yelled/took pictures of me crossing the finish this year. I also smiled three times for race photographers, so hopefully there's something on the race website for me this year--some kind of proof I was there (unlike last year!). I'm exhausted, but I do notice that the feeling my body is having is not so foreign anymore. This tells me that this was
more
like a training run and
less
like something out of the ordinary I did. I think that's how it's supposed to be.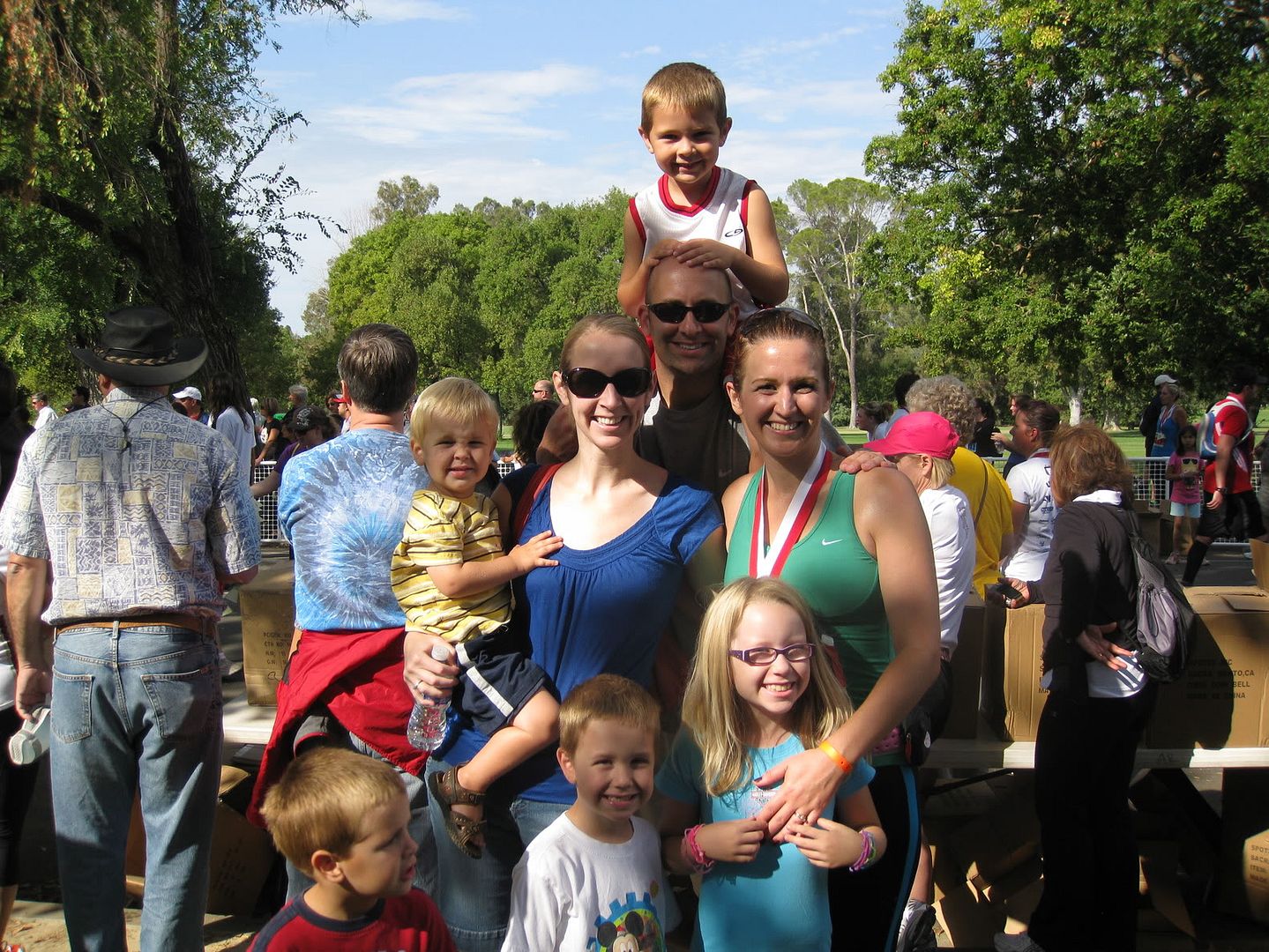 Lis, D, and fam.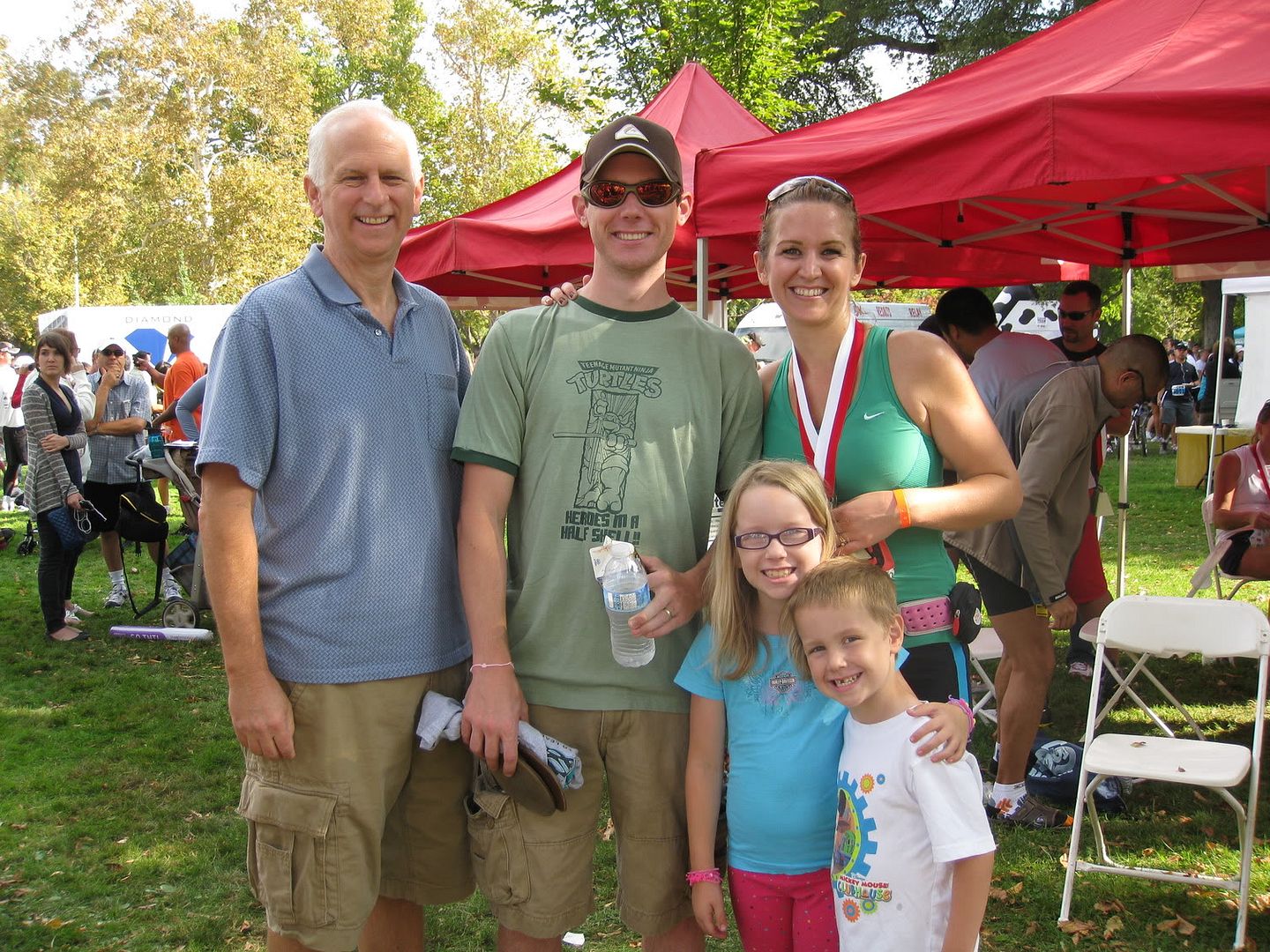 Dad, E, monkeys.
Henry stealing my chocolate milk.
Mari and Lance--they both ran today too.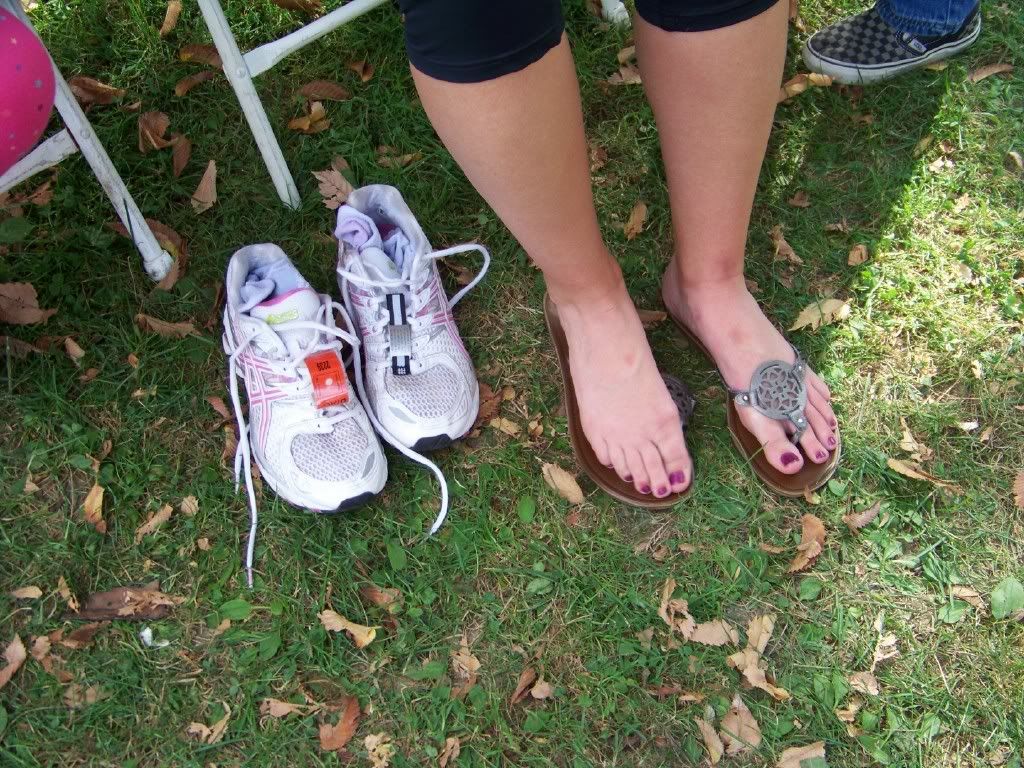 The dogs were barkin'.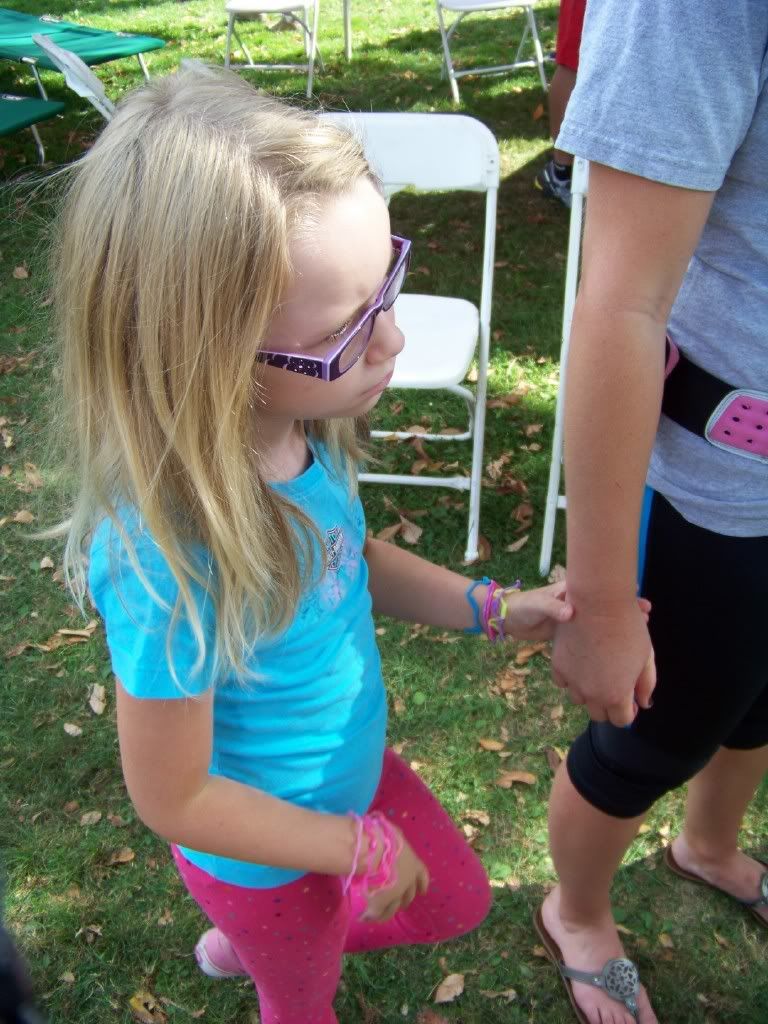 Glad to have her mommy back. I really hope I can run a race with her one day.