I realized this weekend that it smells like Fall in the afternoons. Weird.
This past weekend actually started on Thursday night--the combo of our hard week and a bit of laziness meant that our kitchen was nowhere to be found, so E suggested I meet him downtown for dinner. That afternoon we talked and decided to make it a babysitter night (thank you, Mom and Dad!) and we made our way to my favorite, Joe's Crab Shack. It was great to sit by the river and watch the sun set. I didn't even mind driving down to meet him--it seemed like such a nice way to spend an evening. I'll admit that at first I thought about saying no to a date on a weeknight, but in the spirit of trying to make time for
real life
above work and to keep balance, I said yes. I'm glad I did. I really like my husband, and I really, really like being out on the town with him (particularly if he's in his suit and tie) and particularly if we go out for crab.
I killed off my entire bucket of king crab legs and went after his shrimp. I have a bit of a crustacean problem. after dinner we took a stroll down the river walk to his parking spot. The happy accident of his monthly space meant a nice walk across the tower bridge and in the footsteps of the baseball stadium nearby.
Happy.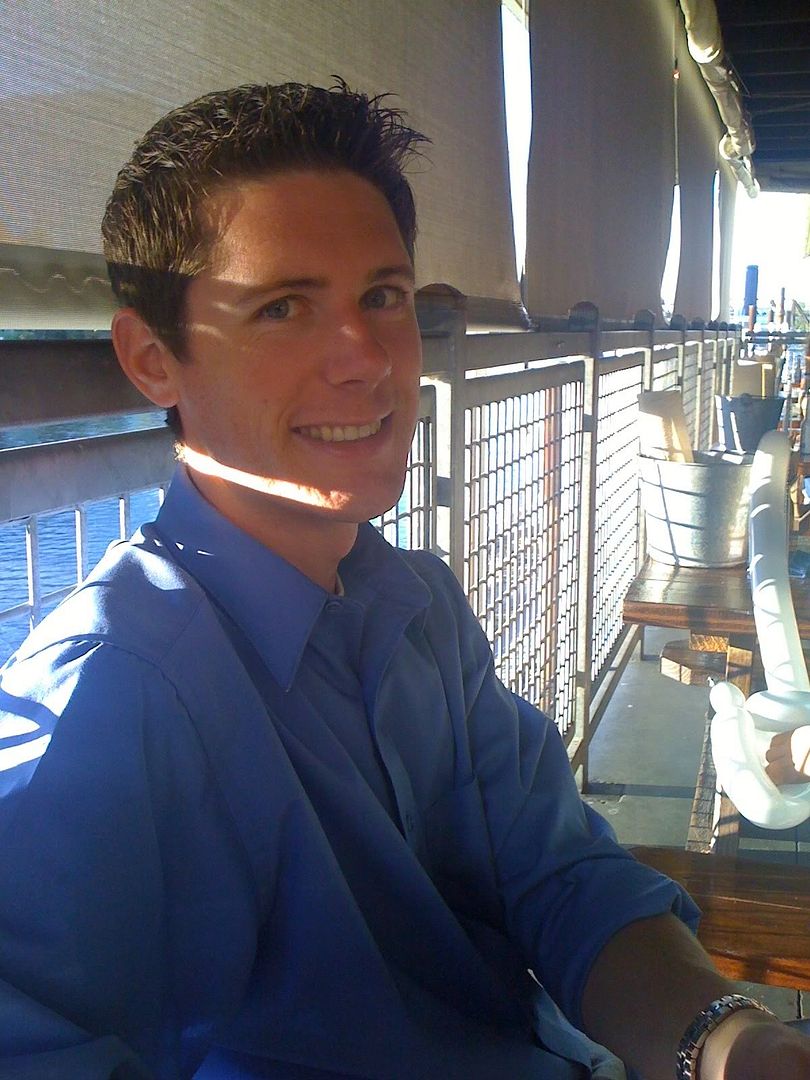 *sigh*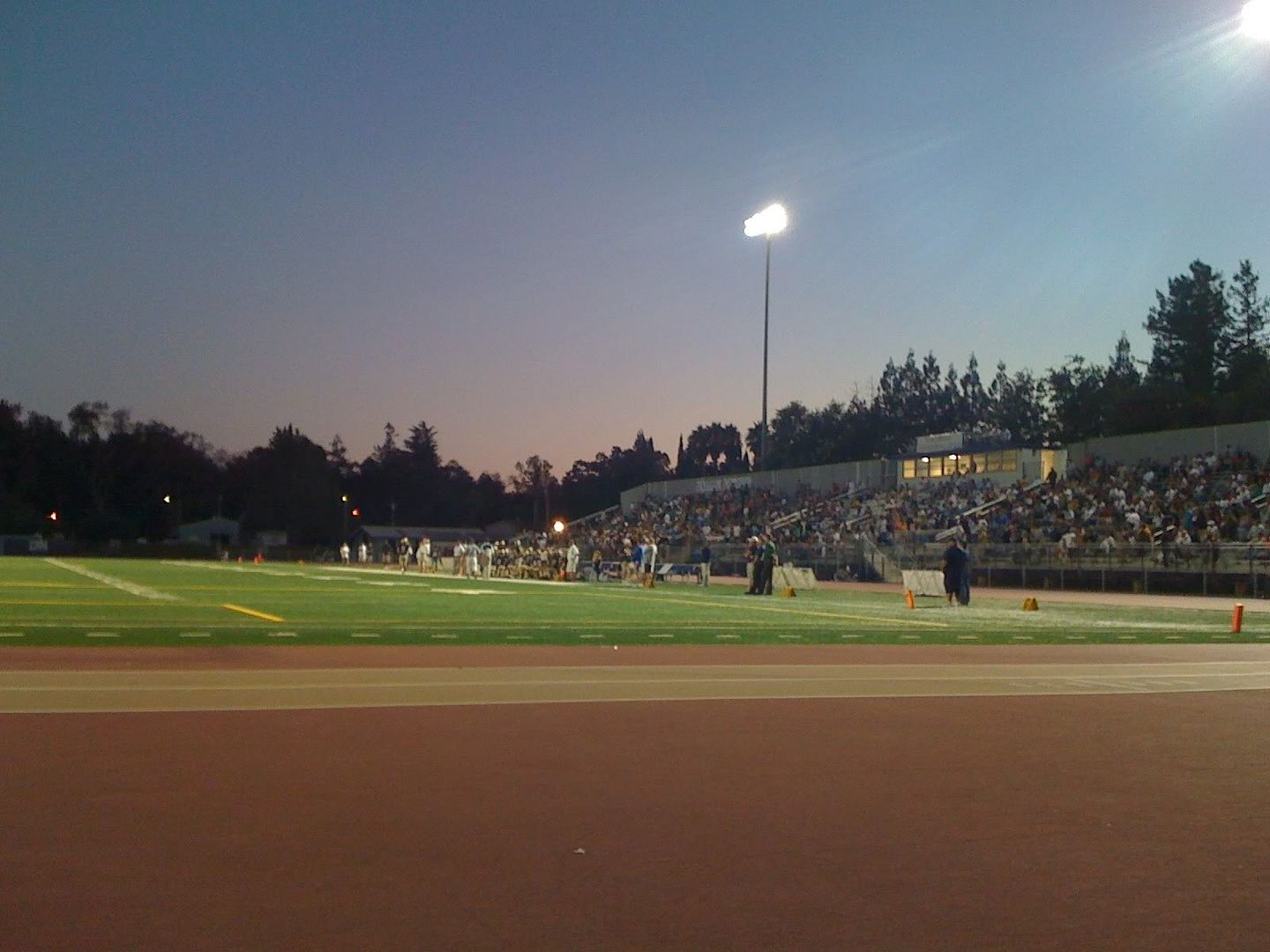 Friday night lights

Friday night we packed up our lawn chairs and headed to a faculty tailgate at my school's football game. I haven't been to a high school football game in a long time, probably since I stopped coaching our school's Drill Team, which was quite a while ago. I loved the games then, loved being on the sidelines and watching the girls perform, but I have never, ever loved having to go back to school at 6:00 on a Friday night. It's just hard after a long week. The same was true this Friday, but I'm glad I did. The BBQ was great and there were lots of families there for the monkeys to play with.
Since I went to this same high school, it's a little sad to see that the crowd is a little thinner. High school football games were such a big deal in the community when I was in high school. I was glad when my friend Leah (another teacher and another alum) went down in front of the crowd to get her students to do the roller coaster cheer. Awesomeness. It totally revived my faith in high school football crowds.



Leah leads the masses.

It wasn't a late night--Roo started slowing down and saying "I'm sleepy, Mommy" about 8:00. But since I don't give one bean about sports anyway, it didn't bug me to leave before halftime. Yes, I said I don't care about sports. I like being at the games for the sense of community, but not so much the whole football thing. Silly, right? But we felt like we stayed long enough so we took off and had the kids in bed before about 9:00.

Saturday didn't turn out like I hoped, hence the griping about sleep and anxiety. I spent the rest of the day running errands and (shhh) petting rescue cats at Petco to soothe my sad little cat-missing heart. It was like they knew I needed them--about six came running at me when I sat down. It was one of those days where I don't know what I did but somehow the day was over before I knew it. I hate days like that. It was a day spent in a daze. Fail. I will say again that I hate anxiety.
I think it did give me some perspective and I feel like I have a smidge of a plan now about how I'm going to deal with this recent development. I guess I'm learning (years later) about myself and how anxiety really plays a role in how crummy it can get between me and E. Needless to say it's not the most crummy-free it has ever been around here. Even though it manifests itself as bickering with him, it's inside me. I need to figure out what's bugging me I need to figure out what's making my heart race and my muscles tense for no reason. I'm going to get help and use the tools that I know have worked for me before. What does that mean? A little of this, a little of that. Meditation, writing, exercise, appointments with professionals who deal with this kind of thing. It always works. Counseling always makes me feel better, even if it doesn't "solve" anything. I think it would help me to check in with someone who can offer different perspective again--this time before it starts to affect things like work, worsen my life with E, etc.
Today was another good day, though. Though I was up earlier than I would have liked (6:30) and though I woke up more times than I wanted to (4?) I had a peaceful morning of dish-washing and yogurt-eating. I walked with K (my lovely Sunday morning tradition, as of late), and then we went to the SPCA just to look at kitties. JUST TO LOOK, I told myself, because the whole deal with the shelter is so hard to accept anyway, and I didn't want to get it in my heart that I was taking one home just in case it wasn't going to work out. There's no way to know what waits at the shelter. Of course, this little calico face was waiting in the back corner, talking through the glass to us about how badly she wanted out. We obliged. K had spotted her and immediately thought she looked like a keeper. She was.
Not wanting to hold still for so long...
Checking out the surroundings, more of not holding still...
She let K hold her for a bit so I could get a focused pic.
She was extremely playful and had a healthy, loud purr. She was great about letting me "moogie" (my word for cat snuggle) all over her. After some consideration I decided to put her on hold and bring E and the kids back... When I called E to see what he thought, he said "I just figured you'd bring one home." aaaaaand, SOLD. I decided just to take her. She's getting fixed tomorrow, so I can pick her up at 4:00. I can't wait. I know it's soon and Marmalade hasn't been gone so long, but I realized part of what was so hard to deal with for me about losing Marms was that I didn't have a cat to pet to comfort myself. Strange, right? I knew that this was the right cat for me, and though I'm still grieving Marms I was happy I could give her a good home and take her from the shelter. So many animals are there needing families.
Now if we can just come up with a name for this little cutie. So hard to decide!