I looked around the classroom. Once stuffed with desks and sporting a Thelma & Louise poster, it was now sanitized of personality by pale blue bulletin board and a few discarded tables. The room that used to feel overwhelming in my anxiousness now felt cramped, awkwardly small.

The river rushed past our car windows, a fluid hand guiding our blue Civic up the mountain like the curve of Cecchetti's 2nd
port de bras
. Landmarks I used in youth to gauge
how much longer
were smashed up together like haphazardly bookended novels. The drive that used to feel endless now jolted me with its quick finish.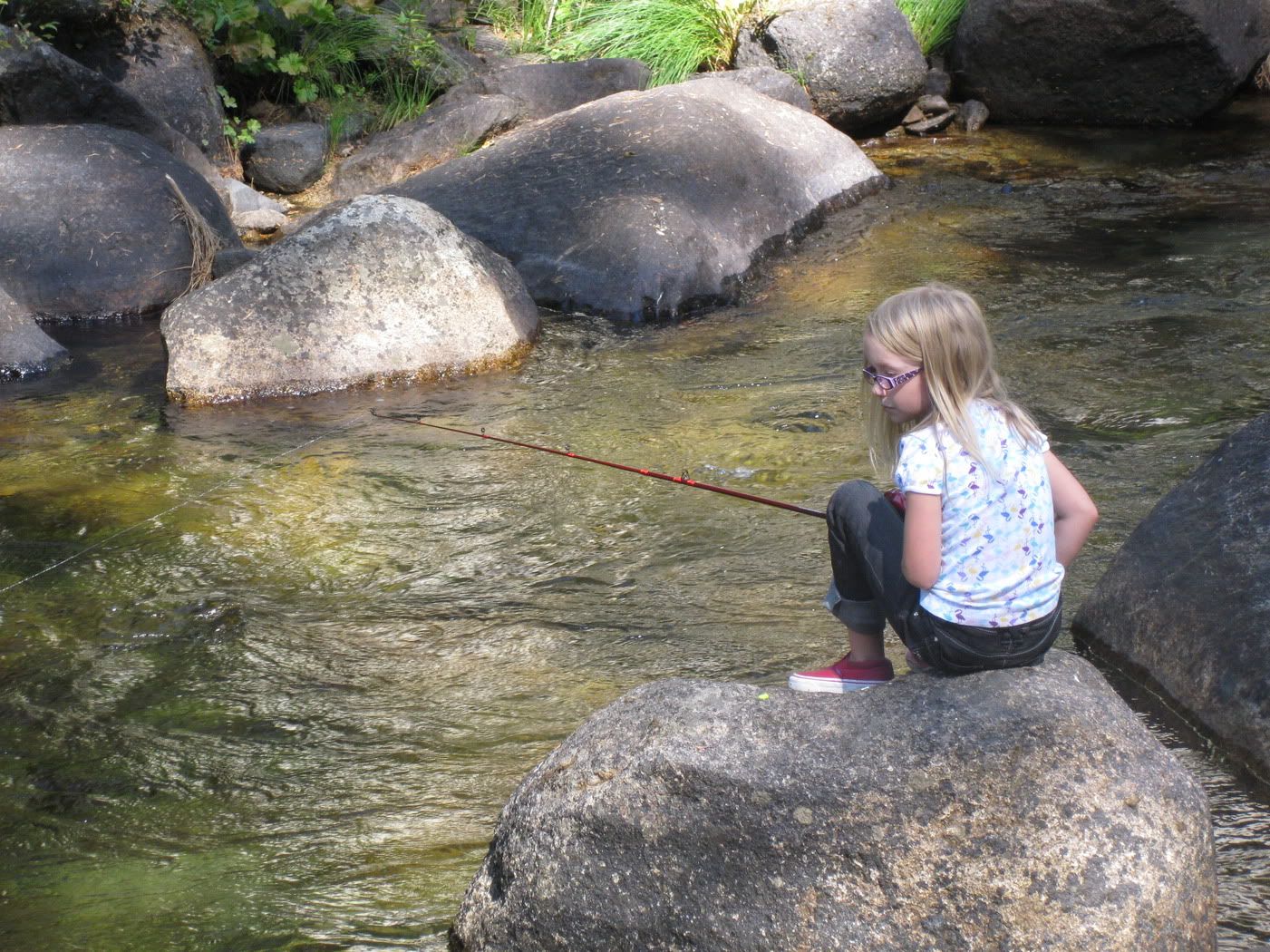 We trudged to the fishing spot. Poles in hand like scepters, we were fisher-kings of Kyburz. The monkeys mouths complained like their soft legs, but we arrived at the bridge faster than seemed possible. The grand expanse of beach stretched a paltry ten feet in either direction. The opposite shore, historically unreachable, was tangibly close. The river that used to seem broad was now timid and narrow.

Perspective is nice, even when it offers a different narrative than one remembers. I found myself repeatedly reevaluating memory in the last week: first in my tenth grade English classroom and then again at the family cabin. It makes me feel as though I've aged when something seems shorter, smaller, or narrower than I remember. Consequently it also makes me glad to remember it and appreciative of the chance to be there again.
I appreciated getting away for the weekend, too. In fact, we were only gone two days and only traveled about two hours either direction, but the peace I get from being at my family cabin transcends the geographical distance away. The cabin (built in either 1928 or 1948 depending on who one talks to) is in the best spot on God's green earth. The last one on the road (and according to Dad this weekend, the first one built in the tract), it sits nestled between a sweeping granite egg of rock and a thick cover of evergreens. Across the river is a steep climb of National Forest, untouched by man and sparsely populated by animal life save for the birds that dance across the tops of trees.
It's wrong to use words like "ours" when it comes to a river, but I feel ownership. It's so rare that we have to share this stretch of rocky, ice-clear water with anyone. The thunder of current against rock is background to many childhood memories, family summers raking pine needles, hopping rocks, singing into the roar--these are the things I keep close to my heart. My best friends and loved ones are the only people who've seen this magical place. It feels protected and safe. It feels like a tangible piece of myself and though I'm so proud to show it off I do so with a little twinge of fear that someone might not appreciate its worth.
Being there is like therapy. After the four of us spent an hour staring into the glint of the water, tossing rocks, and dipping our feet in the numbing water, I told E that if I could do that every Sunday, I'd be such a peaceful person. It felt like church. Like communion. Like dancing.