Back to school, Back to school...
Today was (begrudgingly) my first day back in my classroom. I decided that since
I've declared next week "Zen Time"
and will be adamantly refusing to do stuff, I better do some stuff today.
It went rather well, actually. I had Walmart bags of art supplies galore and some new posters from our trip to the deYoung that I wanted to drop off. I also knew if I went there I'd find a million other things to do. I was right!
It's so different taking the monkeys with me to school now. I used to take them thinking I'd get things accomplished, only to spend the entire time on bathroom trips and snack emergencies. Today, however, was awesome. They played school all morning while I worked away and we stopped to dance to Katy Perry songs when they came on the radio. I figured out that my air conditioner wasn't working, and the new custodian came and fixed it for me. (I'm soooo glad I got that one figured out before school starts; yuck!)
I thought that you might like a peek into my newly (as of the end of last year) reorganized classroom. After a year there, I made some changes to how I had it set up. This year marks the first one in NINE YEARS where I haven't had to move to a different classroom, so I was glad to put all that hindsight to some good use. I think all that moving was good for me though--I've realized over the years that I love a clean classroom (though you wouldn't know it to look at my home right now) and that if I keep things clutter-free and organized, I have a much better day at work.
My room's a pretty good representation of me. There are some Englishy things, but a lot of dance posters (leftover from dance teacher days) and just art and things I like. It's a nice space to be in each day.
I got some permanent marking done on the white board today. I'm as big a nerd for an organized white board as
I am
for
charts
, so I set up some permanent fixtures like these (above). You can also see some of my Georgia O'Keeffe prints above the board. It's actually a discount book of prints I got at Borders back when I was teaching dance. I hacked it apart with a razor and used the pages like posters--they border the front of my room. On the board are my agenda frames and my quote of the day box. For quotes, I love
greatestquotes
and
iheartquotes
on twitter, among others. I try to put up a new quote each day--something I started randomly last year but my students came to expect new ones all the time. I made the bracket frame using Microsoft word, then I printed it on an overhead transparency and projected it onto the white board so I could copy it.
These are all my family pics behind my desk. You can see my post about my desk area
here
(from last year, before I moved it to the opposite corner of the room).
The couch, making its not-behind-my-desk-anymore debut. I am not 100% sold on it, as the thought my students wanting to pile on top of each other or sleep on it makes me ill... but I want to try it this year. I made a nice little "couch rules" list and posted it on the wall behind it. I mean, I'm a fan of the couch (especially for lunchtime relaxing and naps) and I do have my freshmen do silent reading once a week, so it could be cool, but I'm not sure they can be trusted. We shall see.
Boyfriend
corner, sporting a new SIGNED poster, thanks to my friend Leah and the Social Science department. *happy sigh* :)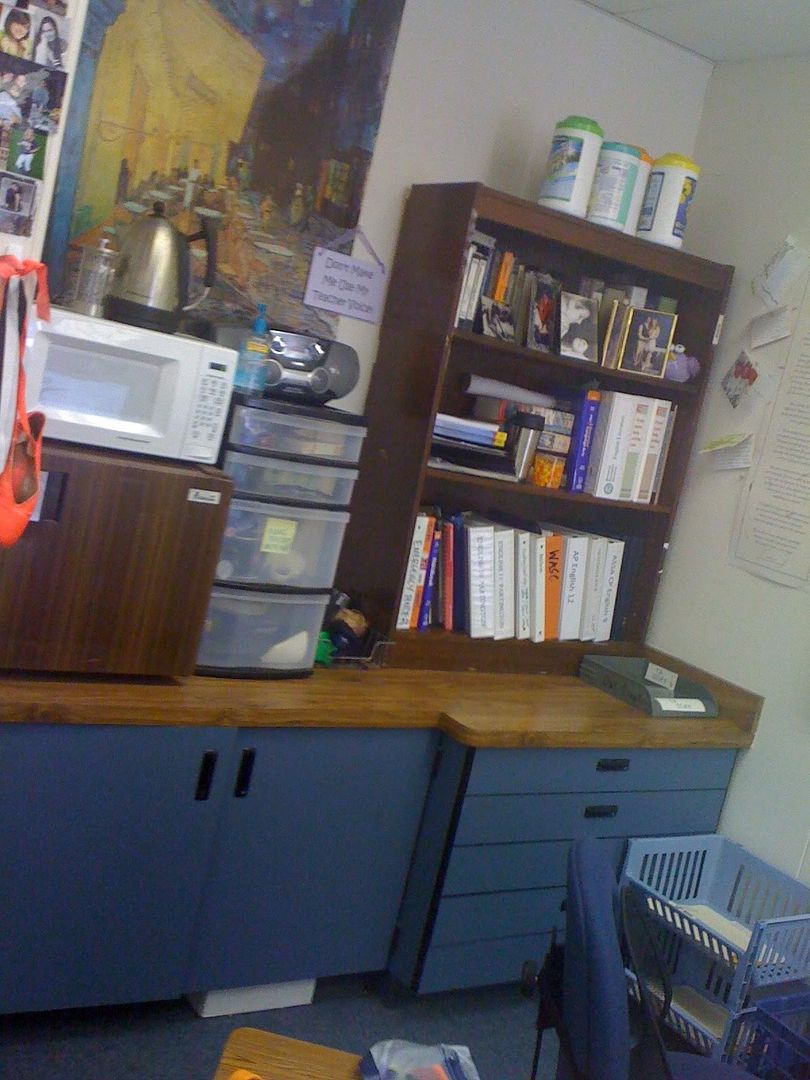 My little sanctuary behind the desk.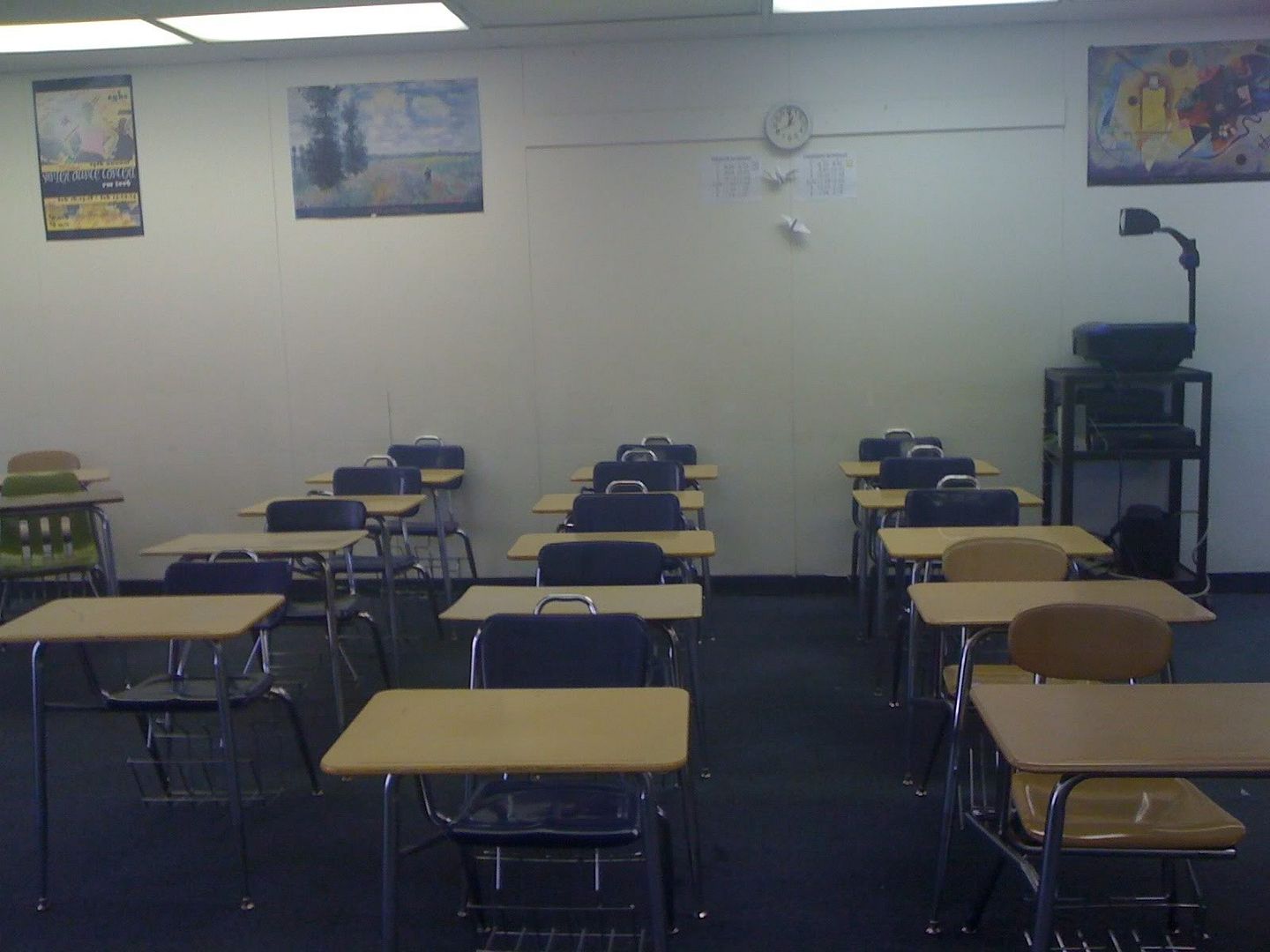 My view each day.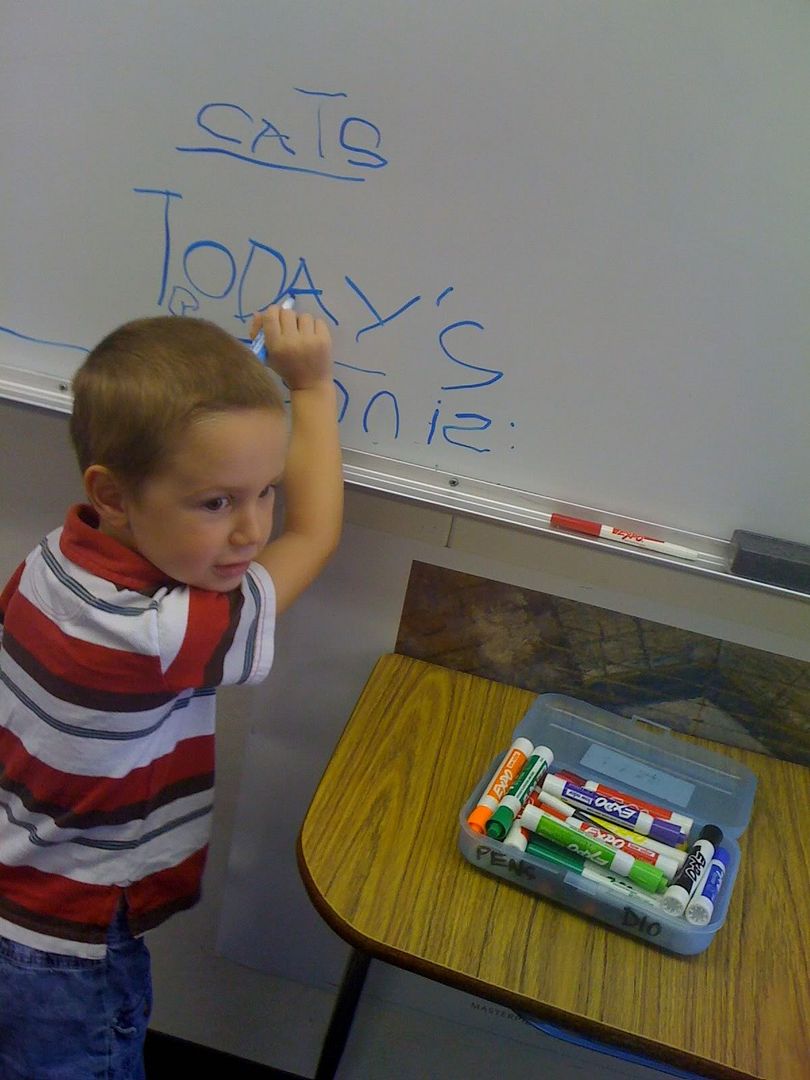 "Cats. Today's lesson is:"
SERIOUSLY YOU GUYS, HOW CUTE IS MY BOY????
I found out yesterday I'm getting a student teacher this semester for my 9th grade classes. I'm spending lots of time wondering how that will go. It's been a while since I had a student teacher. I feel like I have lots of great ideas from the conference I attended this summer and a year of that same hindsight that's going to be put to good use as I prep to teach 9th grade again. As with all things, I'll just have to wait and see what that's going to be like--but I'm looking forward to it.
It's 3:00 and we just finished eating lunch. I couldn't see pulling ourselves away from all that happy, productive work to do something like eat. It's catching up to me a bit, and I think I might go enjoy one of my last summer naps before I have to get dinner going (Taco Tuesday). Hope you are all well today.