I commented on my friend Melissa's Facebook status the other day that I
love
lists. In fact, that's pretty much the only way I get anything done--if I get to cross it off or check a cute little box. I have
my running and workout plan
on the fridge, I use the
Grocery Gadget App
on my phone to track grocery lists and prices, I am forever making lists in my iPhone's Notes application, and at school I go through about a billion post-its a year making list after list after list. When E and I were separated, I started making lists compulsively as a way to get things out of my head so I didn't have to worry about forgetting them anymore. It made a huge difference in my anxiety level.
At Work
Last year I sat myself down and had an honest conversation (wow, that sounds loony!) about the daily tasks I was not accomplishing at work. I would get wrapped up in a discussion with my students and forget to take roll. I'd look around my room at the end of the day and think
yup, looks ready to me!
and come in the next day only to realize I hadn't given two seconds' thought to what the heck I was going to teach, or if I needed any copies. I would read parent emails and forget to write back. I had good intentions, but there are so many little things I'm supposed to do every day that it was pretty hit or miss. A lot of my job is about paperwork and email and not about teaching--that part needed some attention.
I decided I needed some kind of template/ checklist to get myself through the day. I keep a clipboard on my desk with a stack of them so each day I can come in and start a list of everything I'm supposed to do before I leave. If I don't finish something at the end of the day, I just flip to tomorrow and add it before I leave. But I make a conscious decision to do so. I also gave myself permission not to finish everything on the list all the time, but even choosing
which
things to finish makes me feel more organized and calm. For this one, I do use a new sheet every day--there's too much writing on it to use dry or wet-erase markers without making a mess of my forearms and hands. I figure my sanity and increased communication with parents is worth the sacrifice of one sheet of paper per day.
I've posted my daily work checklist below. Obviously, this is going to be more interesting/relevant for teachers. But you could change it for almost anything. The link will take you to Google Docs where you can download it and alter it to suit your own needs. I only ask that you attribute it properly if you use it or post it on your blog, and that you don't republish it in your own name. But take it and use it! Change it. Love it.
Click picture or link to see entire document or to download
To Do List
At Home
I also decided this year that it's time to build the same kind of routine into our lives at home. Though this is our first time EVER getting to have evenings "free" or "off" or "to ourselves" because nobody is in school or studying for the Bar exam, I want to make sure life is as smooth as possible. There's a lot to remember at home too, and just like those little things that were escaping me at school, too many things fall through the cracks at home because I just don't think about them--forgetting to defrost something for the next day's dinner, exercise, checking the kids' homework before 11:00 PM on the night before it's due. I created these two charts to give us a sense of routine.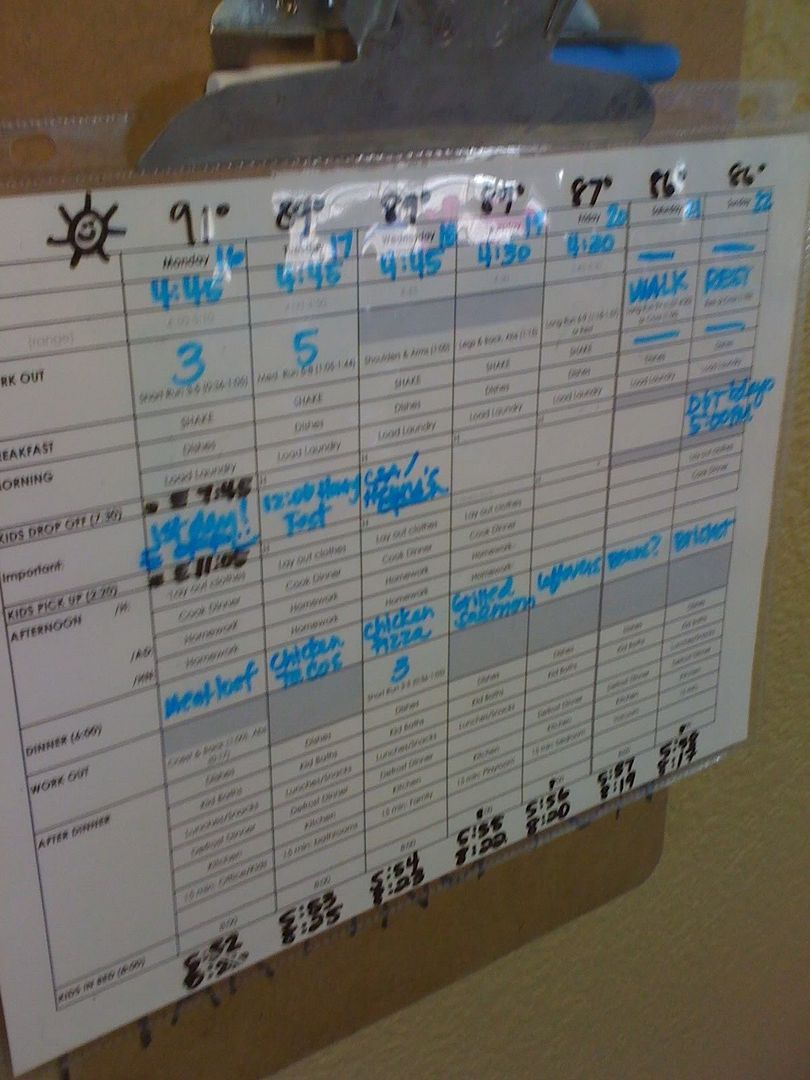 I write in our meals, who is picking up the kids, what time I need to get up each day, etc. I went a little nuts this week and wrote down the forecast and the time for dawn/dusk since I'm not quite sure about when to run. You could adapt this so it would work for you.
If you click on the link below, it will take you to the Google Docs page--to see the kids' schedules, click the tab at the bottom of the document. (Same deal--please attribute to my blog if you use or post, and don't republish in your own name.) Feel free to use them, though! They're saved into one file so I don't lose them, but there are two separate "sheets." I slipped both of these into clear sheet protectors and we're using skinny dry-erase markers to both fill them in and check them off. Mine's on a clipboard so I can carry it around with me and make changes (or cook), and the kids' is posted at their height on the wall.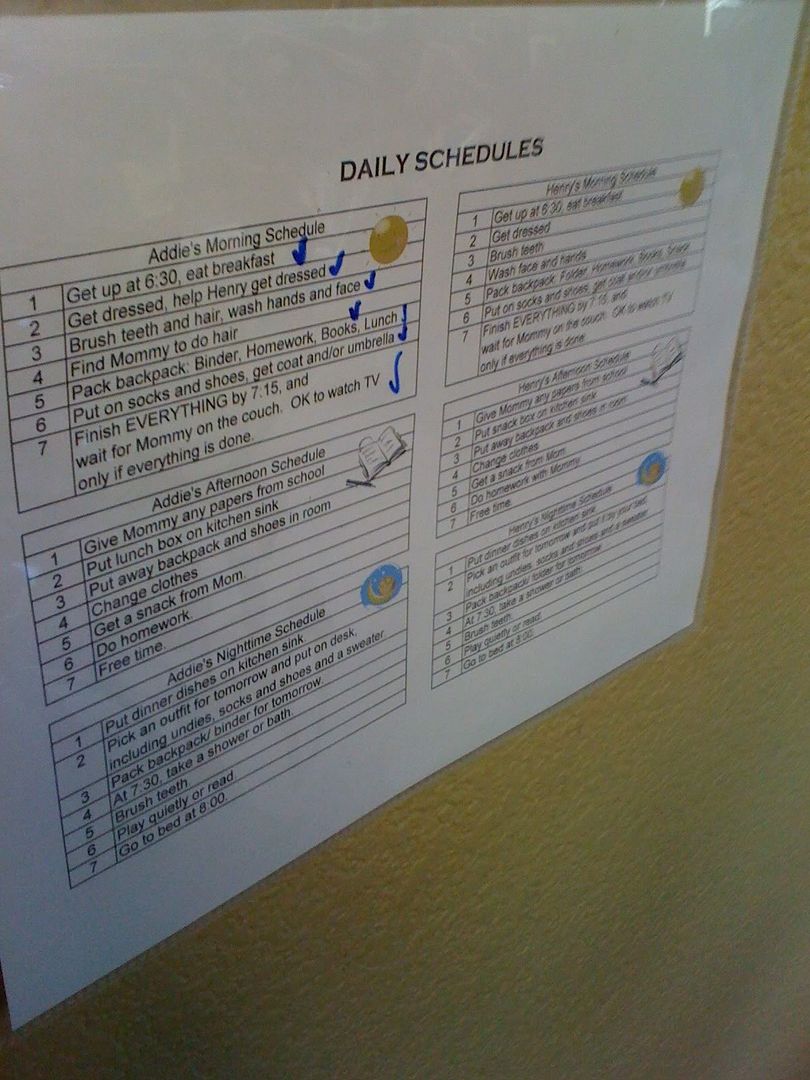 The kids' lists. Check, check, checkerooney.
Click picture or link to see both documents or to download
Family Weekly Schedule and Kids' Daily Checklists
The kids' schedules are divided into three parts for each kid: morning schedule, afternoon schedule, and evening schedule. The morning list is of all the things I need them to do before they can relax. If I don't let them know the order, Henry will get mired in "relaxation" at step two, and we never make it out of the house. I've been making them practice this morning routine all week and it has been working great. The afternoon list is as much for me, as I always forget to ask for papers from their classes and I want to make sure they get an early start on homework. The evening list is again so that we don't spend two hours doing things that should take 20 minutes. Hopefully. I'll let you know how it goes. I find that Addie especially likes knowing what's coming up next in a day. Maybe she's just like her mom.
The family schedule is divided by day, and as I get things done I cross them off. Again, I give myself permission not to do something but at least I see it's there and it needs to be done. If I do everything on the list for the day, I feel like a rock star. So there's that. If not, no biggie, but all that stuff's not swimming around in my head freaking me out anymore.
I'm using my
Yahoo Calendar
to plan meals. (Now that it syncs with my iPhone calendar, it's very handy!) Right now I plan two weeks at a time (accounting for leftovers one day a week) and I put all the meals on a "repeat every two weeks" setting. I have my calendar set to email me a reminder every morning just in case I didn't look to see the night before what I planned and take something out. I know this probably sounds neurotic, but I find that planning our meals makes me a lot less likely to go nuts at the grocery store or stand in front of the fridge for 20 minutes wondering what the heck to make. It works for me.
Hopefully some of this is helpful to you. Or maybe interesting? Maybe this is just one of those "see how other people live" kinds of things. But you know what? Now that it's in my blog I'll be able to find it when I need to print another copy. Wahoo.
Here's to staying organized, kids.