If there's one thing I
don't
like about Yosemite, it's the drive. It's not that long, but it is a terribly boring frolic through the lifeless brown armpit of California. How's that for imagery, huh? It sucks. So as soon as we descend into the valley and see views like this, I'm drooling with anticipation.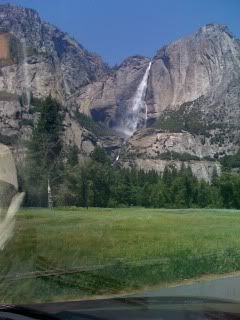 Our first day in the park was spent setting up shop. It always takes a while to check in, unpack and fortify our position when it comes to the food storage war against bears, bees, and
squirrely
squirrels. We always stay in the cabins at Curry Village. I have to say, I enjoy the change in recent years to in-room food storage over parking lot bear boxes. Still I have this fear that if I leave a banana peel in the trash I'm going to open my door at night to find Yogi in the middle of my earth-toned double bed.
We unpacked, we scored a late lunch (about 2:00 PM--imagine my crazies when I don't eat on a regular schedule) and finally started to feel like we'd arrived. That night the entire family was eating at the
Mountain Room
of the Yosemite Lodge to celebrate Grandpa Ted's birthday and Fathers' Day. Entire family = three tables of seven. 21 of us there the first night.
I've never seen Yosemite like it was this weekend for two reasons: the amount of water in the rivers and falls, and the amount of people there for July 3 and 4th. Holy Pete, it was ridiculous. I wasn't angry about it in an ironic "I'm a tourist but I hate everyone else who is touristy" way, but it was just harder to get around. Generally, crowds don't bother me so much as they're just remarkable. Cars lined the streets from Housekeeping Camp all through Curry and the Village. Every parking lot was full and every road a parking lot. So when we set out to catch the bus to dinner, there was just no way. Nothing was moving on that road, including our beloved hybrid buses. We set out to walk, and made it far enough past the jam to catch a bus from the
Awahnee
.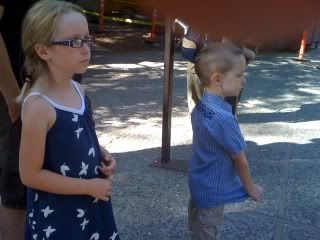 The restaurant has a really nice view of Yosemite Falls, which were surging with the anger of Thor more so than they were gently tripping down the hill this year. I ate way too much cheese bread for any human, and we called it an early night.
The next morning (
fireworkless
-Fourth of July) I woke to my alarm and snuck out of the cabin for the first of two valley floor runs, a short one from Curry around the Mirror Lake bus loop. It was gorgeous.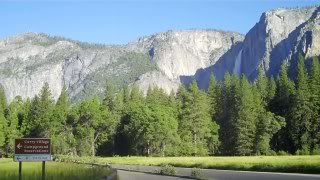 It took me forever to do this first run because I kept stopping--not because I was tired--because I was blown away by my surroundings even though I've been to Yosemite so many times. Early morning and late evening are beyond words.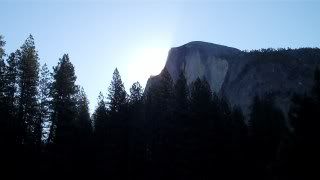 Right as I rounded the corner into the Camp Curry parking lot I could see the sun rising over the ledge of Half Dome. I took these photos as stills from my Flip... sorry they're a little blurry.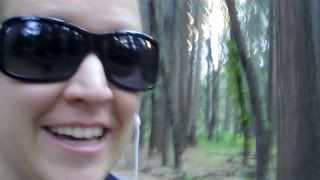 dorkus
majorus
, being so happy to breathe fresh air and enjoy the sounds of the rushing river.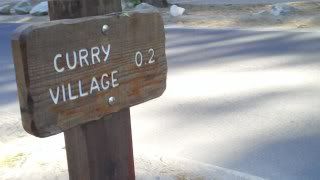 I made my way home after a sprint down the final stretch of the loop, which (if you've ever rode a bike
up
to Happy Isles, you'll know is a long but steady climb) I arrived back in the meadow and back home. Side note: I planned the run to end downhill on purpose. Last year I didn't think about it and made the climb as a new runner and wondered what the heck I was doing. I won't say I was being lazy this year, but it wasn't even a run day on my schedule, and I was running... so yeah, I was being lazy. But it was kinda fun to sprint home.
That afternoon we took the bus to Yosemite Falls. The kids love the rocks that border the trail and I have countless pictures of them climbing these every year with E. I also have countless mosquito bites this week from sitting on the rocks in the shade taking pictures of them.
The falls were breathtaking. Always beautiful, the sheer volume of them this year meant a different experience. The wind and cold at the bottom of the falls meant I couldn't stand on the bridge long. Of course, so did my fear that one of the monkeys would slip past a railing... I kept my death grip on them until we crossed over.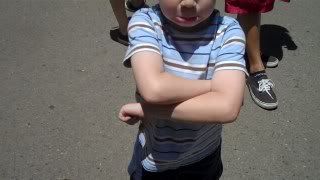 That night was the "big night"--finally all 29 of us were there and all the Aunties (sisters) were serving us dinner. We had our celebratory campfire to mark the 25th anniversary trip. We made
smores
. We breathed in smoke. And then
Roo
got a headache... well actually she'd had it all day but in her typical
Roo
-
ness
she didn't say anything until it was Vomit City, USA. Back to the cabin we went...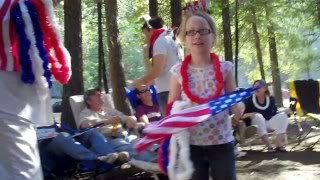 E has been trying to talk me into climbing Half Dome with him (he's never been) for about eight of the last ten years. What seemed awesome when I was fifteen now scares the
bejesus
out of me... particularly since there have been so many recently publicized deaths at the cables. I know what those cables are like and I was terrified of them before I knew about how people fell there... I'll stop. But you get it. I don't know if we can
both
go do that now, as I think of everything in terms of what the monkeys would have left if something terrible happens.
Morbid thoughts over.
Instead, E finally ended up getting a bug about hiking to the top of Upper Yosemite Falls. It's about a 3.5 mile hike each way... and the first way is up, up, up...
Hutch
blogged about doing it a while ago, so I'd been thinking about it too... plus, no cables = WIN. But alas it didn't work out for us to go together on the 4th and by the 5th my window of courage/opportunity/energy had passed. I opted instead for a day at the kiddos' favorite valley location: the Happy Isles Nature Center while he hiked up with his uncle.
On the way to our beloved Nature Center, the kids climbed anything and everything that would allow it.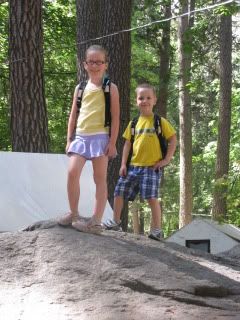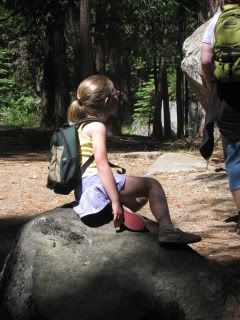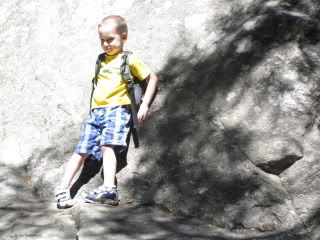 Once we get to the bus stop at Happy Isles they're like kids at the gate to Disneyland. They led the way up the path.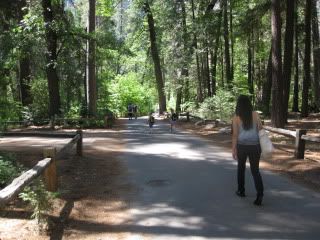 I'm going to make them take this picture every year for the rest of their lives:
Part of the display is a case of animal poop (true story) and a sound machine that makes all of the animal noises of the park. The machine used to terrify
Roo
--she thought there was a bear underneath the counter. There's a diorama of stuffed (
taxidermal
) animals frozen in various choreographic positions. Part of the ritual each year is bending down to see the fish "swimming" eternally in his glass case.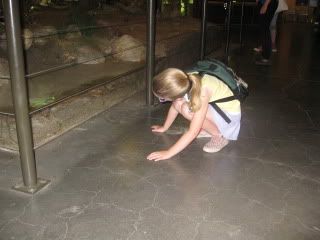 E had a wonderful hike (and if I can get my act together I'm going to edit his pics and video into something... but it's not done yet) and came back to camp tired and hungry. The next morning I had another run scheduled--I mapped it before we left and I thought it was almost five miles. Turns out it was only 4.6, but the perceived increase in speed gave me a total ego boost for the entire day. I didn't mind finding out when I got home that I didn't go as far as I thought.
I ran from Curry towards the exit of the park, along the stretch of forest where I'd seen a giant cinnamon-furred black bear the night before. Naturally, I was all crazy-eyed at the thought I might happen upon him unexpectedly. No incidents to report. The view from Sentinel bridge of both Half Dome and Yosemite Falls was striking, one of those scenes you take in and wish you had someone with whom to share it.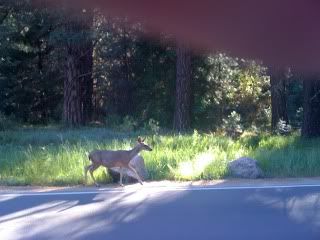 My only company along the run were two of these ladies. They have no fear at all... I stood and watched them for some time.
Tuesday the kids had separate activities--
Roo
was finally old enough to ride a mule from the Yosemite Stables up the trail. We went to see her off and then did two of Henry's favorite things: ride the bus in the very back seat, and ride his bike.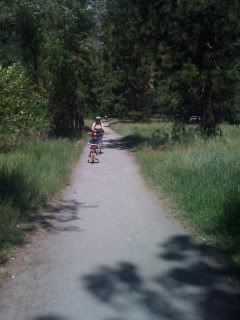 Roo
was ECSTATIC about getting to ride. Her mule's name was Dotty. Can you get any cuter than that?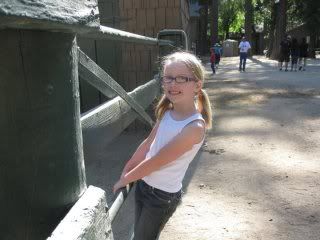 Just look at that grin. I feel the same way about Yosemite, Ad.