I'm exhausted. I'm still in a rib hangover from last night. I'm about 90% sure my family should open a rib joint in town, though. I think this was our best Fathers' Day Rib Cook-Off ever. Nothing like a contest where you get to eat your way through the democratic process. It doesn't hurt anything that everyone in our family are great cooks. Man, it was good.
The trophy has been added to by the winners--it started as a recording of the winners' names, then last year Uncle Dave bedazzled the entire trophy...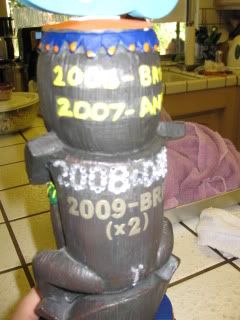 and last year's winner, Bruce, decided to top it with a big fruity, glittered B that says "Bruce is the king of ribs." We're subtle in this family.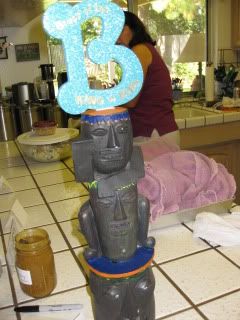 Team P's entry,
E's Mustard Crusties
, awaiting the judging. Yeah, I'm aware that "mustard crusties" sounds kinda gross. We thought it was funny because that's just how we roll. And they really were Mustard-encrusted Hickory-smoked St. Louis Style Spareribs, but that's too long to fit on a card.
If you read my Gpa's invitation, you know that we were all to show up by 1600 hours, and that entries must be made by 1700 hours. Only apparently nobody in my family can tell military time. Everybody called each other and two people (who shall remain nameless) arrived late. This is us sitting around trying not to get too hungry. Since I only basically ate cucumbers for lunch in anticipation of
ribby
extravagances, this was a little bit of a problem.
My dad and E. Two great dads on Dad's day.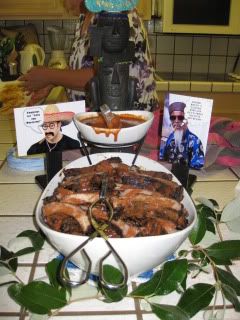 Bruce had an entire display this year, replete with Papaya branches he tore off my
Gpa's
papaya bush just before we got started. I think that qualifies as a rule violation? I'm not sure. I'll have to consult with the family attorney. His entry was some kind of
Mexi
-Asian fusion with papaya BBQ sauce. You didn't hear this from me, but his sauce tasted a bit like a smoothie that
Jamba
Juice makes. His were sweet and gooey deliciousness.
Here they are. This is so much food. Our family is big, but not
that
big. There was enough food there for three families our size (and I didn't manage to get a picture of the side dish table--it was a separate thing altogether.)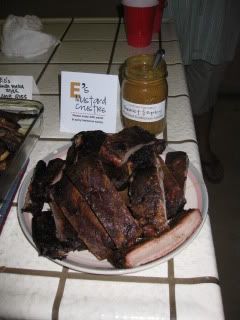 Mmmm
,
mustardy
.
Team P brings it in '10
. Go big or go home. We chose to go savory, and I think it was a good choice.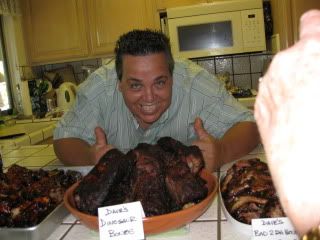 Unkie
Dave,
Bucko
Bro #1.
Mmm
....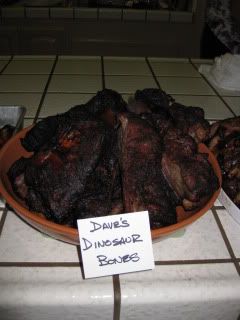 Dino Bones, AKA steaks with ribs stuck in them. I forget what these were called, but they were untrimmed beef something... Giant and smokey and... giant.
Grandpa makes the same ribs every single year. No smoker, just BBQ. No seasoning or sauce, just salt
and
garlic salt. He instructed us yesterday that the salt in garlic salt is different than salt. So what you get from
Gpa
is a salty, salty rib. This year he went with lamb ribs. I'm not one for lamb so much (too many lamb dinners on E's back porch in high school while the sheep
blehhhhhhed
at us from their pen) but these were very good.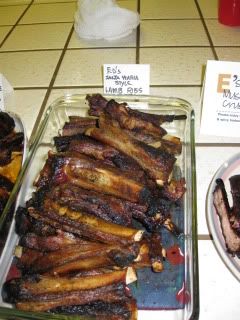 Auntie Anne always makes something exotic. This year it was Citrus-Rum Glazed
Babybacks
. Very sweet and tangy.
I always have a hard time keeping the ribs straight once I sit down to eat. I solved that problem this year with a dedicated rib plate and a sharpie. I labeled each rib so I would remember. I'm thinking of instituting labeled plates across the board next year, but I'll have to file a formal application with the International Committee. Three out of six entries (Dino Bones not pictured, as I split one with E) were sweet, so I think our decision to go savory and tangy was a good one. Plus, I
completely adore the spicy mustard/Worcestershire sauce combo
, so I knew it was going to be good luck.
Bruce/Anne/Dave/
Gpa
/E
I was going to post this pic and tell you that it was all I had to eat, since
I'm trying so hard to be healthy
, but I couldn't do it. PS, Mom's macaroni salad is just about the best thing I ever had, as is Auntie Anne's coleslaw. And see that cute little green salad? Yours truly made it with a lovely
Garlic-Basil Vinaigrette
with loads of fresh basil from the garden.
Mmm
,
mmm
,
mmm
.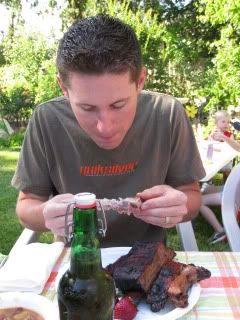 I know, gross.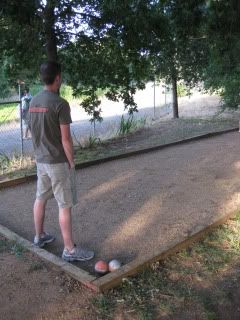 Bocce
ball by the creek. Why yes, that is the same place
E and I renewed our
vows
last year.
Blueberry tarts filled with fresh lemon curd. Heaven help me and my healthful eating.
Chocolate eclair cake
. Oh lord. I couldn't fight it.
So as usual we gathered at the end of the evening and passed out ballots. The family representative from Franchise Tax Board and his co-counsel counted the secret ballots, and...
Team P wins! BOOM.
Now if we can just figure out where to put this thing.