2010 Kynaston Family Rib Cook-Off Championship Winning Recipe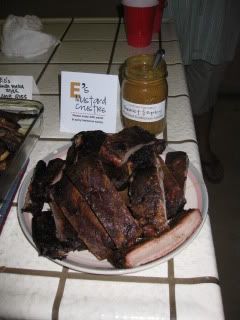 AKA E's
Mustard Crusties
Adapted from
Smoked Mustard Crust Spareribs
INGREDIENTS:
For mustard plaster:
1 cup of Gulden's spicy brown mustard
1 tablespoon of honey
1 tablespoon paprika
2 teaspoons onion powder
1 teaspoon garlic powder
1 teaspoon black pepper
For sweet and spicy mustard barbecue sauce:
1/2 cup of Sierra Nevada Porter & Spicy Brown Mustard
1/3 cup of cider vinegar
3 tablespoons of brown sugar (dark)
1 tablespoon honey
1/2 teaspoon of paprika
1 1/2 teaspoosn of Worstershire sauce
1 teaspoon of cayenne pepper (powdered)
1/4 teaspoon of black pepper
INSTRUCTIONS:
1. Remove membrane from ribs, trim spareribs into St. Louis style ribs,
like this
. Reserve rib tips.
2. Mix all ingredients for plaster together, spread on ribs. Cover and allow to come to room temperature.
3. Smoke at 225 degrees using hickory smoke until meat pulls away from the bone 1/4 inch at the ends and meat is 140-160 degrees. Ours took 3 1/2 hours. (Alternately, you could grill them but they wouldn't have the smoky flavor.)
4. Prep the barbecue sauce: Combine all sauce ingredients in blender and blend until smooth. Taste and add ingredients as necessary (I adjusted a lot for taste when I made it. I know I added more vinegar, honey, and Worchestershire sauce. More cayenne would give it more heat, more brown sugar or honey will cut the vinegar taste. Add to it carefully until you're satisfied.). Refrigerate.
5. Cover ribs and let them rest at least a half hour before slicing. Serve with sauce.