Today has been a weird day; I needed
a little something
for dinner. I shredded a whole chicken last night--I knew I was going to use it to make dinner--but I changed my mind from tacos to soup once I realized I just needed a little comfort food. I found
this recipe
in the archives from
Something Extra Magazine
. Everything is always so good in that little grocery store freebie.
It turned out great. It's a nice way to use leftover rotisserie chicken, or in my case, the whole chicken I poached last night. Light, fresh, and herby. The brown rice gives it a nice, filling quality. I think it will reheat well too.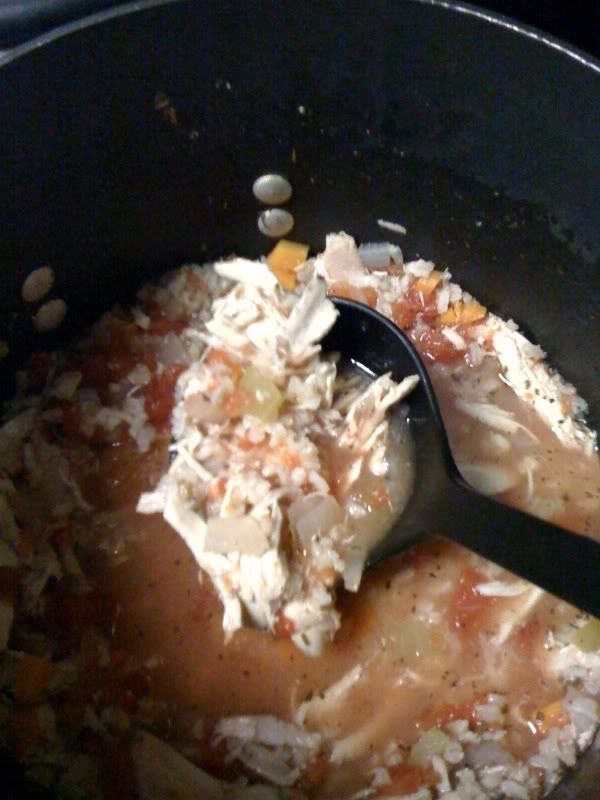 Chicken and Brown Rice Soup
Ingredients
32 oz low-sodium chicken broth
1 (14.5-oz.) can diced tomatoes
1 clove garlic, minced
1 tsp oregano
1 cup
mirepoix
(1/2 cup diced onion, 1/4 cup diced carrot, 1/4 cup diced celery)
1 cup cooked brown rice
1 tsp
herbes de Provence
2-2 1/2 cups shredded cooked chicken
Before you cook the soup
Cook brown rice according to package directions.
Cook chicken or shred rotisserie chicken meat.
Directions
Prep Time: 10 minutes Cook Time: 30 minutes
Combine broth, tomatoes, garlic, oregano and mirepoix in a medium pan. Bring to a boil; add herbes and stir. Reduce heat to medium and simmer, covered, for 15-20 minutes or until rice and vegetables are cooked. Add chicken and rice and simmer for 5-10 minutes more.
Serves 4