Thanks to those of you who sent sangria recipes. I can't wait to give them all a shot. Today I tried Tonja's and I have to say...
it passed with flying colors.
Now, this wasn't a real sangria crowd, but that didn't stop me from enjoying my own creation. Nope. Not one bit.
So here's the recipe. I don't have any pics of it because I'm lame and I only took about 10 pictures total today. Too busy running around like a crazy, trying to make sure everything worked out.
It did.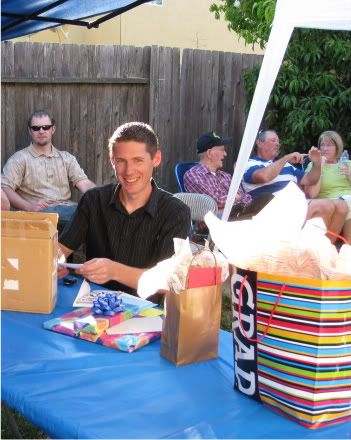 Cute, but not a sangria fan.
But the sangria. Mmm, the sangria.
Sangria de

Tonja



1/2 cup sugar
3/4 cup brandy
3/4 cup triple sec
1 sliced orange
1 sliced lemon
4-5 sliced strawberries


1 bottle red wine (I used a bottle of Cab)

1/2 bottle simply orange juice

splash of lemon-lime soda




1. Mix sugar, brandy, triple sec. Slice fruit and add to pitcher. Allow to sit several hours.

2. Add bottle of wine, orange juice.

3. (And this was different than her original recipe--wanted to try to let all the flavors blend as much as possible) allow to sit overnight.

4. Serve over ice with a splash of lemon-lime soda and an orange slice as a garnish.
Cheers!