I wadded a rainbow of bathing suits into the back corner my rolling duffel bag. On top of those I piled gauzy sun dresses. The bare minimum of makeup and lotions, I shoved into side pockets. To a backpack full of chargers:
Ziplocs
, a Kindle, headphones. The requisite trashy celeb mag would be purchased at the airport. It didn't really feel like we were leaving. The climb to the high of the
DQ
performance and subsequent post-performance crash weighed heavy on my shoulders and mind. I was too tired to really let it sink in that we were heading somewhere tropical. Especially that we were heading somewhere tropical, via Oakland. Such contrast.
Light and
shade
. Breeze and
grit
.
Where a typical pack-fest takes weeks and allows me the joy of anticipation, this one took all of about 20 grumpy minutes. We dropped the kids at my parents' without ordeal, having said our major goodbyes at home. My anxiety always means there's a little sense of urgency with the goodbye if I'm going to be getting on an airplane. I'd hugged my boy and my
Roo
so tightly and tried to memorize their smell; now I had to let go and
let myself go
enjoy this.
Oakland is a blur--four hours in a sad, but functional and clean motel followed by an early morning shuttle ride to the airport on a bus, guarded by the shady sort of security guard who looks like people might need guarding from him, not by him. Twenty minutes of hopeful puffing up about the empty seat next to me on the plane were popped in an instant as we saw a linebacker of a Hawaiian man charging down the aisle to fill the space and invade my bubble. He took his seat (and half of mine) and snored himself silly before we even hit the runway. At least he was a nice man.
Whole Foods, Kahului


My palms chilled and my spine tingled as we took off. I was as scared as I was afraid I'd be. E held my hand. I tried to breathe, keep my eyes forward, and ease into the fearlessness of sleep. The sounds of people coughing and chattering as they queued to use the restroom (to E's left--we were in the back of the plane) bled through my orange headphones. The bright light and the roar of the plane invaded my core. Somehow, we arrived. Dad's car was right where he said it would be, and we rolled out--for Whole Foods.
I love me some Whole Foods at home, but I love even more that E was able to find some bread, snacks, and beer that weren't going to gift him intestinal distress for the whole trip. His food allergies are bad enough that a week of eating out and vacation
fooding
would have left him miserable. Special bonus: we hit up the smoked meats bar for a juicy brisket plate lunch that could convert a vegan. Yum. After that we made our way around the island, checking in and returning to our family condo. It smelled of Ivory soap and sea air. I threw open the sliding glass doors; the sun and the chatter of birds poured over me like syrup on french toast. Home.
"I don't really feel like we're going to go," I kept telling E as we snaked our way to the California coast. At the
Kahului
airport I told him I felt like I'd been picked up by a giant and set into another season. The change in climate meant I was months from school, life, Spring--the plane ride had fast forwarded time. (I know, I know. LOST references abound.
When
are we?) I repeated the sentiment on the beach in
Ka'anapali
, "I still don't believe this is real." We don't take vacations like that too often, and more often than not we'll
say
we're going to go somewhere but it falls through. It took a while for it to sink in, and I'd say it was much more so than the other times we've gone to Hawaii in Summer. Like any good consumer of fiction, I suspended my disbelief, hopeful my brain would catch up with my body. Swayed by trade winds I lay under the radiating sun, breathing into the presence of that moment.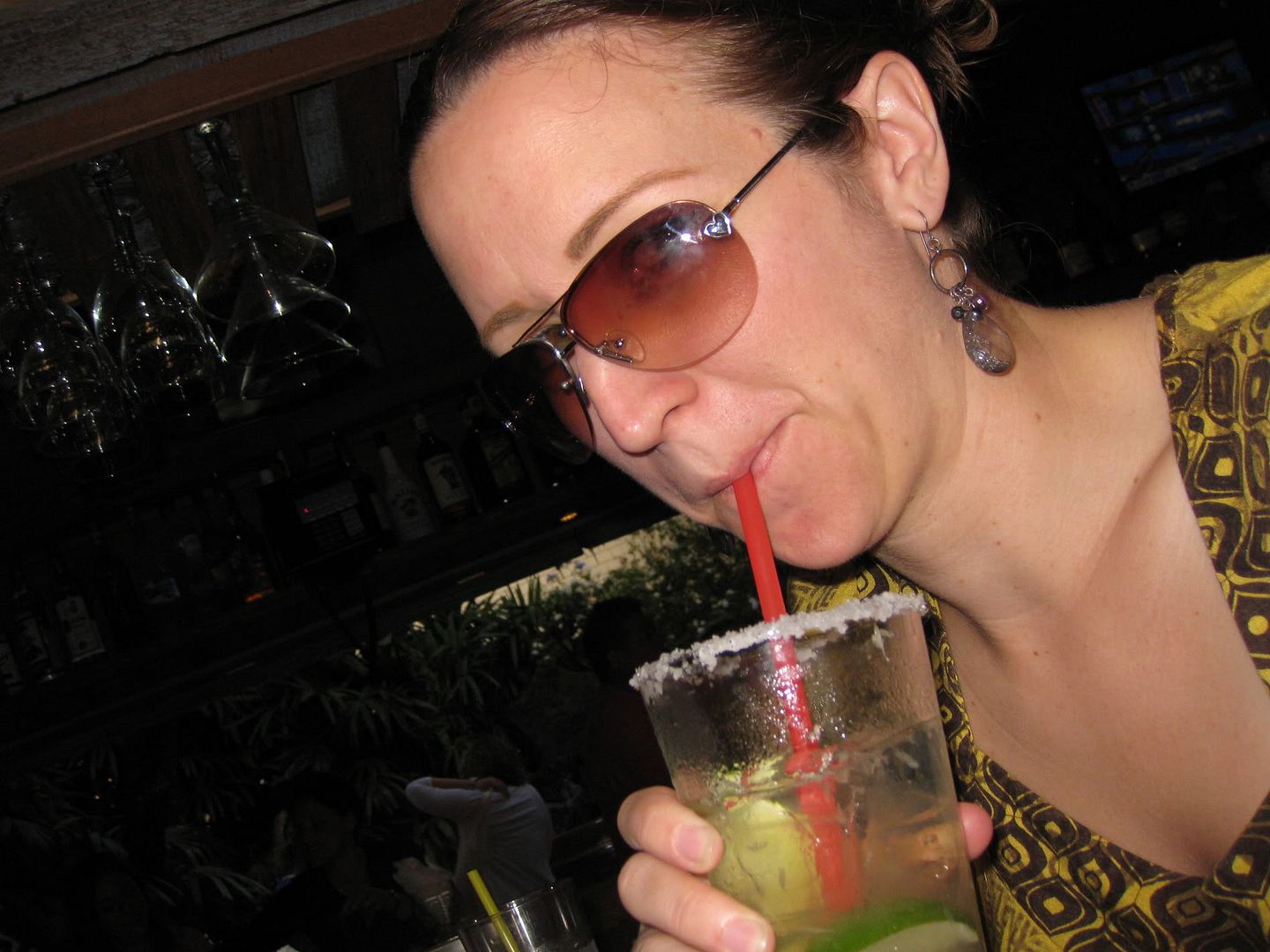 Froofy drinks at the Hula Grill's Barefoot Bar...
...first night tradition.
So happy.

And then E called our bank.

At Whole Foods, E's debit card was declined. We knew it had to be a fluke--we'd checked the balance the night before and all the money we'd saved for vacation was in our checking account for easy access. Plenty of money. Besides, my card to the same account was working fine. Same deal at the Hula Grill, Safeway, the ABC store. E's card, declined. My card, approved. We shrugged it off as a travel hold being placed on his card; I've had Visa do that to me before because they didn't know I would be out of state. No problem, right?

The problem was that all that money we had in checking was also easy access for some no-account bastard who used E's card number. Through a series of phone calls fraught with increasing disbelief, E discovered that someone had gotten his card and charged a thousand dollars to LA Times Advertising. My first thought was that I did it somehow--that I'd authorized something for the blog or the trip and someone got my number. (I always feel guilty when something monetary goes wrong, even if I didn't do it. There's always the chance that I didn't

mean

to do it. Well this time I didn't do it.) We still have no idea how it happened, someone got his card, and Visa fraud put a hold on E's card. Here's the kicker--Visa AUTHORIZED the LA Times purchase ($1000), but put a stop on us at Safeway ($30). When we alerted them to the fact that we didn't make that purchase, they said there was nothing they could do for us. We were out that money.

Um, WHAT?

Apparently, since the transaction had been approved (read: we had more than that in our account when

Crooky

McLiarpants

used our card number) they authorized that,

and then

they put a hold on our account. Nice. So they told us there was nothing they could do until

after

the charge came out--then we could contest it and try to get it back from the bank.

Take a deep breath and imagine my panic, if you will. Now multiply that by ten, add some crying, plot some pacing and raise it to the power of

n

. Yeah. Someone has our bank account number?

Freakout

. We're on day 1 of vacation with potentially no money?

Freakout

. The bank can't help us?

Freakout

. My paycheck is about to be direct deposited into this account and a crook has access? It's Spring Break so I can't call my employer and ask them not to deposit the money?

Freakout

Freakout

Freakout

Freakout

.

AND, all of this was on top of the fact that I was still coming out of my

freakout

from having to be in a plane for five hours. You know, like, over the ocean and stuff. I worked myself into such a frenzy that basically the whole day was gone. I had visions of spending the rest of our time on Maui down by the Lahaina bank steps with the ripe, weedy old guy who very clearly gave up his life to sit in the sun and beg for change. Not exactly what I imagined.
We got the
finanacial
stuff settled, but it ate up most of our first day and most of my sanity. That afternoon we went for a snorkel by the hotel so our dive wouldn't be our first time in the ocean in four years. Didn't want to look like total noobs. We made plans to drive to Hana the next day, and we made sure we had food laid in for the week. We loosely planned our week. I made dinner, massage, and scuba reservations. By that night I managed to relax, a little.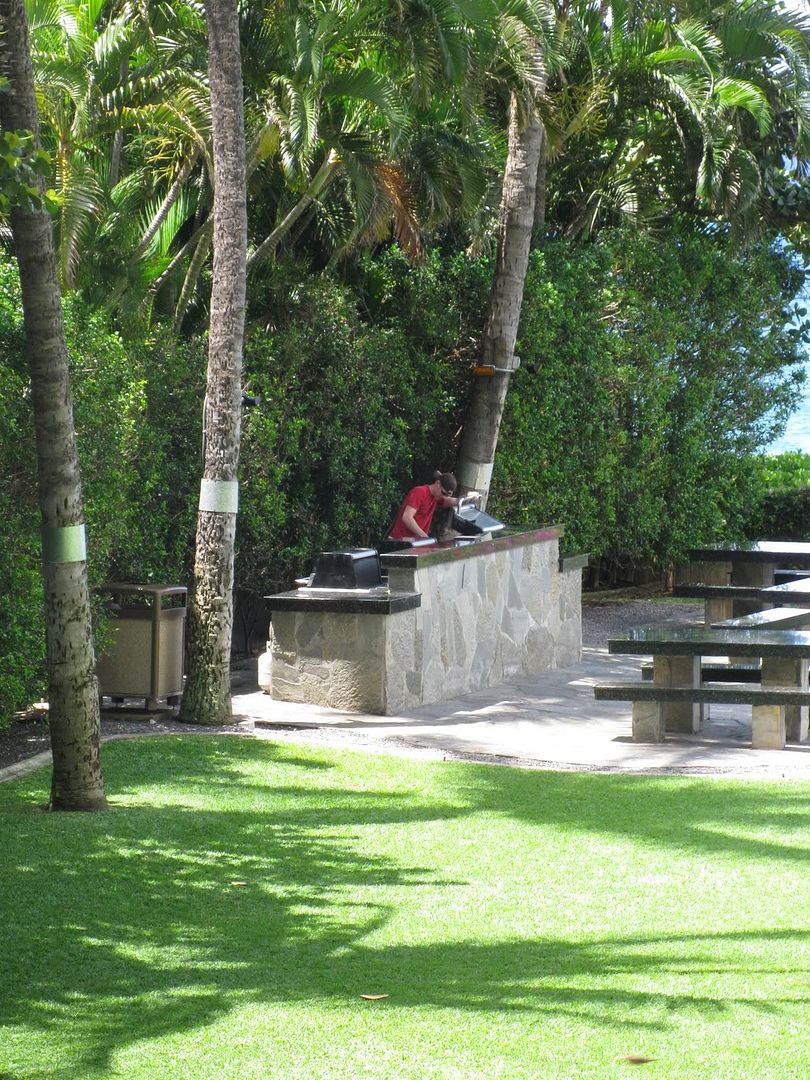 E grilled up some Ono (with more skill than most of the restaurants where we dined that week) and we enjoyed the sunset from our lanai. I drank too much wine. Too much = two glasses, apparently. It's been a while. By that night I was exhausted, but we had to get up at oh-dark-30 the next morning for the trek to Hana...
(to be continued!)