Lahaina's
Cheeseburger in Paradise
Before I get to Hana, I realized I left out Cheeseburger in Paradise somewhere in my last post. I'm not sure if we went there on the first night or the second, but it's another of our touristy traditions. Since we were there at the start of Spring Break, before the families of text-while-walking, annoyed-looking teenage girls showed up, it wasn't busy. We had a late snack one night... plus more drinks. For the love of Pete, it's Hawaii. Bartender, another round! (I've never had so much to drink in my life!)
Hiding my sunburn, but not my glee.


Pina Colada... mmm... The sunburn looks worse than it was.
We have a cool family connection to Cheeseburger, anyway. My sister,
Lis
, danced her father-daughter dance at her wedding with my dad to a song by Brooks
Maguire
, a musician who performs at (or at least used to perform at) Cheeseburger in Paradise. The song is called
The Reunion
. It made everyone cry at her wedding, including E, whose number one emotional trigger is his kiddos. Aw. Anyway, Cheeseburger reminds me of
Lis
and reminds me of my dad and reminds me of family trips to Maui.
After our
snacky
dinner we walked along Front Street, looking at overpriced art galleries and cheesy T-shirt shops, eating
gelato
, and wondering why the
Peter

Lik

gallery
has a couch that looks distinctly King Tut-
ian
.
Really,
PDawg
? Why?
King Tut. Lovely Tut.
The Hana drive is a lazy, winding road toward (almost) nothing... Hana itself is no shining star, but the road is one of the more famous in the US. I'd been once with my parents when I was 18. Save for the "Seven Sacred Pools" at the end, I wasn't too impressed. I was secretly pretty carsick. E wanted to go and I was eager to see if age was going to bring me any new perspective on this famed journey.
Road to Hana. Just as exciting as I remembered.
All the guidebooks said to leave early. Before the sun, if possible. Sun = 6:30 AM. On vacation? Oh
Lordy
. Well, I'd been waking up regularly at about 4:30 or 5:00 AM, anyway, since I'm incapable of sleeping in no matter where I am. E actually agreed to the early timeline. Apples, almond butter, rice bread, and Cheetos in tow, we set out for gas stations of
Kahului
. We bought one of those
CDs
with a soothing voice of a theatrically Hawaiian woman who tells you what everything is. We cut through burning fields of sugar cane, past windsurfers and Mama's Fish House, curling our way up the hill.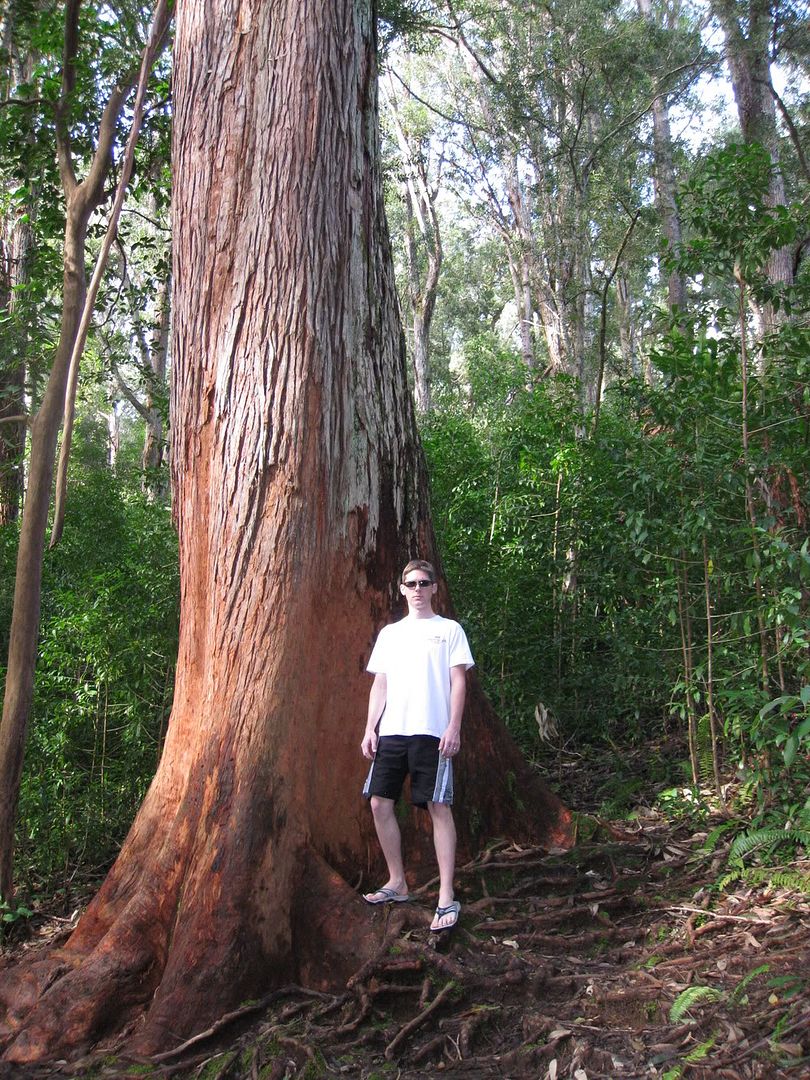 Our first stop was a lonely trail head to a ridge trail. Once we passed the eye rolls of three airy teenagers in sun dresses and low ringlet ponytails, we were alone with the breeze. Dwarfed by giant leaves and a canopy of green, it felt like we were on set for
Honey I Shrunk the Kids
. We were the only two people in the world. The trail up the hill was easy--graveled steps, a graduated system--clearly established to handle drainage for the daily storms that kept the forest so lush. The air tasted of earth and eucalyptus, the buzzing around us was a throaty cacophony of birds, the flapping of insect wings rattling the air.
At the top, a sign said "Loop Trail" and I forged on, giving no thought to the possibility that the alternate loop might not include gravel. Oops. This shot was taken about halfway down the mountain, looking up from whence we came. We were wearing
flip flops
, and it was wet as Mississippi in July. The Hawaiian mud stuck to our soles and flipped up our calves. Were I in a spa, I'd savor the tar-like schmear. Instead, my breath snagged a little thinking about how we were going to make it back down to the car. My sense of adventure was belied by my Morse Code heartbeat, but we made it out and nothing tropical ate us.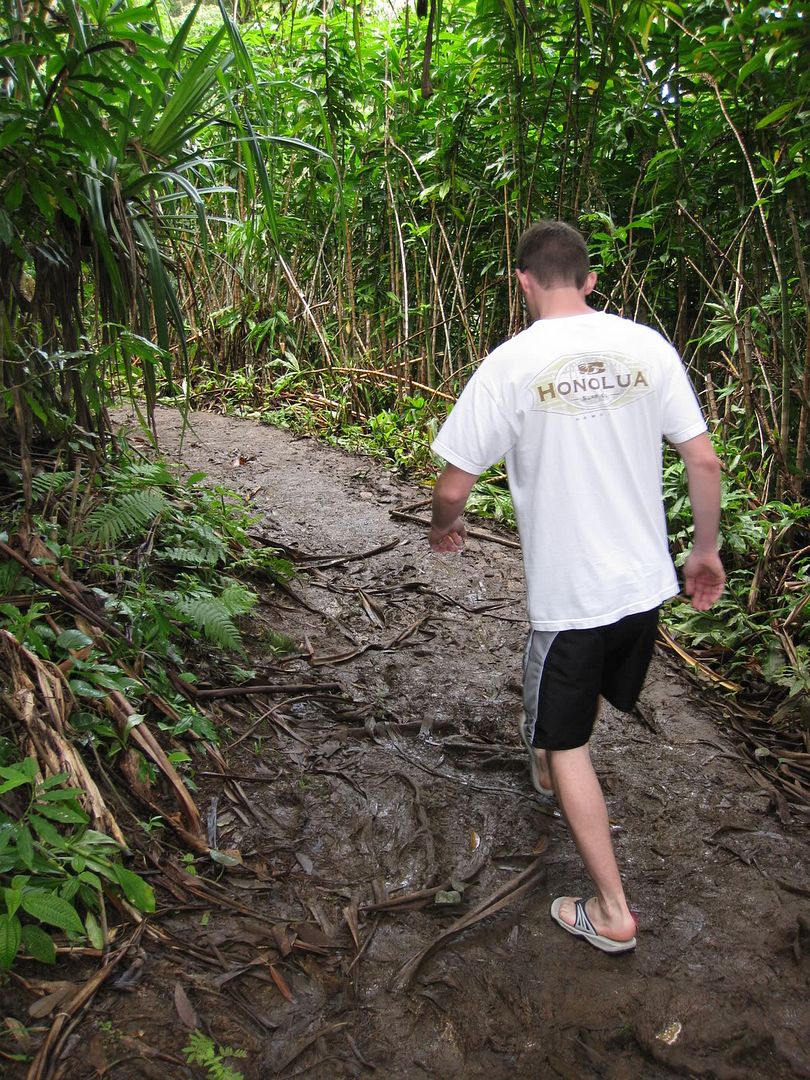 E man, braving the muck. We were laughing our butts off as we slid down the hill.
Unprepared. Campfire Girl FAILURE.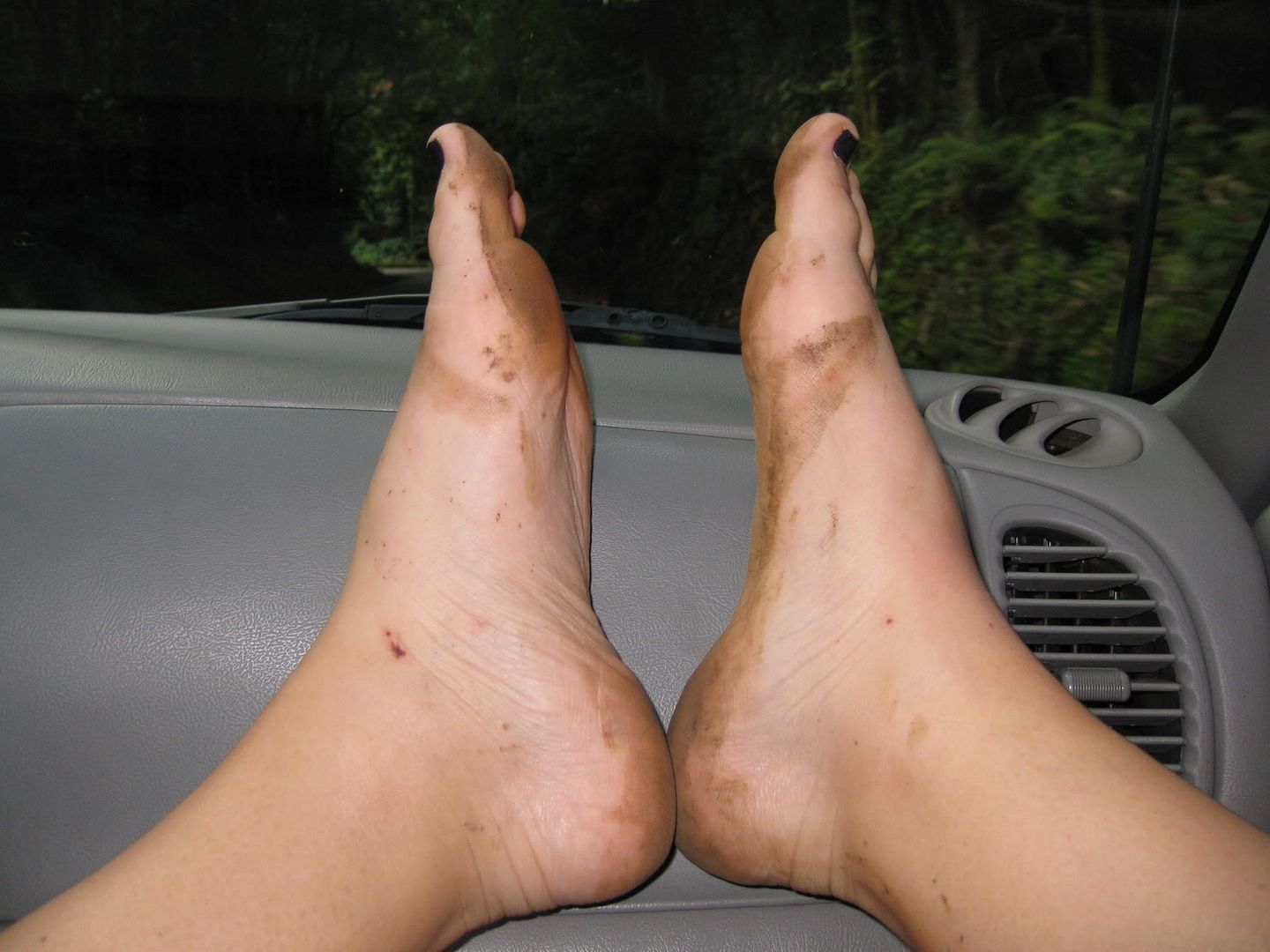 AFTER trying to clean them with water from a water bottle. I went in the ocean that night and I STILL found mud on myself in the shower.
Wayside park vista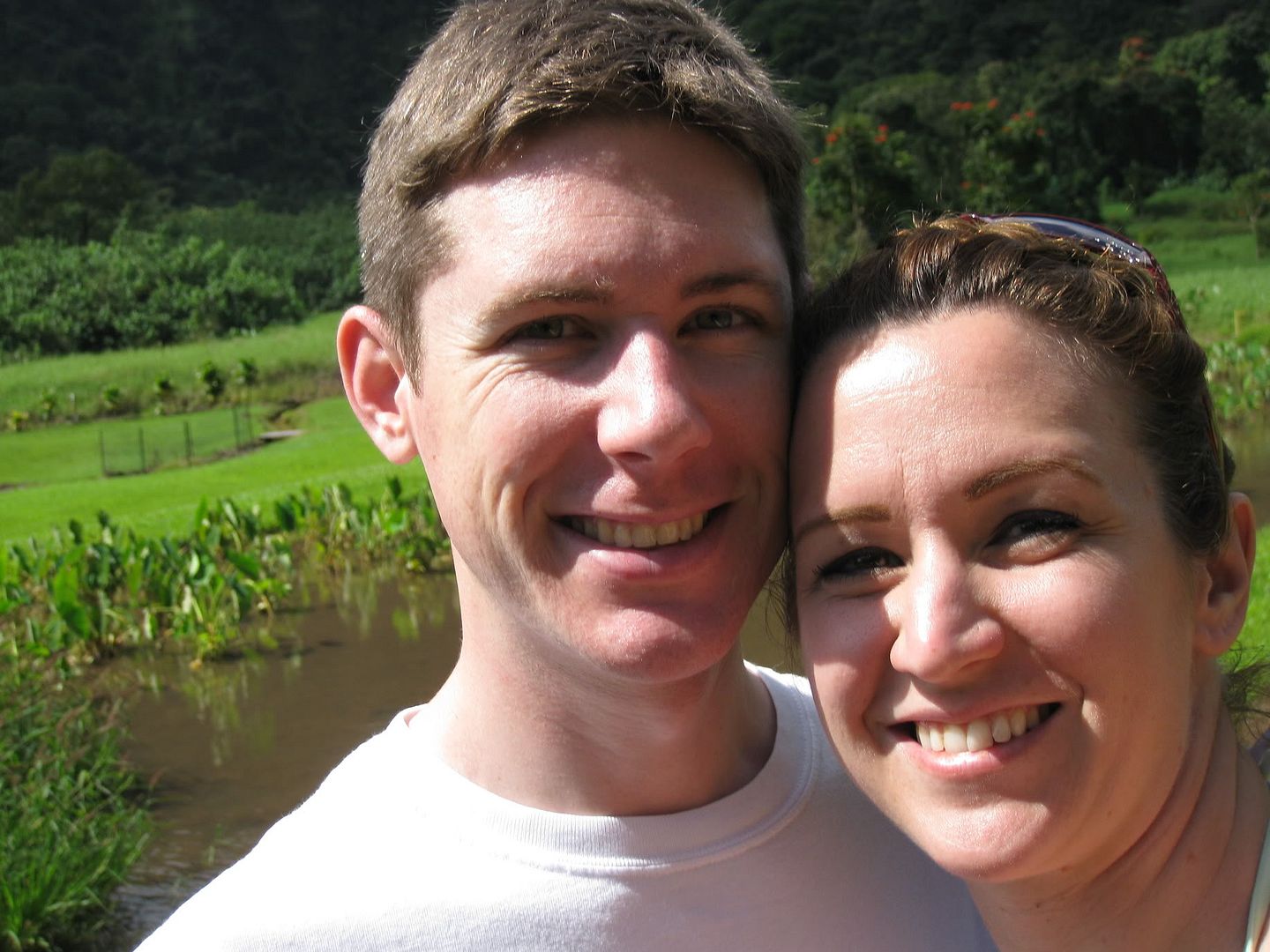 Our CD paid off most notably with directions to turn down a road for a view of a waterfall high in the hills. Of course this meant basically being on
someone's
property--taro field and all--but we tried not to stay too long. The lush forests of the hill spilled over onto the small field. It was peaceful and calm, listening to the water lap at the edges of the drive.
Good lord, my posture needs work.
The road coiled around the hill like a snake at Cleopatra's collarbone. We drove and listened to our CD guide like obedient tourists, switching to Hawaii radio every few miles for a bit of Eric Clapton or an 80's ballad. Radio stations outside of Hana are like a fruit salad of song: not so homogeneous, but a refreshing melange nonetheless.
We asked this kid's mom to take our picture and she was yelling at him to get out of it the whole time. I like him there. He's a little sparkle of reality. I wish I knew his name, the little trespasser in our picture.
There were several moments along the trip where E asked what Hana was going to be like. I wish I could have promised him more extraordinary beauty or history. What we got was a darkish beach and a picnic table under a tree. The town is nothing more than a shack store and a gas pump, a Costco shade
popup
where some guy with a name like Greg sells his grilled meat. By the time we arrived, it was just nice to relax a little. I spent some time 3G-
ing
to try to figure out where Oprah's house was. Didn't really come up with much, but I'm sure I tanned my back a bit, as it was facing out away from the shade of that tree.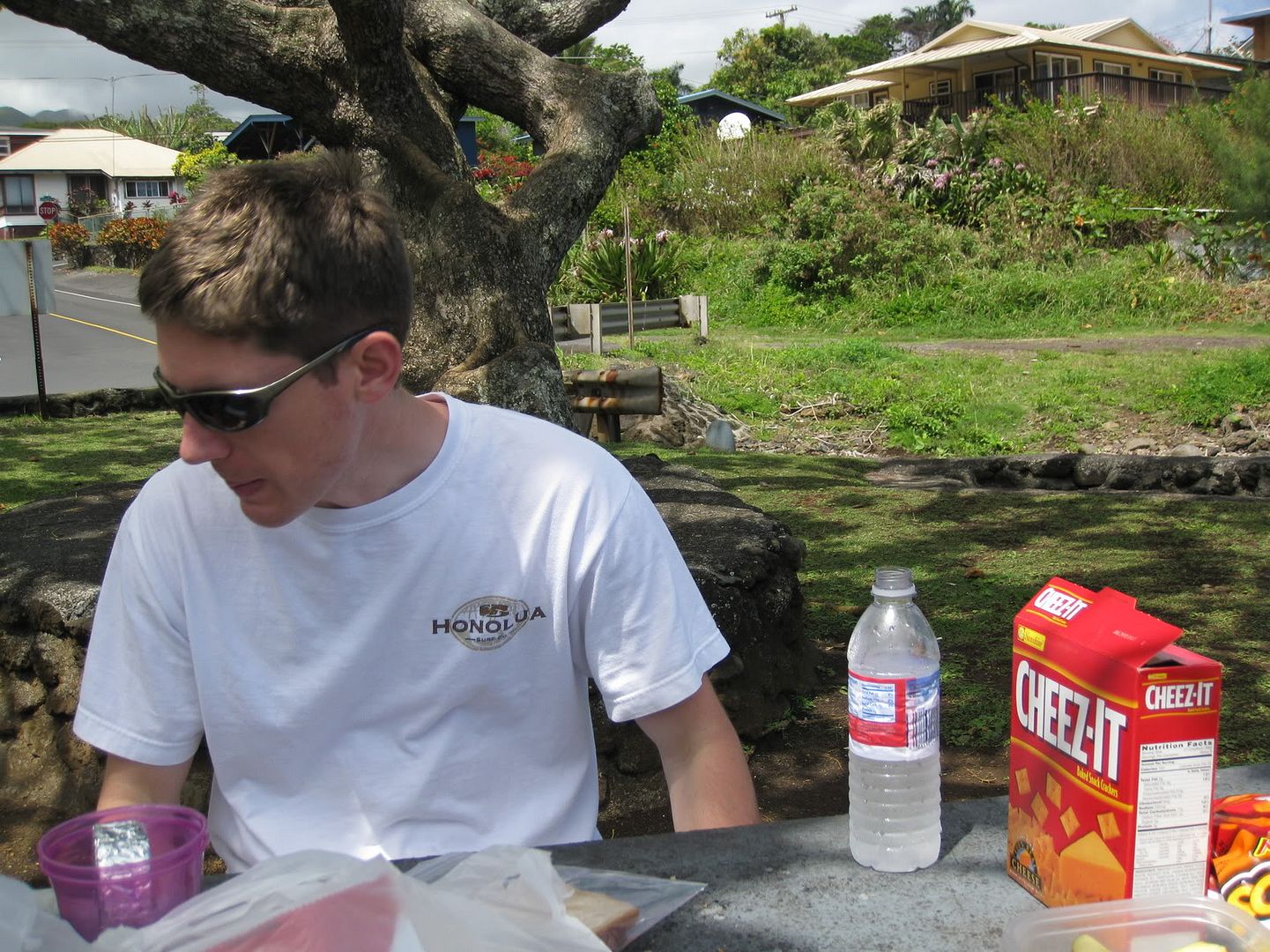 The waves along the north end of the bay were crashing like semis into the rocks. As a Californian, I'm not used to the charcoal-black lava coastlines.
Hana is strikingly more financially established than much of what is along the road leading in. It reminded me of driving down I-5 to Disneyland. All of LA is a pit, and then once you get within a few miles of Anaheim, the freeways open up to floral beauty and smooth pavement. Hana is Maui's Disneyland, without any of the magic. We chased divine infrastructure to its end outside of town and pushed onward like tourist lemmings... on to Haleakala park's southernmost point and the "Seven Sacred Pools."
Lis
and I had jumped from the cliff side into one of the pools in high school. Since then, E's been building this place up in his mind. I can't say it lived up to his imagined version.
The pools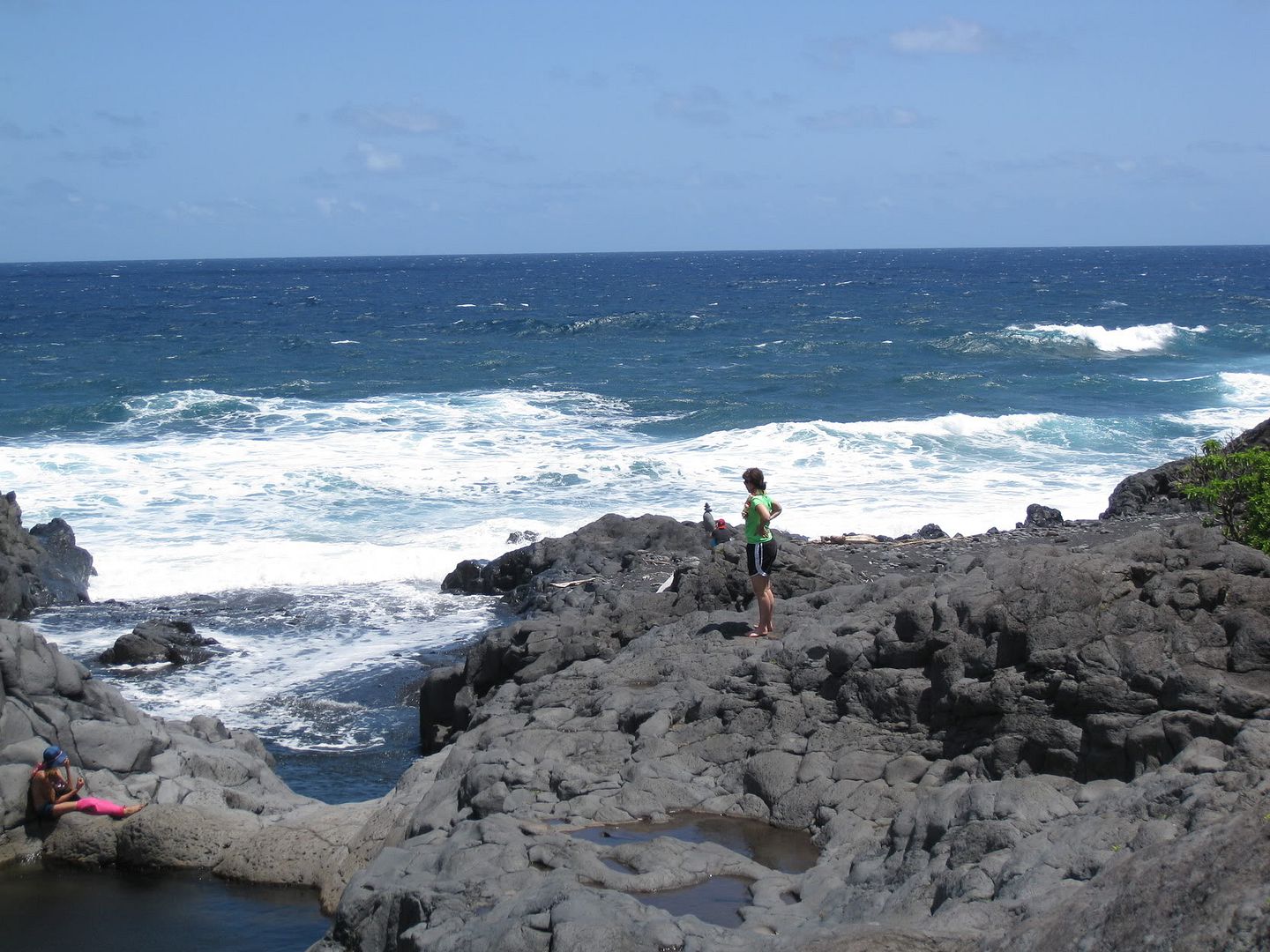 Deaths looms nearby. I'm just sayin'.
A lot has changed for me since I jumped into those pools. Specifically, two things that start with A and H. I'm not saying those two little monkeys made me neurotic, but they kinda did. So I guess I'm saying it. I just have too much to lose. My anxiety just ain't what it used to be, either. Or it is what it wasn't. You get me. Walking past the signage that said "DANGER DO NOT JUMP" with posted bits of articles about people who'd been washed out to sea (and HUNGRY SHARKS--OM
NOM
NOM
) during flash floods put me in a tizzy like you've never seen. No way I was jumping. Also, the pools weren't nearly as deep as I'd remember them. Ask anyone who's been and you're more likely to hear something like "Seven Sacred Puddles."
We stayed a bit but since we weren't jumping there wasn't much to do. As smooth as the road surrounding Hana had been, the road between Hana and the pools was one lane, high above the ocean, and white knuckle-inducing. The pools, the road, the sharks... I was glad to leave all of it. I don't have any illusions about wanting to hop back in a car and drive there again. That said...
I loved spending the day with E. It doesn't matter what we do, I'm glad we have each other there. When we separated last year and I made the decision to honor his request to work on things and come back together, that was the thought I held in my mind--I want E to be the one I share my life with, the one who bears witness to my story. I want him to be the face I can look at and go, huh. That he was, even on a winding car ride to nothing.
We'd missed a stop along the way because we had our CD number off by a bit, so we stopped at the black sand beach on the way home. I'd been there before, but I'd forgotten the lava tubes, blow holes, and arches. They were impressive. The jet black rock against the sun-pure ocean is amazing. If it was
CGI
, I'd criticize its overt perfection. It looked surreal.
More
than. It made me feel small in that good way of mountains and vast oceans.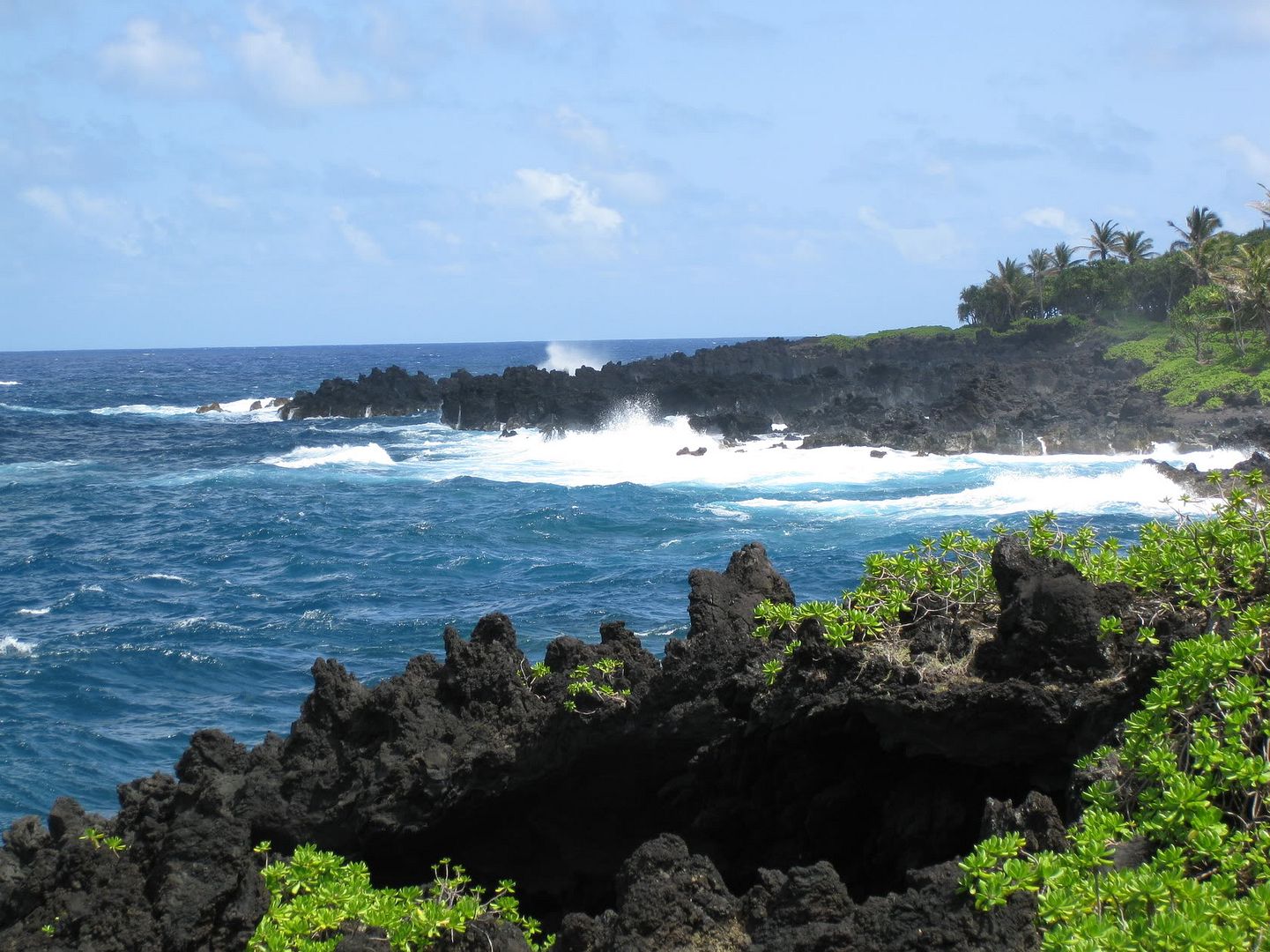 E couldn't get enough of the caves and blow holes. Confession time: I was
SKEERED
. It's hard for me to calm down once I've amped up about something (cliffs, one lane roads, pools, sharks, drowning, death, caves) so we didn't have the smoothest conversation there. *ahem* But he wandered and I hung back as close to solid land as I could. He explored caves and peered into splits of rock. He chased mongooses. Or is it mongeese? How could something even bear that name that looks so unlike a bird? Why don't they just call them Hawaii rats?
The black rock beach ended up being a favorite leg of the journey. We spent the better part of a sunny hour there, and for once it really felt like we were seeing
something.
The water was blue as Kool-Aid, but clear as glass. The sun baked us slowly. We remarked how unlike "our" side of the ocean it smelled, and then we climbed back in Dad's Ford Explorer to meander our way home.
About two hours out of civilization, my phone beeped with a missed call. Maui Divers wanted us there at 8:00 AM sharp the next day.
(to be continued!)