What a great little Saturday!
I didn't manage to convince Henry or Hurley to come with me on my errands, but
Roo
was happy to oblige. We explored the farmers' market and came home with a bunch of new veggies to try, swung by the yard sale at my school, and stopped in to visit Gram and
Gpa
and get some tomato cages.
When we got back, E was hard at work on the new fence. I managed to get our whole garden planted, then we had a nice lunch outside. All those gardening metaphors and life lessons exist for a reason. It's just good for your insides.

Finished fence! Pretty.

This rosebush was a gift from some friends when we lost Gus and Cal. This was Cal's favorite spot to sit and soak up sun every morning. I thought it was fitting to plant it here. I've had it for a while, but I finally got it in the ground! It's such a great little reminder of our boys.

Some pink flowers that

Roo

planted, lemon cucumbers, cantaloupe.

Peach tree... didn't plant it, but spent a while thinning it this morning. It has the best peaches and it's an early peach so it usually ripens right around the 4th of July. I can't wait!

Peppers galore! LOTS of little sweet peppers and two kinds of bell peppers. Behind that is a row of zucchini and yellow crookneck squash.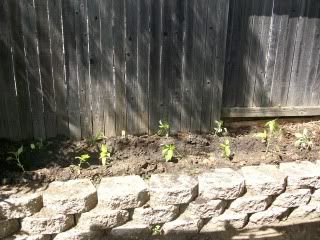 More peppers, some onions in the back.

SIX tomato plants and some basil and cilantro (which may be coming inside, which is why it's in the small pot resting on the planter).
I spent the rest of the afternoon with a friend, working on a lovely surprise that's coming up soon. There's something so JOYFUL for me about trying to do something cool for someone else. I have a huge smile about it right now. Hoping it turns out as well as I think it's going to.
So I came home to a clean yard (the E man spent ALL DAY LONG working on cleaning and beautifying the yard) and two happy kiddos. I didn't manage to tackle the disgusting mess that is our house... at all. But it was such a productive day, I'm okay with that. :)
Have a great night.