I love to crochet. Few things I do feel as productive. It's entirely satisfying to sit down and create a tangible product. It's repetitive, but allows me a lot of freedom to choose color combinations or patterns I think might be cool. It occupies my hands when I'm in front of the TV, and keeps me from eating. Even though it's wordless, I know it's one way to convey love to people around me.
Nothin
' says
lovin
' like a hug from a warm blanket. I like that it's very
old school.
How do you get started?
Get a book. You can have someone show you, but the real learning is going to happen when you're working all by yourself and have to figure it out. The first time I learned I had a friend show me, and I gave up within a few weeks. It was difficult feeling like I was tied to her and had to have her there to help me. I started up again when I was dancing as an apprentice at Sac Ballet, and I needed something to fill the hours between rehearsals. It was then that I bought a book and committed myself to learning on my own.
The book I used to teach myself is called
I Can't Believe I'm Crocheting
. It's cheesy as a vat of Que
Bueno
, but it works because it has step by step diagrams. You need a book that will show you what the yarn is supposed to look like on your hook. That's better than having someone help you anyway--even a good friend is going to get annoyed with you asking the same question over and over again. Expect to ask the same question over and over again. Expect to look at the book a lot. That's all completely normal.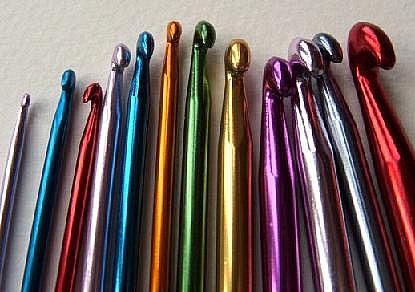 What you need to start
is a hook (probably size H, I, or J, I like metal hooks), some cheap yarn, a pair of scissors, and your book. I recommend cheap yarn--Red Heart Super Saver is the best, I think--because any kind of fancy yarn will be nubby or loopy which means it will be hard to see your stitches. Until you're fancy
schmancy
, you want to stick to plain stuff. Don't get discouraged or think this means your stuff is going to suck. I use the cheap stuff when I make blankets because I like the "clean" look of the stitches, it's affordable, and it's acrylic which means it's washable. Snooty yarns are usually wool or something delicate. You can graduate to fancy yarn after you figure out what you're doing.
Learning basic stitches
takes a long time. It's not that they're difficult to understand, but even learning how to hold the yarn and hook takes practice. A good thing to keep in mind is that there's no right way or wrong way to hold the hook. You should hold the hook however it feels comfortable in your hand. I hold it like a pencil, but others hold it underhand. The same goes for how you keep tension on the yarn. I haven't ever seen anyone who holds the yarn in their fingers like I do, yet my blankets come out fine.
The first thing you'll learn is how to tie yarn on to the hook and how to make a chain. Tying on the yarn took me a long time. I couldn't figure it out for the longest time. Chains are easy in theory, but keeping the same tension on the hook can be a challenge at first. One thing to keep in mind with chains is to do them loosely so you can go back through them later. If you're not a crocheter, you don't know what that means anyway, but maybe you'll look back at this when you're learning.
Single and double crochet
stitches are the basis of almost everything you'll make. IT TAKES A LONG TIME TO GET GOOD AT THEM. Repetition is key. When you start, you'll have a hard time keeping your rows the same because you'll have a hard time "seeing" and counting your stitches. Also normal. And guess what? I HATE counting stitches. I purposefully choose patterns where I don't have to count because I'm way too likely to make an error. I do much better with a pattern where I can memorize the movement rather than calculate stitches over and over again. To each his own, and that's okay. In the beginning you'll have to count but it will get easier to see what you're doing.
Even though you might not feel like you're good enough yet
try a simple pattern.
Make sure it's both of these things: flat, and rectangular. Oddly enough, it was making my first afghan that made me learn to crochet. Many people start out learning chains, single crochets, double crochets, etc, and they get bored so they drop it. If you make something, you're bound to have a lot of frustrations at the beginning but you will learn to do it. I would
not
recommend that this first project is a scarf. Though it seems like that would be a good choice, scarves mean lots of rows (if you're stitching across the scarf
horizantally
) which means lots of ends, which means lots of chances to mess up, which means lots of chances to make your scarf wavy or get skinny then fat. It's a recipe for a headache. I would recommend making something like a potholder or a simple afghan. The afghan will force you to learn pattern stitch codes and start to recognize what you're looking at.
Reading patterns
looks scary at first, but it's not. Every single crochet book I've ever bought has a key in it somewhere. I don't have all stitch codes memorized. Sometimes a pattern uses a special stitch, and it will explain that on the same page. Your simple crochet book will teach you how to read them. Go slowly. I draw an arrow on a post-it and stick that on my pattern. When I put the book down, I stick the arrow to the pattern pointing to the place I left off. The more complicated the pattern, the more I do that. Even now, I can't remember more than a few stitches at a time. Don't get intimidated by complicated looking patterns, they just take more patience. That said, you can find simple patterns that make beautiful projects. Know your goals. For me, crochet should be relaxing, and something I can do in front of the TV. Most of the patterns I make are very basic, but I make them look more complicated with edging, colors, etc.
Repetition, repetition, repetition
. Everything you do in crochet requires consistency. There's no rule that says you have to crochet really tight loops or really loose ones. Make your crochet feel good in your own hands and you'll be more likely to do it. I crochet very loosely. It's the only way I've ever been
loose
in my life. But that works for me. When I first learned in high school I was trying to crochet so tight that I made myself angry. It just wasn't me. The more you practice, the more you'll discover what works for you and you'll learn how to keep things consistent.
Messing up
is no big deal. Most blankets I've made have some error in them--a place where I did two stitches instead of three, a dropped loop, etc. One great thing about crochet is that you can just pull out what you've done and redo it, but sometimes I don't. Most errors don't show. I don't think anyone could look at one of my blankets and find the error. After it's all done, it still doesn't have to be perfect to be good. It's a judgment call. One error in a giant blanket isn't anything to beat yourself up about.
Anyone can learn how to crochet. Devote some quiet time to learning in the beginning, have a clear book nearby for questions, and try to make something early on. You'll be making blankets before you know it.
Here are some of my favorite crochet resources. Of course there are a
puzillion
things you can find on the
internet
, too. I find that videos move too quickly for me to follow--I prefer pictures and text--but there are lots of video resources available online too. Here are some of my favorite books and websites:
I Can't Believe I'm Crocheting
(book), Leisure Arts
Available at Craft Stores

Stitch and Bitch Crochet: The Happy Hooker
(book), Debbie
Stoller
Bookstores
Super Finishing Techniques for Crocheters
(book), Betty
Barnden
Bookstores
Vanna's Afghans All Through The House
(book), Vanna White
Bookstores, Craft Stores
Best of Terry

Kimbrough

Afghans
(book), Terry
Kimbrough
Craft Stores

101 Ripple Stitches, Knit and Crochet
(book), Jean
Leinhauser
Craft Stores
101 Crochet Stitches
(book), Jean
Leinhauser
Craft Stores
About.com: Learn Crochet
(website)
Stitch photos and patterns for beginners
Lion Brand Yarn Learning Center: Learn to Crochet
(website)
Personal favorite online resource--always recommend to friends
Bernat

: Learn to Crochet
(website)
Handy one-page printout with pictures of stitches
Happy hooking!