You may remember that
Addie's birthday present
this year was a trip to San Francisco. I swear, somebody forgot to tell these two kids that they are from a small town in a rural area. They love the city. They just beam while we walk around, taking it all in and asking a million questions. I'm glad that we can share that with them--I didn't grow up coming to the city very often, but I love it too.
I wanted to drive in over the Golden Gate this time since I'd been talking to Addie about what that meant. Usually we go across the Bay Bridge (hello, IKEA!) but on a clear day like this was, it was just amazing. We even forced Henry to turn off his Gameboy and look. They loved it.
I've never seen anyone change the lanes on the bridge, but that's all I can think about when we cross. Is there a vehicle or just a person who does that? I will need to Google that. You can bet your sweet bippy one thing I'm never, ever going to do is walk across that bridge. Sorry, world. PDawg is way too scared of bridges. Oh, sure, I act like a grownup while I ride over one, but inside I'm throwing a fear-based tantrum. Hate bridges. At least this one's pretty.
Lame pics, sorry. Just iPhone pictures--my camera was in the trunk.


The E-man.


Hank has to avoid all sidewalk cracks (thanks for teaching him that, Auntie!) so walking anywhere with him is a chore, but he talks your ear off which is hilarious. He and Addie talk all day, up and down the hills and across each street. They think MUNI is a funny word. They think having any restaurant you want within three blocks and a Walgreens on the corner is awesome. They like art and museums and all the people and buses and the ocean. They can't believe that people stay up here and go places when it is dark. They really crack me up. As always, it's fun to see anything through their eyes.
Saturday we took them to the DeYoung Museum in Golden Gate Park, just across the way from the Museum of Sciences
that we visited last spring
. If I thought the weather was good the last time we were in the city, this was perfection. It was a crisp, sunny, windless day on Saturday. The park was just gorgeous. (I saw so many runners who were running in the cold--major inspiration to get out my front door and get moving again. Of course, I am so envious that they get to run in San Francisco. Note to self: bring running clothes next time.)
I'm trying to upload but this free Wifi I'm using is Crapville, USA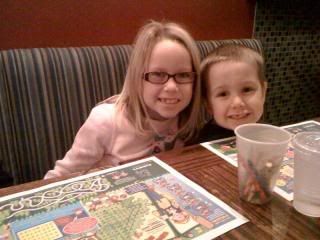 All I can manage are these pics from dinner: hamburgers in the Marina district with a couple of cuties.

Oh yeah. These nerds were there too...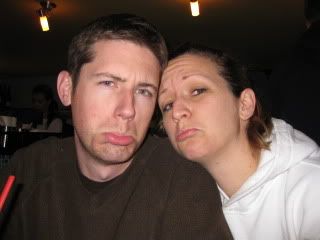 and they were sad that their monkeys wouldn't share any chocolate milkshake.

More to follow...