Remember back when I thought running was cheap? Ha. That was so cute, right? My winter running has been hampered quite a bit by the cold. I am so lucky that I got HOOKED UP this Christmas with some great running stuff. Like, awesome stuff. Stuff I couldn't afford on my own. Like this:
Base layers
Nike Pro Thermal Mock Neck Shirt
Great thick material, stretchy, with very long sleeves and a nice length at the waist that covers my stomach flab.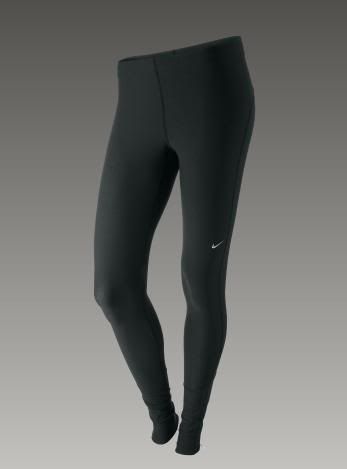 Nike Running Tights
Tights. Yup, I'm running in tights. To be fair, "tights" means an entirely different thing to a dancer. Basically I'm running in leggings. They're so warm! It was pretty funny to put them on this morning, though. Remember that scene in The Incredibles where Mrs. Incredible puts on her new uniform for the first time since becoming a mom, only to discover that she's got a lot more junk in the trunk? Yeah, it was like that.
Cut to me wearing these "base layers" every day under my teaching clothes. Oh yes, it will happen.
Other layers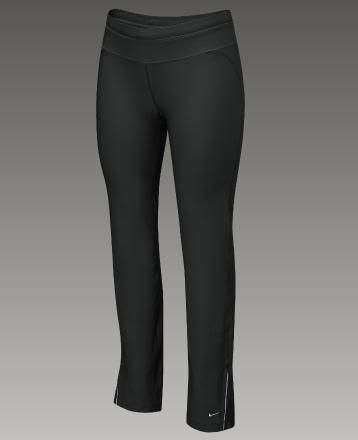 Nike Lightweight Open Hem Pants
These fit a little bit more loose around the leg, like a jazz dance pant. (Sorry that all my references are from the dance studio.) These are also thick like the tights and really comfortable around all the seams. I've noticed that when I run in anything tight or high-waisted around the stomach, it bugs me. These are perfect.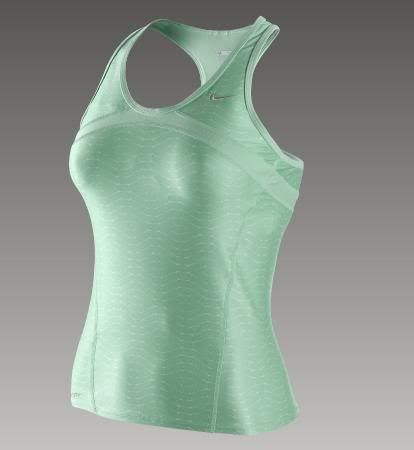 Nike Long Airborne Running Tank
Mine's not exactly this color, it's more of a bright green, but this one is close. Nice and supportive, and again it's long enough to cover the gut.
Nike Chamois Half-zip Running Shirt
I love, love, love this. It's a nice lightweight fleece, but it's lined and moisture-wicking. So far it seems to be equally wonderful for keeping warm whilst watching TV and jogging. It has a front pocket with an iPod pouch and a small buttonhole for an iPod cord. The sleeves have these neat pockets in them so you can pull your hands inside to keep them warm and they stay covered. Nice long sleeves, just like the mock turtleneck.
When I went jogging Sunday, I wore the tights, the mock neck, and the fleece. I was almost too warm, but for me that's the perfect place to be. Running was so much more pleasant when I was warm and dry. Love my new legit running clothes... and yes, almost everything is black so I either look like a ninja or the love child of a Cirque-due-Soleil performer and a bank robber. Anything is better than the hobo I resembled when I was running a few weeks ago.
Oh! I just remembered this too... So not only am I SO LUCKY in the cold weather gear department, but I got a totally nice surprise on Christmas Eve. My Aunt Kelly and Uncle Bruce have a treadmill they don't use, and they're GIVING IT TO ME!!!! Holy cow, right? I am STOKED. Don't worry, I'll still be going outside when I can, but this is MONUMENTAL (and warrants the use of COPIOUS CAPITAL LETTERS and the overuse of exclamation points!!!--Sorry Kelly McM... I still know all the rules even if I break them...promise.) because it means that I can run when a) it is raining, b) I don't have anyone to watch the kids, c) it is dark, d) it is ridiculously cold. I've been whining to E about a gym membership since June--and there was no way that was in the budget--so this helps me do what I want to do at home. Oh, I am so happy. Warm clothes for outside and options for inside. C'est bon.