Ho ho ho!
Santa
PDawg
has delivered every last blanket, so now they can be posted online. The grand tally was
six blankets
completed between Halloween and Christmas. Phew! That's a new record for me. Each blanket is approximately the size of a twin bed; they're about 82 in X 52 in, to give you an idea of their dimensions. Here is the stack on the couch (minus one--details below).
From top to bottom:
Black and White for Aunt Anne
Blue and Green for cousin Kendal
Brown and Tan for Aunt Kelly
Brown and Blue for cousin Meggie
Blue and Orange for

Unkie

Dave
Here are a few more pics of each one: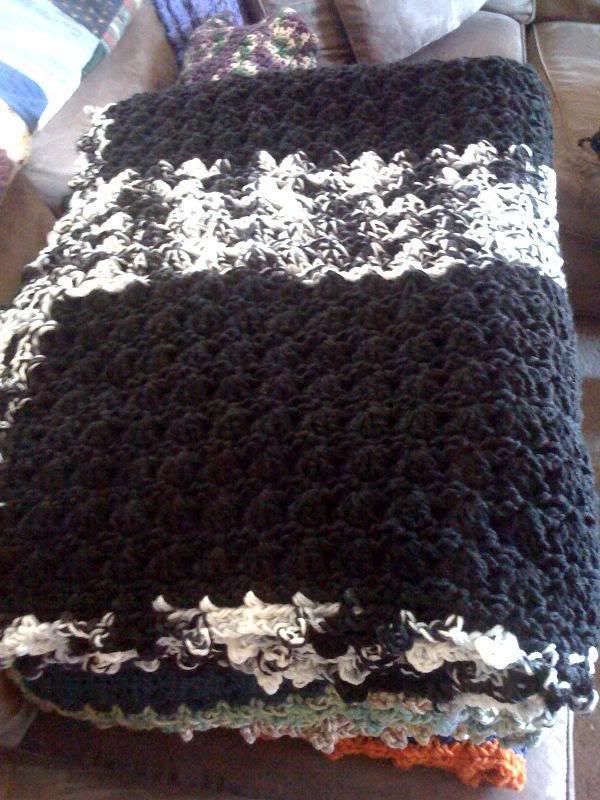 Aunt Anne is a longtime zoo docent and loves animals. I thought the black and white yarn looked kind of zebra-y.

I couldn't find a picture of Megan's completed blanket, but this was as I was working on it.



This one was for E's cousin Kendal. She's a yarn nut too. :)



This is the sixth one. I made one for E. It came out very G.I. Joe-worthy. I told him it's his Call of Duty MW2 blanket. :)



I had to keep it a secret and not work on it in front of him which was really difficult. I started it at school on my lunch but I ended up having to finish it at home this week. To my frustration, he didn't work until December 23, so I ended up getting up at 3:30 AM on Christmas Eve to finish it while he slept. He says he didn't know about it. I was so happy to surprise him. He's always saying that he wishes I'd keep one of these since I always give them away.

When I was at my grandparents house the other day we determined I've made about 25 of these over the last two years. E can't understand why I keep making the same pattern, but I really love it. It makes such a nice heavy blanket that covers your toes and comes up to your chin when you sit on the couch. I hate those little lap blankets that will only cover one half of your body. A throw should be warm and large enough so as not to annoy.





So here's the big news:
On Saturday, January 2, this blog turns
one year old
. In honor of this happy little anniversary, of all the new and old friends it has brought me closer to, in honor of how much life has changed this past year and all the ups and downs in this one year of life, and to thank you guys for hanging around and reading all my blather, I'm going to be giving away one of my crocheted blankets. Look for a giveaway post with pictures of the blanket soon. I will post contest details as well as the dimensions and specs of the blanket. I'm so excited! I hope to get it done this week--started it on Christmas Day since apparently I'm incapable of sitting still for long periods of time.
Peace, Love, and Yarn.